"That glorious consummation": Lincoln on the Abolition of Slavery
by Allen C. Guelzo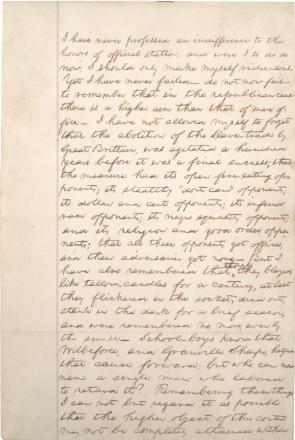 "That man who thinks Lincoln calmly sat down and gathered his robes about him, waiting for the people to call him, has a very erroneous knowledge of Lincoln," wrote Abraham Lincoln's long-time law partner, William Henry Herndon. "He was always calculating, and always planning ahead. His ambition was a little engine that knew no rest." And in no other pursuit was Lincoln more ambitious than in politics. As a lawyer and Whig political organizer in Illinois, "Politics were his life and his ambition his motive power."[1]
But at the same time, ambition in politics was regarded with deep suspicion in Lincoln's America. Our experiment in republican self-government was still a fragile one, and without the artificial restraints of aristocracy or class, Americans feared that ambition could easily run amok. Even Lincoln agreed that, as the example of the Founding Fathers drifted into the past, "men of sufficient talent and ambition will not be wanting to seize the opportunity, strike the blow, and overturn" the American republic. "Towering genius disdains a beaten path," he cautioned. "Is it unreasonable then to expect, that some man possessed of the loftiest genius, coupled with ambition sufficient to push it to its utmost stretch, will at some time, spring up among us?"[2]
The question in Lincoln's mind was whether ambition always needed to be so fatally self-serving. Ambition, he would write years later, "within reasonable bounds, does good rather than harm."[3] What he needed was a stage on which to test the quality of his ambition—and in 1858, as the national controversy over the extension of slavery boiled to life, he found it in his challenge to Stephen A. Douglas for the U.S. Senate.
At the beginning of that campaign, Lincoln took the trouble to write out a note on the subject of ambition and its aims, the note which is reproduced here.[4] (We are able to date this fragment to the summer of the Lincoln-Douglas campaign because the manuscript was presented by Robert Todd Lincoln to the Duchess of St. Albans as a gift in 1892, with the explanation that it was "made in preparing for one of the speeches in the joint-debate Campaign between Mr. Douglas & my father in 1858.")[5]
The text begins with Lincoln's acknowledgement that "I have never professed an indifference to the honors of official station." He had always been ambitious for political office and political success, and any attempt to make himself look otherwise would "only make myself look ridiculous." But ambition could also rise to nobler levels. "In the republican cause there is a higher aim than that of mere office." After all, if ambition could be satisfied with "mere office," Lincoln could have had it by less risky means than embracing the anti-slavery movement.
The proof of that argument was in the historical pudding. Pointing to the British anti-slavery movement, Lincoln noted that the "mere" office-seekers had routinely opposed emancipation. This included emancipation's "open fire-eating opponents; it's stealthy 'dont care' opponents; it's dollars and cent opponents; it's inferior race opponents; its negro equality opponents; and its religion and good order opponents." All of these, Lincoln notes wryly, "got offices, and their adversaries got none." But thirty years after the triumph of abolition in the British empire, who was remembered? "School-boys know that Wilbe[r]force, and Granville Sharpe,"—two of Britain's most devoted and tenacious enemies of slavery—"helped that cause forward; but who can now name a single man who labored to retard it?"
Ambition on the part of its citizens is the mark of a society willing to allow talent and ingenuity to rise. But ambition must not, as Joseph Conrad once wrote, "climb upward on the miseries or credulities of mankind."[6] In the last speech of the 1858 campaign, Lincoln admitted that "Ambition has been ascribed to me." That was true, and "I claim no insensibility to political honors." But he was laboring for a greater end than "political honors." If slavery could be restricted once and for all by electing Douglas, "on principle, I would, in consideration, gladly agree, that Judge Douglas should never be out, and I never in, an office, so long as we both or either, live."[7]
Lincoln knew how large a role ambition played in his own character, and how indispensable ambition was to the success of a nation without titled privilege or "fixed condition." But he also understood how necessary it was to the survival of popular government that ambition become the servant, not the master. "The proudest ambition he could desire was to do something for the elevation of the condition of his fellowman,"[8] he told an acquaintance, shortly before departing for Gettysburg to deliver his famous address. And few who knew Lincoln doubted the sincerity with which he said it. "He had a desire of power," wrote Charles Zane, the Springfield newspaper editor, "but it was that he might in the use of it benefit his fellow men."[9] Ambition was Lincoln's "humble mite" as well as his "little engine," and it provided the fuel that led, against all his expectations in 1858, to "that glorious consummation" of liberty and equality for all Americans.
---
Make Gilder Lehrman your Home for History
---
Already have an account?
Please click here to login and access this page.
How to subscribe
Click here to get a free subscription if you are a K-12 educator or student, and here for more information on the Affiliate School Program, which provides even more benefits.
Otherwise, click here for information on a paid subscription for those who are not K-12 educators or students.
Make Gilder Lehrman your Home for History
---
Become an Affiliate School to have free access to the Gilder Lehrman site and all its features.
Click here to start your Affiliate School application today! You will have free access while your application is being processed.
Individual K-12 educators and students can also get a free subscription to the site by making a site account with a school-affiliated email address. Click here to do so now!
Make Gilder Lehrman your Home for History
---
Why Gilder Lehrman?
Your subscription grants you access to archives of rare historical documents, lectures by top historians, and a wealth of original historical material, while also helping to support history education in schools nationwide. Click here to see the kinds of historical resources to which you'll have access and here to read more about the Institute's educational programs.
Individual subscription: $25
Click here to sign up for an individual subscription to the Gilder Lehrman site.
Make Gilder Lehrman your Home for History
---
Upgrade your Account
We're sorry, but it looks as though you do not have access to the full Gilder Lehrman site.
All K-12 educators receive free subscriptions to the Gilder Lehrman site, and our Affiliate School members gain even more benefits!
Metadata