The Sanctity of the Law: Lincoln's Legal Career
by Steven Mintz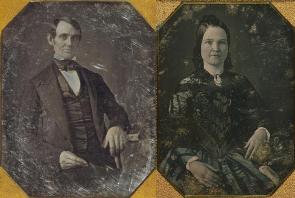 Before he became president, Abraham Lincoln supported himself and his family as an attorney. For nearly a quarter of a century, he was a country lawyer, who frequently traveled for up to six months a year through Illinois's 8th Judicial Circuit, which spanned fourteen counties. He handled more than 400 criminal and civil appeals before the Illinois supreme court. Altogether, Lincoln probably handled some 3,000 legal cases.
John Ford's 1939 film Young Mr. Lincoln popularized an image of the lawyer Lincoln as a crafty, cunning backwoods attorney whose practice consisted primarily of petty civil and criminal cases in which he represented friends and neighbors. It is certainly true that Lincoln lacked any formal legal training, either in a law school or from a preceptor (a judge or an experienced attorney). He gained his knowledge of the law largely from reading an eighteenth-century legal treatise, William Blackstone's Commentaries on the Laws of England, and researching and arguing contemporary case law.
But Lincoln succeeded in transforming himself into one of Illinois's leading trial and appeals attorneys, and he earned a substantial income from his legal practice, as much as $2,500 a year. He often represented the Illinois Central Railroad, but on one occasion, when he billed the railroad $5,000, the Illinois Central refused to pay. Lincoln went to court and won a judgment ordering the railroad to pay up.
As an attorney, Lincoln took all kinds of cases. Although he is sometimes depicted as a corporate attorney, a defender of bankers, manufacturers, and railroads, he actually represented a wide range of clients. Some seventy-one times, he represented railroads, but in sixty-two cases, he represented clients who had been injured by railroads. His practice included cases involving contracts, debts, bankruptcies, and deeds. He and his partners even handled 110 divorces.
Lincoln's most famous criminal trial involved the 1857 prosecution of William "Duff" Armstrong for murder. An eyewitness claimed to have seen Armstrong fatally strike the victim. But Lincoln used a farmer's almanac to demonstrate that the moonlight would have been too dim to allow the witness to see what he claimed to have seen on the night of the murder.
About thirty-four of his cases dealt with slavery and race. In one case, Lincoln defended a free woman of color accused of failing to repay a loan, and in another, he helped secure the freedom of a fugitive slave. But Lincoln did not invariably take what we would today consider the "right" side in his cases. In 1847 he defended a slaveowner whose slaves sued for their freedom on the grounds that they had been brought into Illinois, a free state, from Kentucky. In another case, he argued that a black woman and her child should be delivered to a client as repayment for a debt.
From an early age, Lincoln was convinced that respect for law, legal procedure, and the Constitution provided the only secure basis for social order. In a speech he delivered on January 27, 1838, to the Young Men's Lyceum of Springfield, Illinois, he argued that the gravest threat to American democracy came from "the increasing disregard for law which pervades the country; the growing disposition to substitute the wild and furious passions, in lieu of the sober judgment of Courts; and the worse than savage mobs, for the executive ministers of justice."
When he became president, Lincoln viewed Southern secession as a fundamental threat to American legal and Constitutional principles. The Constitution, he insisted, was a permanent compact based on the principle of majority rule. A Republican candidate won the presidency in a fair election; the Confederate states refused to accept the outcome. Even worse, the Confederate states had left the Union for the sole purpose of perpetuating slavery. Only respect for the sanctity of law and the Constitution could preserve the nation from anarchy or mob rule.
---
Steven Mintz, a historian at Columbia University and director of the Columbia Graduate School of Arts and Sciences Teaching Center, would like to express his profound debt to John Stauffer of Harvard University for sharing his many insights into the novel. Mintz is author of Huck's Raft: A History of American Childhood; Domestic Revolutions: A Social History of American Family Life; and Moralists & Modernizers: America's Pre-Civil War Reformers.
Make Gilder Lehrman your Home for History
---
Already have an account?
Please click here to login and access this page.
How to subscribe
Click here to get a free subscription if you are a K-12 educator or student, and here for more information on the Affiliate School Program, which provides even more benefits.
Otherwise, click here for information on a paid subscription for those who are not K-12 educators or students.
Make Gilder Lehrman your Home for History
---
Become an Affiliate School to have free access to the Gilder Lehrman site and all its features.
Click here to start your Affiliate School application today! You will have free access while your application is being processed.
Individual K-12 educators and students can also get a free subscription to the site by making a site account with a school-affiliated email address. Click here to do so now!
Make Gilder Lehrman your Home for History
---
Why Gilder Lehrman?
Your subscription grants you access to archives of rare historical documents, lectures by top historians, and a wealth of original historical material, while also helping to support history education in schools nationwide. Click here to see the kinds of historical resources to which you'll have access and here to read more about the Institute's educational programs.
Individual subscription: $25
Click here to sign up for an individual subscription to the Gilder Lehrman site.
Make Gilder Lehrman your Home for History
---
Upgrade your Account
We're sorry, but it looks as though you do not have access to the full Gilder Lehrman site.
All K-12 educators receive free subscriptions to the Gilder Lehrman site, and our Affiliate School members gain even more benefits!
Metadata