People's Party campaign poster, 1892
A primary source by Populist Party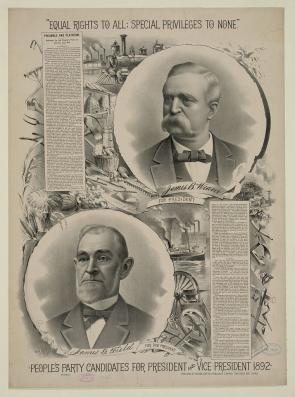 In July 1892, the Populist Party (or People's Party), formed by farmers and labor supporters, held its first convention in Omaha, Nebraska. At that convention, the party created and ratified its Omaha Platform and nominated James B. Weaver, a party founder, for president and James Field, former Virginia attorney general and Confederate veteran, for vice president.
This 1892 presidential campaign poster featuring Weaver's and Field's images promotes the Populist Party as offering "Equal Rights to All; Special Privileges to None." The poster also features the full text of the Omaha Platform, which declares that "this Republic can only endure as a free government while built upon the love of the whole people for each other and for the nation." Weaver and Field ran on the Populist Party tenets of free silver, government control of national industries like railroads, and labor and civil service reform.
The Populists received 8.5 percent of the vote in the 1892 presidential election, more than might have been expected for a newly formed third party. Though defeated, it is likely that the Populists captured some of the Republican vote, allowing Democrat Grover Cleveland to be elected over incumbent Republican Benjamin Harrison.
Excerpt
We demand a national currency, safe, sound and flexible, issued by the general government only, a full legal tender for all debts, public and private, and that without the use of banking corporations; that a just, equitable and efficient means of distribution direct to the people, at a tax not to exceed two per cent. per annum, to be provided, as set forth in the subtreasury plan of the Farmers' Alliance, or some better system; also by payments in discharge of its obligations for public improvements.
Questions for Discussion
You are seeing this page because you are not currently logged into our website. If you would like to access this page and you are not logged in, please login or register for a gilderlehrman.org account, and then visit the link that brought you to this notice. Thanks!
Metadata
Make Gilder Lehrman your Home for History
---
Already have an account?
Please click here to login and access this page.
How to subscribe
Click here to get a free subscription if you are a K-12 educator or student, and here for more information on the Affiliate School Program, which provides even more benefits.
Otherwise, click here for information on a paid subscription for those who are not K-12 educators or students.
Make Gilder Lehrman your Home for History
---
Become an Affiliate School to have free access to the Gilder Lehrman site and all its features.
Click here to start your Affiliate School application today! You will have free access while your application is being processed.
Individual K-12 educators and students can also get a free subscription to the site by making a site account with a school-affiliated email address. Click here to do so now!
Make Gilder Lehrman your Home for History
---
Why Gilder Lehrman?
Your subscription grants you access to archives of rare historical documents, lectures by top historians, and a wealth of original historical material, while also helping to support history education in schools nationwide. Click here to see the kinds of historical resources to which you'll have access and here to read more about the Institute's educational programs.
Individual subscription: $25
Click here to sign up for an individual subscription to the Gilder Lehrman site.
Make Gilder Lehrman your Home for History
---
Upgrade your Account
We're sorry, but it looks as though you do not have access to the full Gilder Lehrman site.
All K-12 educators receive free subscriptions to the Gilder Lehrman site, and our Affiliate School members gain even more benefits!