The First Generation: America's Women Voters, 1776–1807
by Marcela Micucci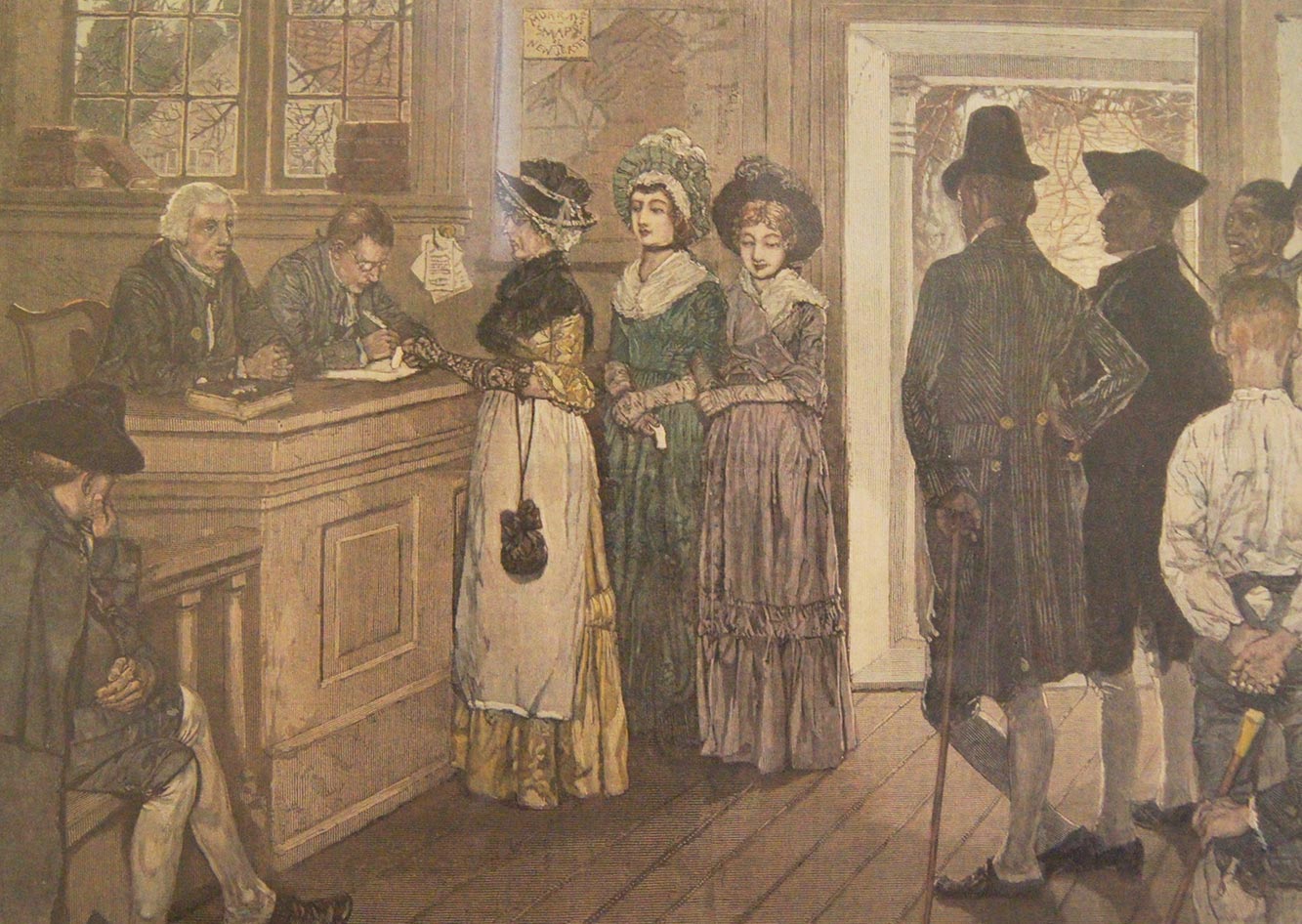 Most histories of women gaining the right to vote in the United States begin in July of 1848, when hundreds of activists gathered in Seneca Falls to hold the first women's rights convention and sign the Declaration of Sentiments. The Museum of the American Revolution's upcoming exhibition, When Women Lost the Vote: A Revolutionary Story, 1776–1807, however, suggests that the timeline of women's suffrage in America did not begin in 1848. Rather, it can be traced back to the eighteenth century, during the years of the Revolutionary War and the decades after independence, when the ideological promises of the American Revolution provided women—typically white women of means—new political and economic opportunities. And while the Revolution did not eliminate restrictions on women's legal protection or rights to property ownership under marriage, it did create new possibilities for women's political activism.
Nowhere was this more relevant than New Jersey, for which the 1776 state constitution did not include racial or gender-specific language in its election law. The state granted the vote to "all inhabitants" who could meet a fifty-pound property requirement. In 1790 (and again in 1797), New Jersey became the first and only state to deliberately enfranchise women; in 1797 the New Jersey state legislature amended the state's election law to include the words "he or she." The revised language made explicit what the 1776 New Jersey Constitution had only implied: that propertied women could vote. This statute was neither accidental nor insignificant, and it changed the voting landscape in the state.
And yet little evidence of women voting in New Jersey has been uncovered. We do have anecdotal and second-hand accounts from journals, newspapers, and petitions supporting the fact that New Jersey women voted. One 1797 article reports: "In Elizabethtown, the federal ladies, maids as well as matrons, believers in the democratic Wollstonecraft's Rights of Woman, turned out in support of their favourite candidates, and gave their votes to the number of 75 heads."[1] There are few—if any—sources, however, to corroborate these anecdotes, making it difficult for historians to confirm whether these accounts were authentic or if they were exaggerated, fabricated, or merely hearsay.
Until now. Through an extensive examination of polling records held in local institutions and state archives, the Museum of the American Revolution's curatorial team has discovered that women in New Jersey voted in significant numbers during this period. To date, the museum has located eighteen poll lists from across the state dating from 1797 to 1807, nine of which include women's names. Women's votes account for 208 of a total 2,695 ballots cast on those eighteen lists, or an estimated 7.7 percent.[2] Among these 208 votes, we have identified 163 individual women voters. These lists suggest women's political significance and participation in local, state, and federal elections in early New Jersey. This first in-depth analysis of existing poll lists from early New Jersey challenges the idea that women in the Early Republic were only passive witnesses and bystanders of the political processes that shaped the new nation.
This new research on eighteenth- and early nineteenth-century women's lives uncovers forgotten tales of women navigating the economy of the Early Republic. The lists reveal stories of women who pioneered for the vote more than a century before the Nineteenth Amendment was ratified. They shed light on women of all classes, backgrounds, and possibly races that are found on them, allowing us to trace their history of property ownership, relationships, marital status, religion, and political affiliation. The lists introduce us to women like Susanna Bradaway, a Quaker who voted as a young, single woman in three local elections before marrying in 1804; or Sarah Eoff, who voted Democratic-Republican in 1800 despite steadfast Federalist majorities across the state. Eoff additionally voted against reconvening the state's constitutional convention (and potentially revising the state's election law), helping to preserve her right to vote.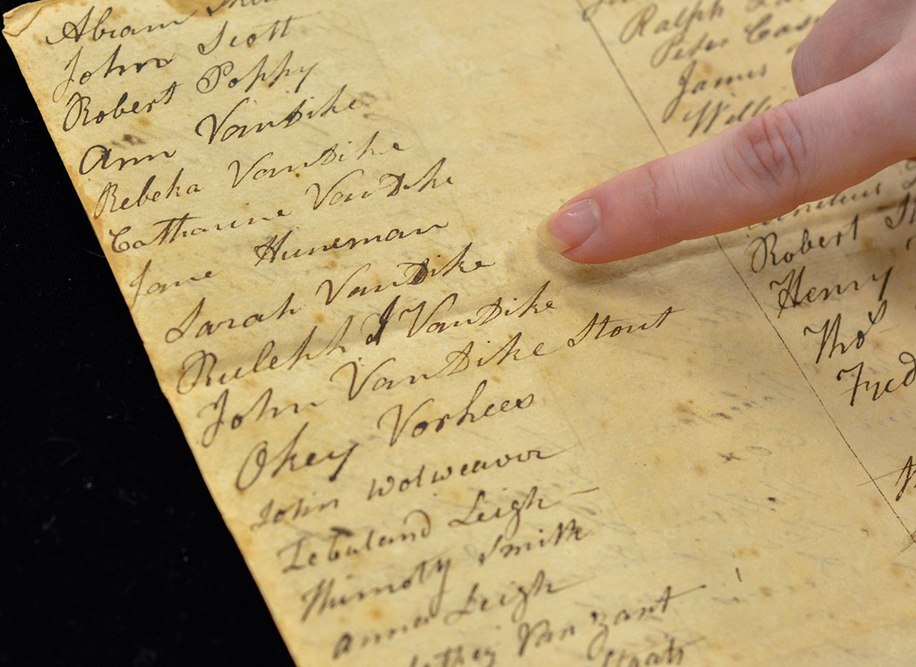 On one of these poll lists we find Grace Little, a wealthy widow and slaveholder whose name appears alongside the women with whom she attended the Princeton Presbyterian Church. In fact, the poll lists reveal that women often voted together with female family members and friends. Charity Millet, for example, voted with her daughter in 1801, while a group of sisters and possibly their mother, Ann, Catherine, Sarah, and Rebecca Van Dike, voted together in that same election. Why might these early women voters have cast their ballots together? Perhaps they used safety in numbers to combat the vulnerability women may have faced at taverns and other male-dominated polling places. Perhaps they voted in groups to protect their self-interest from an ardent and increasingly contentious two-party system. Or maybe these women simply accompanied their friends and family to the polls as part of a routine social outing. Whatever the reason, the proximity of women's names on poll lists suggests a rising tide of organization and mobilization; it highlights their bravery; and it underscores women's tenacious commitment to vote even in the face of potential danger, opposition, and increased accusations of voter fraud.
The discovery of these lists further allows us to explore which women were voting in early New Jersey. Free women of color who were able to meet the property requirement, for example, were legally entitled to vote. Our research so far has not yielded the discovery of a woman of color on a poll list. But this does not mean black women did not vote; nor does it mean we have not already found the name of a black woman voter on one of these lists. It means we have yet to identify her. It means we have more research to do, and the exploration of these women voters and their lives and experiences has just begun.
In addition to providing a lens on women's lives in the Early Republic, the poll lists help us understand the complex, inconsistent, and frequently chaotic nature of elections and partisan politics in the new nation. The expansion of the electorate in New Jersey in the 1790s, for example, had a direct influence on the shift in partisan allegiance in the state from Federalist to Democratic-Republican majorities after the 1800 election. Women played a crucial role in this first era of partisan politics in early America, when female empowerment and political women became a lightning rod for deep partisan division. Women voters became targets of the press, who blamed women voters for corruption and division using two contradictory tropes: that they were "Petticoat Electors" and mindless pawns of male candidates, or radicalized "Wollstonecraftians" bringing the chaos of Revolutionary Europe to America.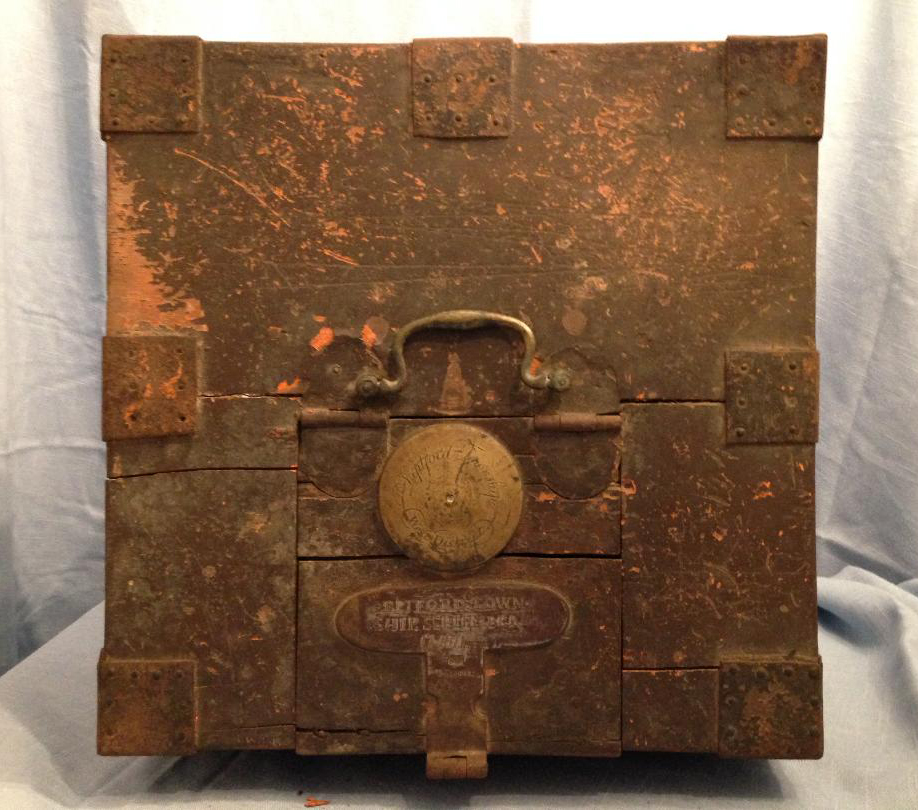 Prior to the discovery of these poll lists, historians could only speculate that women voted in large numbers in the Early Republic in New Jersey. These findings have the potential to alter the timeline of women's history in the United States and align women voters in early New Jersey with the later women's suffrage movement. Nineteenth- and twentieth-century suffragists like Elizabeth Cady Stanton, Lucy Stone, and Portia Gage evoked the memory of the Revolution and the nation's first women voters, through their language and iconography, to ground their position in America and its founding and subsequently assert their right to equal citizenship. In 1867, for example, Lucy Stone addressed the New Jersey State Legislature: "It is said that 'women don't want to vote.' Yet, in New Jersey, when they were allowed to vote, they manifested a growing interest in public affairs."[3] This next generation of suffragists stood on the shoulders of the nation's first women voters.
The Museum of the American Revolution will marshal the discovery of these poll lists in an upcoming exhibition set to coincide with the 100th anniversary of the passage of the Nineteenth Amendment in 2020. When Women Lost the Vote: A Revolutionary Story, 1776–1807 (August 22, 2020–March 28, 2021) examines the complex history of early American voting and considers the Early Republic as an era of feminist activism. It provides a platform for sharing these groundbreaking findings with the public through a large-scale, immersive exhibition. The exhibition seeks to recast the traditional trajectory of the women's rights and women's suffrage movements by documenting a generation of women voters in New Jersey who legally exercised that franchise in the early years of the American Republic. The nation's first women voters not only actively participated in the electoral system, but they did so 114 years before Wyoming became the first state to pass full woman suffrage in 1890 and 144 years before the ratification of the Nineteenth Amendment in 1920. These women made the first cracks in the barriers to gender equality in the United States, helping to build the foundation of the later woman suffrage and women's rights movements of the nineteenth and twentieth centuries and today.
Selected Bibliography
Berkin, Carol. Revolutionary Mothers: Women in the Struggle for America' s Independence. New York: Vintage Books, 2005.
Kerber, Linda K. Women of the Republic: Intellect & Ideology in Revolutionary America. Chapel Hill: University of North Carolina Press, 1980.
Klinghoffer, Judith Apter, and Lois Elkis. "'The Petticoat Electors': Women's Suffrage in New Jersey, 1776–1807." Journal of the Early Republic 12:2 (Summer 1992): 159−193.
Lewis, Jan. "Rethinking Women's Suffrage in New Jersey, 1776–1807." Rutgers Law Review 63:3 (January 2011): 1017−1035.
Pole, J. R. "Suffrage Reform and the American Revolution in New Jersey." Proceedings of the New Jersey Historical Society 74 (July 1956): 173−193.
Tetrault, Lisa. The Myth of Seneca Falls: Memory and the Women's Suffrage Movement, 1848–1898. Chapel Hill: University of North Carolina Press, 2014.
Turner, Edward Raymond. "Women's Suffrage in New Jersey: 1790–1807." Smith College Studies in History 1 (1916): 165−187.
Wulf, Karin. Not All Wives: Women of Colonial Philadelphia. Philadelphia: University of Pennsylvania Press, 2005.
Zagarri, Rosemarie. Revolutionary Backlash: Women and Politics in the Early American Republic. Philadelphia: University of Pennsylvania Press, 2011.
---
[1] The Bee, October 25, 1797. Though published in New London, Connecticut, the Bee picked up this story on women voters in a 1797 New Jersey election.
[2] Although anecdotal evidence suggests that women were voting prior to 1800, the museum staff has yet to discover a poll list including women voters prior to 1800. The museum has not included a frequently cited poll list from an election held in Burlington, New Jersey, on October 9, 1787, in this study. Recent research has revealed that the transcription of the 1787 list (which includes two women's names), published by Henry C. Shinn (1920), may be inaccurate, and we have been unable to locate the original manuscript of the list. See Henry C. Shinn, "An Early New Jersey Poll List," Pennsylvania Magazine of History and Biography 44:1 (1920): 77−81.
[3] Lucy Stone, "Woman Suffrage in New Jersey," at a hearing before the New Jersey State Legislature, March 6, 1867.
---
Marcela Micucci is the Postdoctoral Curatorial Fellow in Women's History at the Museum of the American Revolution. Prior to joining the Museum, she served as the Andrew W. Mellon Postdoctoral Curatorial Fellow at the Museum of the City of New York, where she curated Rebel Women: Defying Victorianism (July 2018–January 2019) and Beyond Suffrage: A Century of New York Women in Politics (October 2017–August 2018), an exhibition celebrating the centennial of women's suffrage in New York State. Micucci received her PhD in 2016 from Binghamton University, where she specialized in early American and women's and gender history.