History Teacher of the Year Awarded
Posted by Tiffany Frarey on Tuesday, 10/20/2015
On October 19, champions of American history education gathered at the Yale Club in New York City to celebrate the 2015 Gilder Lehrman National History Teacher of the Year. The award highlights the crucial importance of American history education by honoring teachers from elementary school through high school.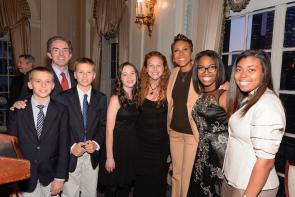 Mary Huffman of Mount Pleasant, South Carolina, was honored as the recipient of the 2015 award. In the eleventh year of the program, Mrs. Huffman, who teaches fifth grade at Charles Pinckney Elementary School, joins an illustrious group of exceptional American history teachers.
Robin Roberts, co-anchor on ABC's morning show Good Morning America, presented Mrs. Huffman with the award along with the $10,000 prize. Ms. Roberts, whose father was a member of the famed Tuskeegee Airmen, said: "This is my kind of award ceremony, because like all of us in this room I have teachers and educators like Mary Huffman to thank."
Also joining the festivities were Joseph P. Riley, Jr., Mayor of Charleston, and Molly Spearman, South Carolina Superintendent of Education.
Does your American history teacher bring history to life? Nominate them today!