Inside the Vault on Thursday, July 7: Common Sense
Posted by Gilder Lehrman Staff on Tuesday, 06/28/2022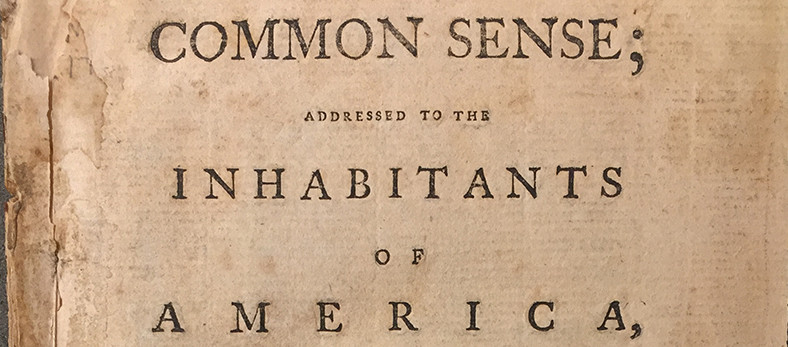 Inside the Vault: Highlights from the Gilder Lehrman Collection is an online program that explores unique primary sources from the Gilder Lehrman Collection. From iconic historical treasures, such as the Declaration of Independence, the US Constitution, and the Emancipation Proclamation, to personal letters that reveal the contributions of ordinary American citizens, each session investigates primary sources and features a discussion with expert historians and curators about the documents' background, impact, and potential use in the classroom.
Join us on July 7, 2022, from 7:00 to 8:00 p.m. ET (4:00 to 5:00 p.m. PT) when our curators will discuss Thomas Paine's pamphlet Common Sense with Eric Slauter, Associate Professor of English, University of Chicago. Published anonymously in January 1776, Common Sense advocates colonial independence from Great Britain. Around 500,000 copies were sold, and it is considered one of the most influential pamphlets in American history. What made this pamphlet so powerful, and how did it help bring about American independence? We will address these questions and more.
Submit your questions for Professor Slauter here.
This event is for teachers, students and their families—and everyone with an interest in history!
Everyone who registers will be sent a Zoom meeting link and instructions in the confirmation email.
PD certificates will be sent to everyone who attends the entirety of the program.
Upcoming Programs
August 4, 2022: Join us on August 4, 2022, from 7:00 to 8:00 p.m. ET (4:00 to 5:00 p.m. PT) when our curators will discuss campaign materials from Franklin D. Roosevelt's third presidential election with Barbara Perry, the Gerald L. Baliles Professor and director of Presidential Studies at the University of Virginia's Miller Center. The handbills featured in this program showcase the successes of Roosevelt's New Deal initiatives. These documents helped Roosevelt become the only US president to serve a third term, and we will explore the reasons why.