#05 Runaway Slave Ads, 1791 and 1852
Image: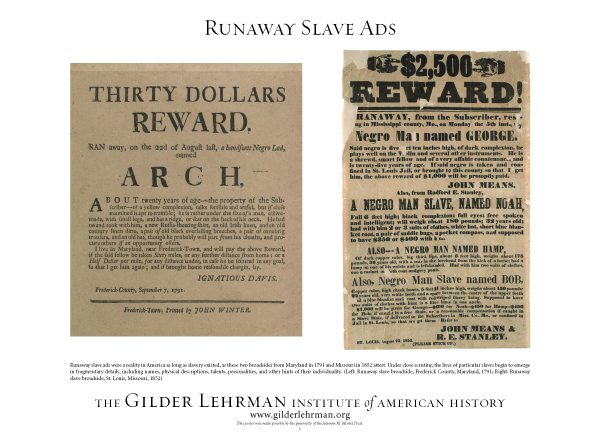 Poster Caption: Runaway slave ads were a reality in America as long as slavery existed, as these two broadsides from Maryland in 1791 and Missouri in 1852 attest. Under close scrutiny, the lives of particular slaves begin to emerge in fragmentary details, including names, physical descriptions, talents, personalities, and other hints of their individuality. (Left: Runaway slave broadside, Frederick County, Maryland, 1791. Right: Runaway slave broadside, St. Louis, Missouri, 1852)
These posters are 22" x 30", full color, and printed on a semi-gloss ivory stock. Each one features a caption that places the image in historical context.
History Shop Sale: 40% off
Retail Price $9.99 Now $5.99
Standard Price: $5.99
Affiliate Price: $4.49