#17 Civil Rights Placard, 1968
Image: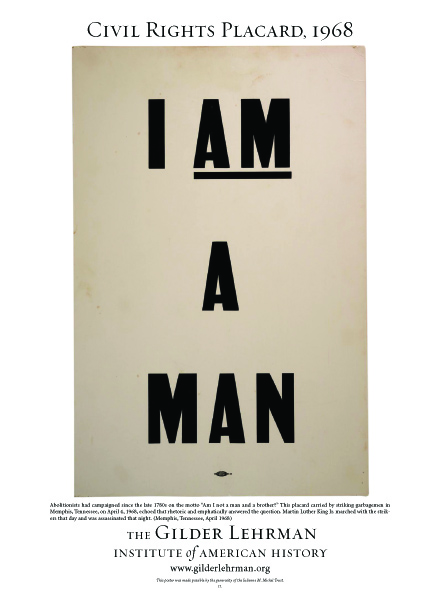 Abolitionists had campaigned since the late 1780s on the motto "Am I not a man and a brother?" This placard carried by striking sanitation workers in Memphis, Tennessee in 1968 echoes that rhetoric and emphatically answers the question. Martin Luther King Jr. marched with the striking workers and, on April 3, addressed them with his "I Have Been to the Mountaintop" speech. He was assassinated the next evening, April 4, 1968, at the Lorraine Motel. (The Gilder Lehrman Institute, GLC06124)
These posters are 22" x 30", full color, and printed on a semi-gloss white stock. Each one features a caption that places the image in historical context.
Standard Price: $9.99
Affiliate Price: $7.49