The Collection contains materials written by leaders, soldiers, and women during the American Revolution. The letters discuss not only the military and political aspects of the war, but also include numerous personal letters that reveal the authors' private opinions of contemporary people and events.  
A comprehensive research database of the Collection with images is available to universities and libraries by subscription through digital publisher Adam Matthew.
Selected Searches
Educational Resources:
Educational resources including essays, timelines, multimedia, interactives, featured primary sources, and other teaching resources can be found in the History by Era section of our website. Our Featured Primary Sources include introductions, transcriptions, and images of documents, available to all educators, with additional content of questions for discussion and  printable hand-outs for Affiliate School members.
Image: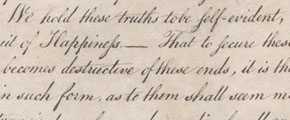 Search path with parameters:
/mweb/search?needle=&fields=all&era3=American+Revolution%2C+1763-1783&sortby=s301001610&items_per_page=20
This is a Left Navigation Collection Grouping for the Collection's homepage:
Old Path:
/collections/groupings/american-revolution-1763-1783