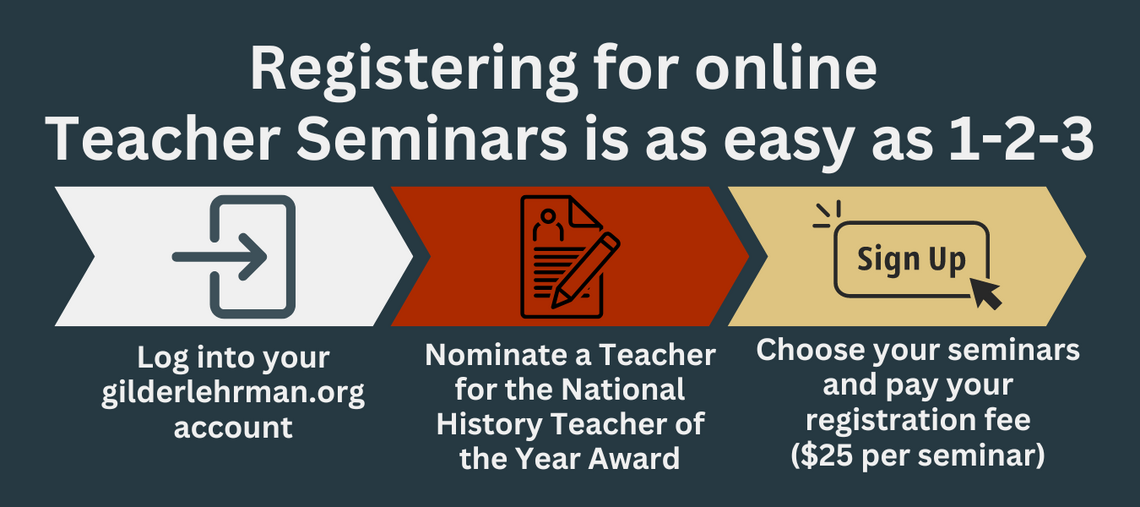 You must be a teacher at a Gilder Lehrman Affiliate School (or a community college instructor or National Park Service employee) to proceed. If you are a K–12 educator but not yet an Affiliate School member, you can register your school for the free Affiliate School Program here.
Before registering for the 2023 Teacher Seminars, please nominate an outstanding K–12 educator for the National History Teacher of the Year award. By nominating a fellow teacher, you are identifying leaders in the field of K-12 American history education and taking an active leadership role in putting forth your standards of excellence. Now more than ever it is vital to acknowledge history teachers and their meaningful work, recognizing the significant roles they play in their communities. Think of your colleague— whether at your school, in your city, or in your state—who through their nomination will shine a light on history teaching as a profession and a vocation. For more information, please visit gilderlehrman.org/nhtoy.
Click "Start Here" to begin your registration. After you complete the form, you will be redirected to a page where you can select your preferred seminars. Registration for a seminar closes one week before the first live session of that seminar or when that seminar reaches full capacity.
If you have any questions, email seminars@gilderlehrman.org.