This course will examine strategies and techniques intended to help you master the different types of assessments included in the AP United States History coursework and exam. You will learn how to approach multiple-choice questions, short-answer questions, document-based questions, and long essay questions. The aim is for you to feel confident in understanding and answering the various types of questions featured on the APUSH exam so you can get the highest possible score.
Key Information
The deadline to register was June 30, 2023.
The six weekly classes are 60 minutes in length and will take place on Zoom.
Classes will begin at 5:00 p.m. ET (4:00 p.m. CT/ 3:00 p.m. MT/2:00 p.m. PT).
If you attend 5 out of 6 classes, you will receive a certificate from the Gilder Lehrman Institute confirming your participation in this History School course.
Schedule
Week 1, Thursday, July 6, 5-6 p.m. ET: Introduction to APUSH
Week 2, Thursday, July 13, 5-6 p.m. ET: Mastering the Stimulus-Based Multiple-Choice Questions
Week 3, Thursday, July 20, 5-6 p.m. ET: Mastering the Short-Answer Questions
Week 4, Thursday, July 27, 5-6 p.m. ET: How to Create a HOTT (Historical Overview; Thesis with Themes) Intro and Mastering the Long Essay
Week 5, Thursday, August 3, 5-6 p.m. ET: Mastering the Document-Based Questions
Week 6, Thursday, August 10, 5-6 p.m. ET: Reviewing the APUSH Exam Structure
Intended Audience
This course is for high school students (grades 9–12). Parents and educators will not be permitted to register for this course. Parents interested in participating in a GLI program should subscribe to Book Breaks or purchase a self-paced course from our History Shop. Educators are encouraged to check out our many 2023 summer professional development opportunities.
Registration
Registration is for the entire 6-week course. You must have a Gilder Lehrman K-12 Student account to register for a History School course. Log in or create a free account here. The deadline to register was Friday, June 30.
Please follow the instructions on the registration page. Once registered, you will be enrolled in the Gilder Lehrman Online Learning Community. You will have access to the course page on Thursday, July 6.
Registration for History School has closed.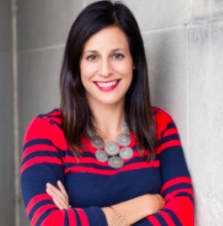 Sara Ziemnik has taught American history and world history for twenty years at Rocky River High School in Ohio, where she centers her students' experience around discussion and inquisitive learning. Ms. Ziemnik encourages her students to learn from one another. Of her approach, she says, "My students have the responsibility as American citizens to form their own opinions." In 2017, Ms. Ziemnik was named the National History Teacher of the Year by the Gilder Lehrman Institute.
Please email historyschool@gilderlehrman.org if you have any questions.