The events of March 1965 in Selma, Alabama, leading up to the signing of the Voting Rights Act in August of that year changed the course of American history. It ensured access to one of the basic American rights: the right to vote. Yet the history of this right goes back much further than 1965, and the Selma movement follows us into the present day. With voting rights and access at the forefront of current American politics, the need to understand the history of the vote is key.
The History of the Voting Rights Struggle: 1865–2020 examines this movement from Reconstruction to the present day. This course uses the Selma Online curriculum developed by Harvard University's Hutchins Center for African and African American Research—which is led by Professor Henry Louis Gates, Jr.—to tie into the film Selma. This course will cover what came before, during, and after the fateful events of March 1965 from the perspectives of both Alabama and the United States at large.
Students in this course will develop action plans to organize their friends, family, and neighbors against barriers to voting in their state. The course will also feature cast members from Hamilton discussing opportunities to volunteer with nonpartisan organizations focused on voting.
NOTE: Some content depicts racial violence and contains language that may be upsetting to participants but is vital to their understanding of the course topic.
Intended Audience
This class is for high school students (grades 9–12). 
Classes
This course has an estimated weekly commitment of 90 minutes (one hour of class time plus an additional half hour to review online modules in the Selma Online curriculum). 
 

Class 1

CLASS RECORDING from Wednesday, October 7, 2020
Race and Voting Rights: A Historical Introduction

Class 2

 

CLASS RECORDING from Wednesday, October 14, 2020
Youth Activism & Voting Rights: Historical Forebears and Contemporary Discussions

 

Class 3

 

CLASS RECORDING from Wednesday, October 21, 2020
The Right to Vote: What You Can Do Now

 

Class 4

 

CLASS RECORDING from Wednesday, October 28, 2020
Democracy Denied in Dallas County 

 

Class 5

 

CLASS RECORDING from Wednesday, November 4, 2020

Who's Who in Selma

 

Class 6

 

CLASS RECORDING from Wednesday, November 18, 2020
Selma's Pivotal Moments / Presidential Support

 

Class 7

 

CLASS RECORDING from Wednesday, December 2, 2020
The Right to Vote: Contemporary Discussions
Meet Your Teacher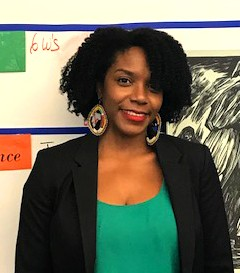 Alysha Butler is a social studies teacher at McKinley Technology High School in Washington, DC. In addition to teaching 11th grade US History, Ms. Butler also served as District Course Chair in 2019–2020. In 2019, she won the Gilder Lehrman Institute's National History Teacher of the Year Award as well as the Daughters of the American Revolution Outstanding Teacher of United States History Award and was a 2019 GrantEd Recipient. Before teaching at McKinley Tech, she taught at Miramar High School in Florida, where she won the school's Teacher of the Year Award in 2010.
A History Channel video highlighting Alysha Butler can be found here.
Participation Certificate
Students who get 100% on the attendance quiz can get a certificate from the Gilder Lehrman Institute confirming their attendance in each History School session. Quizzes are linked in the schedule as well as the video description.
Video Playlist
Please emailhistoryschool@gilderlehrman.org with any questions about the course.