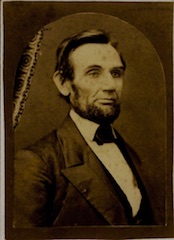 Lincoln Speaks Symposium
Dates: August 1–6, 2021
Location: Abraham Lincoln Presidential Library and Museum, Springfield, IL
Participants: K–12 teachers from Illinois, Indiana, and Nebraska
Application Deadline: May 15, 2021
In partnership with the Abraham Lincoln Presidential Library and Museum
The Lincoln Speaks Symposium will allow up to 25 K–12 teachers from Illinois, Indiana, or Nebraska to participate in a weeklong professional development event on-site at the Abraham Lincoln Presidential Library and Museum. The symposium will focus on Lincoln's intellectual, moral, psychological, and political evolution. Participants will have the chance to explore Lincoln's life and writings in his hometown of Springfield, Illinois.
Eligibility
K–12 educators teaching in Illinois, Indiana, or Nebraska are welcome to apply to the Lincoln Speaks Symposium. Teachers must be enrolled in the Gilder Lehrman Institute's free Affiliate School Program to complete their application. Check here to see if your school is in the Affiliate School Program. If not, you can sign up here.
Application Information
Interested K–12 teachers in Illinois, Indiana, or Nebraska must complete an application to be considered. Applications will be reviewed by Gilder Lehrman and Abraham Lincoln Presidential Library and Museum staff.
The deadline to submit an application was May 15, 2021. Selected teachers will be notified by June 15, 2021.
Program Details
Director
Michael Burlingame, Chancellor Naomi B. Lynn Distinguished Chair in Lincoln Studies, University of Illinois, Springfield
Master Teacher
Nathan McAlister, Gilder Lehrman Master Teacher
Schedule and Readings
Throughout the week, teachers will participate in a variety of activities exploring the central themes of Lincoln's statesmanship, the origins of his political thought, the forces that shaped his personality and character, and his relevance in the twenty-first century. These activities will include
Scholarly lectures and discussions led by the symposium's Director
Teaching Literacy through History pedagogy sessions led by a Gilder Lehrman Master Teacher
Discussions and presentations by Abraham Lincoln Presidential Museum and Library staff featuring primary source materials 
Virtual or in-person field trips featuring local historical sites 
A final schedule and required readings will be shared with participants before the symposium. Participants will be asked to purchase (up to $50) and complete the required readings before arrival in Springfield.
Travel, Meals & Accommodations
Participants are responsible for making their own travel arrangements; the Institute will provide a flat $400 stipend for travel expenses.
This seminar will take place at the Abraham Lincoln Presidential Library & Museum in Springfield, Illinois. Housing will be provided at a local hotel and participants will be placed in single rooms.
Meals will be provided for the duration of the symposium.
Policies
Participants will be required to attend and take part in all scheduled activities.
Participants will be asked to bring a laptop, tablet, or similar device. Materials presented before and during the week will be shared electronically.
COVID - 19
All activities during the symposium will adhere to guidelines from the CDC and the State of Illinois. Participants will be required to follow all safety guidelines presented by Gilder Lehrman and Abraham Lincoln Presidential Library and Museum staff. Failure to comply with these safety guidelines will result in a participant's removal from the symposium. 
Participant health and safety are of the utmost importance. If at any point before the symposium it becomes impossible to conduct an in-person program in compliance with CDC guidelines, the symposium will shift to a virtual format on the same dates. Participants will be notified by email of this shift. The travel stipend will be reduced to account for the shift.
If you have any questions, please email education@gilderlehrman.org.