Online Courses
Registration for Fall 2016 online courses has closed. Registration for Spring 2017 courses will open in November 2016.
The American Civil War
This survey of the Civil War will examine the political, military, social, intellectual, and cultural aspects of the conflict and its era. Students will discover why the Civil War has had such a hold on the American imagination, as well as the ways in which we continue to wrestle with the myriad questions that the war and its aftermath left unsettled. Gettysburg College historian Allen Guelzo, a three-time recipient of the Lincoln Prize, will lead the way.
Schedule
The course will meet for live sessions from 7:00 to 9:00 p.m. Eastern Time on the following dates:
September 6
September 19
September 20
September 26
September 27
October 24
October 25
November 7
November 8
November 21
All sessions will be broadcast live, recorded, and available to watch on-demand. Regular attendance is strongly encouraged, but not mandatory.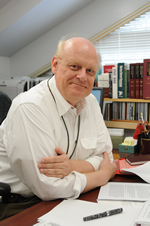 Lead Scholar
Allen Guelzo
Allen C. Guelzo is the Henry R. Luce Professor of the Civil War Era and the director of Civil War Era Studies at Gettysburg College. He is the author of many books, among them Abraham Lincoln: Redeemer President, which won the Lincoln Prize in 2000, and Lincoln's Emancipation Proclamation: The End of Slavery in America, which won the Lincoln Prize in 2005. His latest work, Gettysburg: The Last Invasion (2013), spent eight weeks on the New York Times best-seller list and also won the Lincoln Prize—making Professor Guelzo the only three-time honoree. His articles and essays have appeared in scholarly journals and the New York Times, the Wall Street Journal, the Christian Science Monitor, the Washington Post, and the Los Angeles Times, and he has been a guest on NPR, the the National Geographic Channel, and the Daily Show.