The Gilder Lehrman MA in American History from Adams State University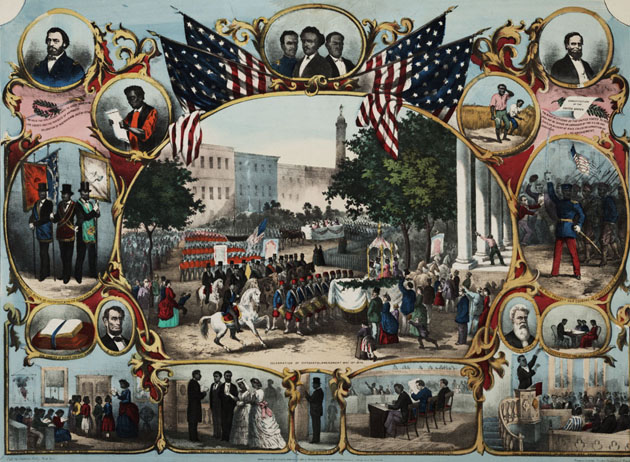 Are you ready to take the next step in your education? The Gilder Lehrman MA in American History from Adams State University offers the opportunity to pursue your master's degree through our online graduate courses.
In addition to providing a top-notch education, the Gilder Lehrman Institute and Adams State are committed to offering a program that fits your schedule as well as your budget. Participants can take as many years as they need to complete the program and, at a cost of $600 per course, enrollees can earn an MA in American History for $6000. For more information about current and upcoming courses, visit gilderlehrman.org/onlinecourses.
Complete Your Master's Degree in Three Steps
Enroll in the MA program through a free application with Adams State when you sign up for your first online course.
Complete nine Gilder Lehrman online courses and the thesis course, or eight online courses and the thesis course plus one Gilder Lehrman Teacher Seminar (Teacher Seminars involve a competitive application process). Online graduate courses are offered each spring, summer, and fall, and Teacher Seminars run weekly from late June through August. For information about getting graduate credit for a Teacher Seminar, click here.
Write a thesis and defend it on the Adams State campus.
Scholarships for Affiliate School Teachers
Two scholarships per course will be offered each semester to Gilder Lehrman Affiliate School teachers. Find out more about scholarship opportunities at Online Course FAQs and learn more about the Gilder Lehrman Affiliate School Program here.
---
About Adams State University
Founded in 1921, Adams State is a university offering undergraduate majors, minors, and emphases. ASU also offers master's degree programs and a doctoral program—with most of these graduate programs offered online. In recent years, Adams State has entered a new era of growth including a transformation of its campus in Alamosa, Colorado, with $65 million worth of improvements nearly complete.