Exploration, Encounter, Exchange in History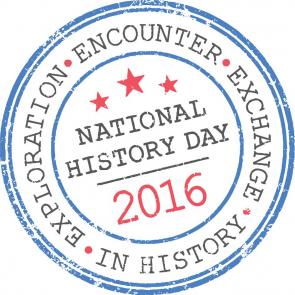 The 2016 National History Day theme invites students to investigate "Exploration, Encounter, Exchange in History." This broad theme allows you a lot of flexibility in choosing a research topic and gives you the opportunity to explore your passion. It might be helpful to think of the topics in the following terms:
Exploration: This can be anything from early explorers discovering new lands to modern scientists discovering cures.
Encounter: Whether the contact is cultural, social, physical, or political, whenever two or more groups or individuals interact, it's an encounter.
Exchange: We exchange goods, information, and ideas every day.

What are you interested in?
It helps if you define what you are interested in and determine how it fits into the National History Day themes. For example,
Interest: Prisoners of war or prison camps
Possible Themes: Encounter or Exchange
Possible Topics: Relations between guards and prisoners; prison camp escapes; life inside the prison as told through letters home; camp conditions; mismanagement or willful disregard; politics of prisoner exchanges; disease and malnutrition
Where to start
If you are looking for some inspiration for your project, you might want to browse our Featured Primary Sources. This curated list of more than 250 documents spans 500 years of American history—from Columbus's letter to Ferdinand and Isabella to Barrack Obama's inauguration. Each document has an introduction, transcript, and image and even questions for discussion to help you get started. You can filter the list for author, theme, or historical era.
Ready for more in-depth research
The Gilder Lehrman Collection is a unique archive of primary sources in American history. The Collection includes more than 60,000 letters, diaries, maps, pamphlets, printed books, newspapers, photographs, and ephemera that document the political, social, and economic history of the United States. The Collection is strongest in the eras from colonization through the end of Recostruction, with some select materials highlighting major events of the 20th century.
To help you get started, we have created a short list of topics that span 500 years of American history. Each link will bring you to a list of relevant documents in the Gilder Lehrman Collection.
We have created Reference Guides, divided by historical era, with curated search results to help you zero in on your topic. And you can always Ask the Archivist if you have any question.