The Twentieth Century: The United States and the World, 1898–1991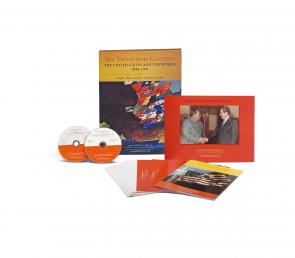 Volume IX in the History in a Box Series
ISBN: 978-1932821901
Price: $74.99
Purchase The Twentieth Century at the Gilder Lehrman History Shop
---
About The Twentieth Century History in a Box
The Gilder Lehrman Institute announces the publication of The Twentieth Century: The United States and the World, 1898–1991, the ninth volume in the award-winning History in a Box series.
The twentieth century was one of tumultuous change, as social revolution, technical innovation and competition, and international events and relationships shaped the United States and its place in the world. To form a cohesive understanding of this era, we must investigate not only what happened, but also how the people, places, and events fit together and influenced one another in an increasingly interdependent world.
Contents
A CD-ROM with The Twentieth Century Resource Book, which provides more than 60 annotated primary sources, photographs and other images, and a list of additional resources; accompanied by electronic versions of the Teaching Literacy through History booklet (see below), a bonus classroom unit on President Eisenhower's Farewell Address, and the 20th-century timeline, and a recording of the song "Waist Deep in the Big Muddy."
A sequential set of ten posters of documents and illustrations
Ten placards of key individuals and topics with document-based questions for classroom discussions
A poster-sized timeline
Historians on the Record, a DVD of lectures by eminent historians
Teaching Literacy through History, a printed booklet with three units aligned with Common Core State Standards supporting literacy
About the History in a Box Series
The Twentieth Century is the ninth in the History in a Box series published by the Gilder Lehrman Institute of American History. The series began with The Founding Era and now includes The Civil War, Alexander Hamilton, Abraham Lincoln, Slavery and Abolition, The American West, American History: An Introduction, and Freedom to Move: Immigration and Migration in U.S. History. Our aim is to produce a comprehensive series of resource boxes that will address major eras and topics in American history, and provide unique materials for teachers at every level from elementary through middle and high school.