Online Courses
Understanding Lincoln
Registration for Summer 2016 courses is closed.
No one would have appreciated the power of online education more than Abraham Lincoln, one of the great self-made, lifelong learners in world history. This course, taught by Lincoln scholar and digital history pioneer Matthew Pinsker, aspires to create a learning experience that Lincoln himself would have embraced. We will focus our study on five popular characterizations applied to the sixteenth president during and after his life: the Railsplitter, Honest Abe, Father Abraham, the Great Emancipator, and Savior of the Union. We will critically examine each of these themes in order to understand their origins and assess their validity. In the process, students will gain a better understanding of Lincoln as a man and a president.
Schedule
The course will meet for two-hour blocks on the following dates:
June 22
June 29
June 30
July 7
July 13
July 20
July 25 (two sessions this day)
August 3
August 20
The course will present several types of live sessions, all of which will offer graduate participants the opportunity to ask questions of the instructors:

Six seminar sessions will consist of lecture and discussion with Professor Pinsker.

Two digital pedagogy sessions taught by a Gilder Lehrman Master Teacher Fellow will demonstrate how to bring the content Professor Pinsker discusses into middle and high school classrooms.
One virtual field trip discussion will explore themes springing from video tours we will take to historic sites crucial to Lincoln's life and presidency.
One capstone session will involve the presentation of final projects by three students chosen by Professor Pinsker due to exceptional performance on this assignment.

All sessions will be broadcast live, recorded, and available to watch on-demand.
Regular attendance is strongly encouraged, but not mandatory.
Readings & Assignments
All course readings will be freely available through the course website.
Weekly readings will include approximately 50 pages of primary documents and scholarly articles. Participants will also watch a guest lecture video 45–60 minutes in length and study digital history resources. Preparation for each seminar meeting should take about three hours.
Assignments include

25 document-based quizzes
2 online close-reading essays (about 1,000 words each) on key Lincoln documents
1 major multimedia teaching project that includes at least one revised close-reading essay, various online presentation tools, and a pedagogy component that helps explain the teaching and learning value of the material

Registered students will receive the syllabus on June 6, 2016.
Special Opportunities
The three participants with the best final projects will enjoy a trip New York City to present their work during our concluding course meeting, on Saturday, August 20. These top-performers will enjoy free accommodations and meals courtesy of the Gilder Lehrman Institute during their stay.
All participants will become registered private users at the Lincoln's Writings site, named a "Best of the Web" resource by NEH, and will have the chance to publish their own scholarship on Abraham Lincoln as contributing editors.
Costs
Graduate participants may join live sessions and complete assignments in pursuit of 3.0 graduate credits in history from Adams State University for $600.
Auditors may watch session recordings and pursue a Continuing Education Certificate of Completion for $25. Teachers from Gilder Lehrman Affiliate Schools may audit for just $15. Please note that auditors are not permitted to take part in the live sessions.
Registration
Registration begins April 18 and concludes May 31, 2016, at 11:59 p.m. Eastern Time.
Please note that the credit-bearing graduate section of the course is limited to 100 participants and may fill before the registration period ends.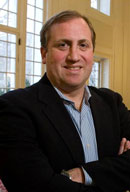 Lead Scholar
Matthew Pinsker
Matthew Pinsker holds the Brian Pohanka Chair for Civil War History at Dickinson College in Carlisle, Pennsylvania, where he also directs the House Divided Project, an innovative effort to create free digital resources on the Civil War era for K–12 classrooms. Pinsker is the author of various articles and books on Abraham Lincoln, including Lincoln's Sanctuary (Oxford, 2003) and the forthcoming Boss Lincoln (W.W. Norton). Pinsker is also a Distinguished Lecturer with the Organization of American Historians and a Fellow at the New America Foundation in Washington, DC.