Great Inaugural Addresses
George Washington's First Inaugural Address, April 30, 1789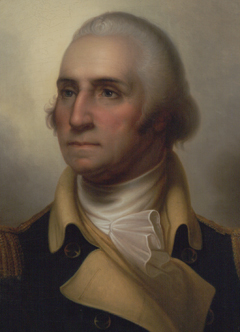 Fellow Citizens of the Senate and the House of Representatives.

Among the vicissitudes incident to life, no event could have filled me with greater anxieties than that of which the notification was transmitted by your order, and received on the fourteenth day of the present month. On the one hand, I was summoned by my Country, whose voice I can never hear but with veneration and love, from a retreat which I had chosen with the fondest predilection, and, in my flattering hopes, with an immutable decision, as the asylum of my declining years: a retreat which was rendered every day more necessary as well as more dear to me, by the addition of habit to inclination, and of frequent interruptions in my health to the gradual waste committed on it by time. On the other hand, the magnitude and difficulty of the trust to which the voice of my Country called me, being sufficient to awaken in the wisest and most experienced of her citizens, a distrustful scrutiny into his qualifications, could not but overwhelm with dispondence, one, who, inheriting inferior endowments from nature and unpractised in the duties of civil administration, ought to be peculiarly conscious of his own deficiencies. In this conflict of emotions, all I dare aver, is, that it has been my faithful study to collect my duty from a just appreciation of eve ry circumstance, by which it might be affected. All I dare hope, is, that, if in executing this task I have been too much swayed by a grateful remembrance of former instances, or by an affectionate sensibility to this transcendent proof, of the confidence of my fellow-citizens; and have thence too little consulted my incapacity as well as disinclination for the weighty and untried cares before me; my error will be palliated by the motives which misled me, and its consequences be judged by my Country, with some share of the partiality in which they originated.

Such being the impressions under which I have, in obedience to the public summons, repaired to the present station; it would be peculiarly improper to omit in this first official Act, my fervent supplications to that Almighty Being who rules over the Universe, who presides in the Councils of Nations, and whose providential aids can supply every human defect, that his benediction may consecrate to the liberties and happiness of the People of the United States, a Government instituted by themselves for these essential purposes: and may enable every instrument employed in its administration to execute with success, the functions allotted to his charge. In tendering this homage to the Great Author of every public and private good I assure myself that it expresses your sentiments not less than my own; nor those of my fellow-citizens at large, less than either. No People can be bound to acknowledge and adore the invisible hand, which conducts the Affairs of men more than the People of the United States. Every step, by which they have advanced to the character of an independent nation, seems to have been distinguished by some token of providential agency. And in the important revolution just accomplished in the system of their United Government, the tranquil deliberations and voluntary consent of so many distinct communities, from which the event has resulted, cannot be compared with the means by which most Governments have been established, without some return of pious gratitude along with an humble anticipation of the future blessings which the past seem to presage. These reflections, arising out of the present crisis, have forced themselves too strongly on my mind to be suppressed. You will join with me I trust in thinking, that there are none under the influence of which, the proceedings of a new and free Government can more auspiciously commence.

By the article establishing the Executive Department, it is made the duty of the President "to recommend to your consideration, such measures as he shall judge necessary and expedient." The circumstances under which I now meet you, will acquit me from entering into that subject, farther than to refer to the Great Constitutional Charter under which you are assembled; and which, in defining your powers, designates the objects to which your attention is to be given. It will be more consistent with those circumstances, and far more congenial with the feelings which actuate me, to substitute, in place of a recommendation of particular measures, the tribute that is due to the talents, the rectitude, and the patriotism which adorn the characters selected to devise and adopt them. In these honorable qualifications, I behold the surest pledges, that as on one side, no local prejudices, or attachments; no seperate views, nor party animosities, will misdirect the comprehensive and equal eye which ought to watch over this great assemblage of communities and interests: so, on another, that the foundations of our National policy will be laid in the pure and immutable principles of private morality; and the pre-eminence of a free Government, be exemplified by all the attributes which can win the affections of its Citizens, and command the respect of the world.

I dwell on this prospect with every satisfaction which an ardent love for my Country can inspire: since there is no truth more thoroughly established, than that there exists in the oeconomy and course of nature, an indissoluble union between virtue and happiness, between duty and advantage, between the genuine maxims of an honest and magnanimous policy, and the solid rewards of public prosperity and felicity: Since we ought to be no less persuaded that the propitious smiles of Heaven, can never be expected on a nation that disregards the eternal rules of order and right, which Heaven itself has ordained: And since the preservation of the sacred fire of liberty, and the destiny of the Republican model of Government, are justly considered as deeply, perhaps as finally staked, on the experiment entrusted to the hands of the American people.

Besides the ordinary objects submitted to your care, it will remain with your judgment to decide, how far an exercise of the occasional power delegated by the Fifth article of the Constitution is rendered expedient at the present juncture by the nature of objections which have been urged against the System, or by the degree of inquietude which has given birth to them. Instead of undertaking particular recommendations on this subject, in which I could be guided by no lights derived from official opportunities, I shall again give way to my entire confidence in your discernment and pursuit of the public good: For I assure myself that whilst you carefully avoid every alteration which might endanger the benefits of an United and effective Government, or wh ich ought to await the future lessons of experience; a reverence for the characteristic rights of freemen, and a regard for the public harmony, will sufficiently influence your deliberations on the question how far the former can be more impregnably fortified, or the latter be safely and advantageously promoted.

To the preceeding observations I have one to add, which will be most properly addressed to the House of Representatives. It concerns myself, and will therefore be as brief as possible. When I was first honoured with a call into the Service of my Country, then on the eve of an arduous struggle for its liberties, the light in which I contemplated my duty required that I should renounce every pecuniary compensation. From this resolution I have in no instance departed. And being still under the impressions which produced it, I must decline as inapplicable to myself, any share in the personal emoluments, which may be indispensably included in a permanent provision for the Executive Department; and must accordingly pray that the pecuniary estimates for the Station in which I am placed, may, during my continuance in it, be limited to such actual expenditures as the public good may be thought to require.

Having thus imported to you my sentiments, as they have been awakened by the occasion which brings us together, I shall take my present leave; but not without resorting once more to the benign parent of the human race, in humble supplication that since he has been pleased to favour the American people, with opportunities for deliberating in perfect tranquility, and dispositions for deciding with unparellelled unanimity on a form of Government, for the security of their Union, and the advancement of their happiness; so his divine blessing may be equally conspicuous in the enlarged views, the temperate consultations, and the wise measures on which the success of this Government must depend.
Abraham Lincoln's Second Inaugural Address, March 4, 1865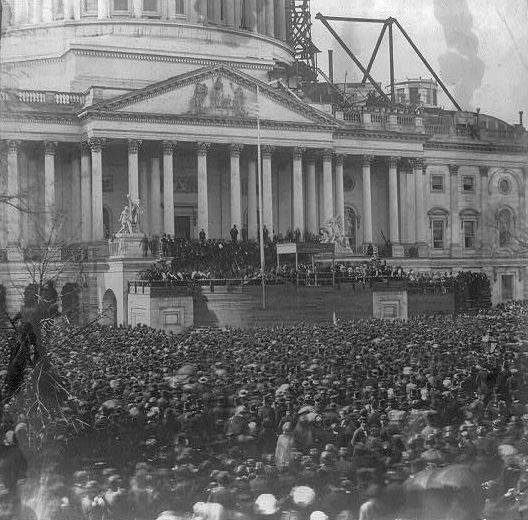 fellow Countrymen:

At this second appearing to take the oath of the Presidential Office, there is less occasion for an extended address than there was at the first. Then a statement somewhat in detail of a course to be pursued seemed very fitting and proper. Now, at the expiration of four years, during which public declarations have been constantly called forth on every point and phrase of the great contest which still absorbs the attention and engrosses the energies of the nation, little that is new could be presented.

The progress of our arms–upon which all else chiefly depends–is as well known to the public as to myself; and it is, I trust, reasonably satisfactory and encouraging to all. With high hope for the future, no prediction in regard to it is ventured.

On the occasion corresponding to this four years ago, all thoughts were anxiously directed to an impending civil war. All dreaded it; all sought to avoid it. While the inaugural address was being delivered from this place, devoted altogether to saving the Union without war, insurgent agents were in the city seeking to destroy it without war–seeking to dissolve the Union and divide the effects by negotiation.

Both parties deprecated war; but one of them would make war rather than let the nation survive, and the other would accept war rather than let it perish, and the war came.

One-eighth of the whole population were colored slaves, not distributed generally over the Union, but localized in the Southern part of it. These slaves constituted a peculiar and powerful interest. All knew that this interest was somehow the cause of the war. To strengthen, perpetuate and extend this interest was the object for which the insurgents would rend the Union by war, while the Government claimed no right to do more than to restrict the territorial enlargement of it.

Neither party expected for the war the magnitude or the duration which it has already attained. Neither anticipated that the cause of the conflict might cease, even before the conflict itself should cease. Each looked for an easier triumph and a result less fundamental and astounding.

Both read the same Bible, and pray to the same God, and each invokes His aid against the other. It may seem strange that any men should dare to ask a just God's assistance in wringing their bread from the sweat of other men's face; but let us judge not, that we be not judged. The prayers of both should not be answered. That of neither has been answered fully. The Almighty has His own purposes. Woe unto the world because of offences, for it must needs be that offences come; but woe to that man by whom the offence cometh.

If we shall suppose that American Slavery is one of these offences-which, in the providence of God, must needs come, but which, having continued through His appointed time, He now wills to remove, and that He gives to both North and South this terrible war as the woe due to those by whom the offence came–shall we discern there is any departure from those Divine attributes which the believers in a living God always ascribe to Him? Fondly do we hope, fervently do we pray, that this mighty scourge of war may speedily pass away. Yet, if God wills that it continue until all the wealth piled by the bondman's two hundred and fifty years of unrequited toil shall be sunk, and until every drop of blood drawn with the lash shall be paid by another drawn with the sword, as was said three thousand years ago, so still it must be said that the judgements of the Lord are true and righteous altogether.

With malice toward none, with charity for all, with firmness in the right, as God gives us to see the right, let us strive on to finish the work we are in, to bind up the nation's wound, to care for him who shall have borne the battle, and for his widow and orphans; to do all which may achieve and cherish a just and a lasting peace among ourselves and with all nations.
Franklin D. Roosevelt's First Inaugural Address, March 4, 1933
I am certain that my fellow Americans expect that on my induction into the Presidency I will address them with a candor and a decision which the present situation of our Nation impels. This is preeminently the time to speak the truth, the whole truth, frankly and boldly. Nor need we shrink from honestly facing conditions in our country today. This great Nation will endure as it has endured, will revive and will prosper. So, first of all, let me assert my firm belief that the only thing we have to fear is fear itself—nameless, unreasoning, unjustified terror which paralyzes needed efforts to convert retreat into advance. In every dark hour of our national life a leadership of frankness and vigor has met with that understanding and support of the people themselves which is essential to victory. I am convinced that you will again give that support to leadership in these critical days.

In such a spirit on my part and on yours we face our common difficulties. They concern, thank God, only material things. Values have shrunken to fantastic levels; taxes have risen; our ability to pay has fallen; government of all kinds is faced by serious curtailment of income; the means of exchange are frozen in the currents of trade; the withered leaves of industrial enterprise lie on every side; farmers find no markets for their produce; the savings of many years in thousands of families are gone.

More important, a host of unemployed citizens face the grim problem of existence, and an equally great number toil with little return. Only a foolish optimist can deny the dark realities of the moment.

Yet our distress comes from no failure of substance. We are stricken by no plague of locusts. Compared with the perils which our forefathers conquered because they believed and were not afraid, we have still much to be thankful for. Nature still offers her bounty and human efforts have multiplied it. Plenty is at our doorstep, but a generous use of it languishes in the very sight of the supply. Primarily this is because the rulers of the exchange of mankind's goods have failed, through their own stubbornness and their own incompetence, have admitted their failure, and abdicated. Practices of the unscrupulous money changers stand indicted in the court of public opinion, rejected by the hearts and minds of men.

True they have tried, but their efforts have been cast in the pattern of an outworn tradition. Faced by failure of credit they have proposed only the lending of more money. Stripped of the lure of profit by which to induce our people to follow their false leadership, they have resorted to exhortations, pleading tearfully for restored confidence. They know only the rules of a generation of selfseekers. They have no vision, and when there is no vision the people perish.

The money changers have fled from their high seats in the temple of our civilization. We may now restore that temple to the ancient truths. The measure of the restoration lies in the extent to which we apply social values more noble than mere monetary profit.

Happiness lies not in the mere possession of money; it lies in the joy of achievement, in the thrill of creative effort. The joy and moral stimulation of work no longer must be forgotten in the mad chase of evanescent profits. These dark days will be worth all they cost us if they teach us that our true destiny is not to be ministered unto but to minister to ourselves and to our fellow men.

Recognition of the falsity of material wealth as the standard of success goes hand in hand with the abandonment of the false belief that public office and high political position are to be valued only by the standards of pride of place and personal profit; and there must be an end to a conduct in banking and in business which too often has given to a sacred trust the likeness of callous and selfish wrongdoing. Small wonder that confidence languishes, for it thrives only on honesty, on honor, on the sacredness of obligations, on faithful protection, on unselfish performance; without them it cannot live.

Restoration calls, however, not for changes in ethics alone. This Nation asks for action, and action now.

Our greatest primary task is to put people to work. This is no unsolvable problem if we face it wisely and courageously. It can be accomplished in part by direct recruiting by the Government itself, treating the task as we would treat the emergency of a war, but at the same time, through this employment, accomplishing greatly needed projects to stimulate and reorganize the use of our natural resources.

Hand in hand with this we must frankly recognize the overbalance of population in our industrial centers and, by engaging on a national scale in a redistribution, endeavor to provide a better use of the land for those best fitted for the land. The task can be helped by definite efforts to raise the values of agricultural products and with this the power to purchase the output of our cities. It can be helped by preventing realistically the tragedy of the growing loss through foreclosure of our small homes and our farms. It can be helped by insistence that the Federal, State, and local governments act forthwith on the demand that their cost be drastically reduced. It can be helped by the unifying of relief activities which today are often scattered, uneconomical, and unequal. It can be helped by national planning for and supervision of all forms of transportation and of communications and other utilities which have a definitely public character. There are many ways in which it can be helped, but it can never be helped merely by talking about it. We must act and act quickly.

Finally, in our progress toward a resumption of work we require two safeguards against a return of the evils of the old order; there must be a strict supervision of all banking and credits and investments; there must be an end to speculation with other people's money, and there must be provision for an adequate but sound currency.

There are the lines of attack. I shall presently urge upon a new Congress in special session detailed measures for their fulfillment, and I shall seek the immediate assistance of the several States.

Through this program of action we address ourselves to putting our own national house in order and making income balance outgo. Our international trade relations, though vastly important, are in point of time and necessity secondary to the establishment of a sound national economy. I favor as a practical policy the putting of first things first. I shall spare no effort to restore world trade by international economic readjustment, but the emergency at home cannot wait on that accomplishment.

The basic thought that guides these specific means of national recovery is not narrowly nationalistic. It is the insistence, as a first consideration, upon the interdependence of the various elements in all parts of the United States—a recognition of the old and permanently important manifestation of the American spirit of the pioneer. It is the way to recovery. It is the immediate way. It is the strongest assurance that the recovery will endure.

In the field of world policy I would dedicate this Nation to the policy of the good neighbor—the neighbor who resolutely respects himself and, because he does so, respects the rights of others—the neighbor who respects his obligations and respects the sanctity of his agreements in and with a world of neighbors.

If I read the temper of our people correctly, we now realize as we have never realized before our interdependence on each other; that we can not merely take but we must give as well; that if we are to go forward, we must move as a trained and loyal army willing to sacrifice for the good of a common discipline, because without such discipline no progress is made, no leadership becomes effective. We are, I know, ready and willing to submit our lives and property to such discipline, because it makes possible a leadership which aims at a larger good. This I propose to offer, pledging that the larger purposes will bind upon us all as a sacred obligation with a unity of duty hitherto evoked only in time of armed strife.

With this pledge taken, I assume unhesitatingly the leadership of this great army of our people dedicated to a disciplined attack upon our common problems.

Action in this image and to this end is feasible under the form of government which we have inherited from our ancestors. Our Constitution is so simple and practical that it is possible always to meet extraordinary needs by changes in emphasis and arrangement without loss of essential form. That is why our constitutional system has proved itself the most superbly enduring political mechanism the modern world has produced. It has met every stress of vast expansion of territory, of foreign wars, of bitter internal strife, of world relations.

It is to be hoped that the normal balance of executive and legislative authority may be wholly adequate to meet the unprecedented task before us. But it may be that an unprecedented demand and need for undelayed action may call for temporary departure from that normal balance of public procedure.

I am prepared under my constitutional duty to recommend the measures that a stricken nation in the midst of a stricken world may require. These measures, or such other measures as the Congress may build out of its experience and wisdom, I shall seek, within my constitutional authority, to bring to speedy adoption.

But in the event that the Congress shall fail to take one of these two courses, and in the event that the national emergency is still critical, I shall not evade the clear course of duty that will then confront me. I shall ask the Congress for the one remaining instrument to meet the crisis—broad Executive power to wage a war against the emergency, as great as the power that would be given to me if we were in fact invaded by a foreign foe.

For the trust reposed in me I will return the courage and the devotion that befit the time. I can do no less.

We face the arduous days that lie before us in the warm courage of the national unity; with the clear consciousness of seeking old and precious moral values; with the clean satisfaction that comes from the stem performance of duty by old and young alike. We aim at the assurance of a rounded and permanent national life.

We do not distrust the future of essential democracy. The people of the United States have not failed. In their need they have registered a mandate that they want direct, vigorous action. They have asked for discipline and direction under leadership. They have made me the present instrument of their wishes. In the spirit of the gift I take it.

In this dedication of a Nation we humbly ask the blessing of God. May He protect each and every one of us. May He guide me in the days to come.
John F. Kennedy's Inaugural Address, January 20, 1961
Vice President Johnson, Mr. Speaker, Mr. Chief Justice, President Eisenhower, Vice President Nixon, President Truman, Reverend Clergy, fellow citizens:

We observe today not a victory of party but a celebration of freedom--symbolizing an end as well as a beginning--signifying renewal as well as change. For I have sworn before you and Almighty God the same solemn oath our forbears prescribed nearly a century and three-quarters ago.

The world is very different now. For man holds in his mortal hands the power to abolish all forms of human poverty and all forms of human life. And yet the same revolutionary beliefs for which our forebears fought are still at issue around the globe--the belief that the rights of man come not from the generosity of the state but from the hand of God.

We dare not forget today that we are the heirs of that first revolution. Let the word go forth from this time and place, to friend and foe alike, that the torch has been passed to a new generation of Americans--born in this century, tempered by war, disciplined by a hard and bitter peace, proud of our ancient heritage--and unwilling to witness or permit the slow undoing of those human rights to which this nation has always been committed, and to which we are committed today at home and around the world.

Let every nation know, whether it wishes us well or ill, that we shall pay any price, bear any burden, meet any hardship, support any friend, oppose any foe to assure the survival and the success of liberty.

This much we pledge--and more.

To those old allies whose cultural and spiritual origins we share, we pledge the loyalty of faithful friends. United there is little we cannot do in a host of cooperative ventures. Divided there is little we can do--for we dare not meet a powerful challenge at odds and split asunder.

To those new states whom we welcome to the ranks of the free, we pledge our word that one form of colonial control shall not have passed away merely to be replaced by a far more iron tyranny. We shall not always expect to find them supporting our view. But we shall always hope to find them strongly supporting their own freedom--and to remember that, in the past, those who foolishly sought power by riding the back of the tiger ended up inside.

To those people in the huts and villages of half the globe struggling to break the bonds of mass misery, we pledge our best efforts to help them help themselves, for whatever period is required--not because the communists may be doing it, not because we seek their votes, but because it is right. If a free society cannot help the many who are poor, it cannot save the few who are rich.

To our sister republics south of our border, we offer a special pledge--to convert our good words into good deeds--in a new alliance for progress--to assist free men and free governments in casting off the chains of poverty. But this peaceful revolution of hope cannot become the prey of hostile powers. Let all our neighbors know that we shall join with them to oppose aggression or subversion anywhere in the Americas. And let every other power know that this Hemisphere intends to remain the master of its own house.

To that world assembly of sovereign states, the United Nations, our last best hope in an age where the instruments of war have far outpaced the instruments of peace, we renew our pledge of support--to prevent it from becoming merely a forum for invective--to strengthen its shield of the new and the weak--and to enlarge the area in which its writ may run.

Finally, to those nations who would make themselves our adversary, we offer not a pledge but a request: that both sides begin anew the quest for peace, before the dark powers of destruction unleashed by science engulf all humanity in planned or accidental self-destruction.

We dare not tempt them with weakness. For only when our arms are sufficient beyond doubt can we be certain beyond doubt that they will never be employed.

But neither can two great and powerful groups of nations take comfort from our present course--both sides overburdened by the cost of modern weapons, both rightly alarmed by the steady spread of the deadly atom, yet both racing to alter that uncertain balance of terror that stays the hand of mankind's final war.

So let us begin anew--remembering on both sides that civility is not a sign of weakness, and sincerity is always subject to proof. Let us never negotiate out of fear. But let us never fear to negotiate.

Let both sides explore what problems unite us instead of belaboring those problems which divide us.

Let both sides, for the first time, formulate serious and precise proposals for the inspection and control of arms--and bring the absolute power to destroy other nations under the absolute control of all nations.

Let both sides seek to invoke the wonders of science instead of its terrors. Together let us explore the stars, conquer the deserts, eradicate disease, tap the ocean depths and encourage the arts and commerce.

Let both sides unite to heed in all corners of the earth the command of Isaiah--to "undo the heavy burdens . . . (and) let the oppressed go free."

And if a beachhead of cooperation may push back the jungle of suspicion, let both sides join in creating a new endeavor, not a new balance of power, but a new world of law, where the strong are just and the weak secure and the peace preserved.

All this will not be finished in the first one hundred days. Nor will it be finished in the first one thousand days, nor in the life of this Administration, nor even perhaps in our lifetime on this planet. But let us begin.

In your hands, my fellow citizens, more than mine, will rest the final success or failure of our course. Since this country was founded, each generation of Americans has been summoned to give testimony to its national loyalty. The graves of young Americans who answered the call to service surround the globe.

Now the trumpet summons us again--not as a call to bear arms, though arms we need--not as a call to battle, though embattled we are-- but a call to bear the burden of a long twilight struggle, year in and year out, "rejoicing in hope, patient in tribulation"--a struggle against the common enemies of man: tyranny, poverty, disease and war itself.

Can we forge against these enemies a grand and global alliance, North and South, East and West, that can assure a more fruitful life for all mankind? Will you join in that historic effort?

In the long history of the world, only a few generations have been granted the role of defending freedom in its hour of maximum danger. I do not shrink from this responsibility--I welcome it. I do not believe that any of us would exchange places with any other people or any other generation. The energy, the faith, the devotion which we bring to this endeavor will light our country and all who serve it--and the glow from that fire can truly light the world.

And so, my fellow Americans: ask not what your country can do for you--ask what you can do for your country.

My fellow citizens of the world: ask not what America will do for you, but what together we can do for the freedom of man.

Finally, whether you are citizens of America or citizens of the world, ask of us here the same high standards of strength and sacrifice which we ask of you. With a good conscience our only sure reward, with history the final judge of our deeds, let us go forth to lead the land we love, asking His blessing and His help, but knowing that here on earth God's work must truly be our own.
Barack Obama's First Inaugural Address, January 20, 2009
My fellow citizens: I stand here today humbled by the task before us, grateful for the trust you've bestowed, mindful of the sacrifices borne by our ancestors.

I thank President Bush for his service to our nation -- (applause) -- as well as the generosity and cooperation he has shown throughout this transition.

Forty-four Americans have now taken the presidential oath. The words have been spoken during rising tides of prosperity and the still waters of peace. Yet, every so often, the oath is taken amidst gathering clouds and raging storms. At these moments, America has carried on not simply because of the skill or vision of those in high office, but because we, the people, have remained faithful to the ideals of our forebears and true to our founding documents.

So it has been; so it must be with this generation of Americans.

That we are in the midst of crisis is now well understood. Our nation is at war against a far-reaching network of violence and hatred. Our economy is badly weakened, a consequence of greed and irresponsibility on the part of some, but also our collective failure to make hard choices and prepare the nation for a new age. Homes have been lost, jobs shed, businesses shuttered. Our health care is too costly, our schools fail too many -- and each day brings further evidence that the ways we use energy strengthen our adversaries and threaten our planet.

These are the indicators of crisis, subject to data and statistics. Less measurable, but no less profound, is a sapping of confidence across our land; a nagging fear that America's decline is inevitable, that the next generation must lower its sights.

Today I say to you that the challenges we face are real. They are serious and they are many. They will not be met easily or in a short span of time. But know this America: They will be met. (Applause.)

On this day, we gather because we have chosen hope over fear, unity of purpose over conflict and discord. On this day, we come to proclaim an end to the petty grievances and false promises, the recriminations and worn-out dogmas that for far too long have strangled our politics. We remain a young nation. But in the words of Scripture, the time has come to set aside childish things. The time has come to reaffirm our enduring spirit; to choose our better history; to carry forward that precious gift, that noble idea passed on from generation to generation: the God-given promise that all are equal, all are free, and all deserve a chance to pursue their full measure of happiness. (Applause.)

In reaffirming the greatness of our nation we understand that greatness is never a given. It must be earned. Our journey has never been one of short-cuts or settling for less. It has not been the path for the faint-hearted, for those that prefer leisure over work, or seek only the pleasures of riches and fame. Rather, it has been the risk-takers, the doers, the makers of things -- some celebrated, but more often men and women obscure in their labor -- who have carried us up the long rugged path towards prosperity and freedom.

For us, they packed up their few worldly possessions and traveled across oceans in search of a new life. For us, they toiled in sweatshops, and settled the West, endured the lash of the whip, and plowed the hard earth. For us, they fought and died in places like Concord and Gettysburg, Normandy and Khe Sahn.

Time and again these men and women struggled and sacrificed and worked till their hands were raw so that we might live a better life. They saw America as bigger than the sum of our individual ambitions, greater than all the differences of birth or wealth or faction.

This is the journey we continue today. We remain the most prosperous, powerful nation on Earth. Our workers are no less productive than when this crisis began. Our minds are no less inventive, our goods and services no less needed than they were last week, or last month, or last year. Our capacity remains undiminished. But our time of standing pat, of protecting narrow interests and putting off unpleasant decisions -- that time has surely passed. Starting today, we must pick ourselves up, dust ourselves off, and begin again the work of remaking America. (Applause.)

For everywhere we look, there is work to be done. The state of our economy calls for action, bold and swift. And we will act, not only to create new jobs, but to lay a new foundation for growth. We will build the roads and bridges, the electric grids and digital lines that feed our commerce and bind us together. We'll restore science to its rightful place, and wield technology's wonders to raise health care's quality and lower its cost. We will harness the sun and the winds and the soil to fuel our cars and run our factories. And we will transform our schools and colleges and universities to meet the demands of a new age. All this we can do. All this we will do.

Now, there are some who question the scale of our ambitions, who suggest that our system cannot tolerate too many big plans. Their memories are short, for they have forgotten what this country has already done, what free men and women can achieve when imagination is joined to common purpose, and necessity to courage. What the cynics fail to understand is that the ground has shifted beneath them, that the stale political arguments that have consumed us for so long no longer apply.

The question we ask today is not whether our government is too big or too small, but whether it works -- whether it helps families find jobs at a decent wage, care they can afford, a retirement that is dignified. Where the answer is yes, we intend to move forward. Where the answer is no, programs will end. And those of us who manage the public's dollars will be held to account, to spend wisely, reform bad habits, and do our business in the light of day, because only then can we restore the vital trust between a people and their government.

Nor is the question before us whether the market is a force for good or ill. Its power to generate wealth and expand freedom is unmatched. But this crisis has reminded us that without a watchful eye, the market can spin out of control. The nation cannot prosper long when it favors only the prosperous. The success of our economy has always depended not just on the size of our gross domestic product, but on the reach of our prosperity, on the ability to extend opportunity to every willing heart -- not out of charity, but because it is the surest route to our common good. (Applause.)

As for our common defense, we reject as false the choice between our safety and our ideals. Our Founding Fathers -- (applause) -- our Founding Fathers, faced with perils that we can scarcely imagine, drafted a charter to assure the rule of law and the rights of man -- a charter expanded by the blood of generations. Those ideals still light the world, and we will not give them up for expedience sake. (Applause.)

And so, to all the other peoples and governments who are watching today, from the grandest capitals to the small village where my father was born, know that America is a friend of each nation, and every man, woman and child who seeks a future of peace and dignity. And we are ready to lead once more. (Applause.)

Recall that earlier generations faced down fascism and communism not just with missiles and tanks, but with the sturdy alliances and enduring convictions. They understood that our power alone cannot protect us, nor does it entitle us to do as we please. Instead they knew that our power grows through its prudent use; our security emanates from the justness of our cause, the force of our example, the tempering qualities of humility and restraint.

We are the keepers of this legacy. Guided by these principles once more we can meet those new threats that demand even greater effort, even greater cooperation and understanding between nations. We will begin to responsibly leave Iraq to its people and forge a hard-earned peace in Afghanistan. With old friends and former foes, we'll work tirelessly to lessen the nuclear threat, and roll back the specter of a warming planet.

We will not apologize for our way of life, nor will we waver in its defense. And for those who seek to advance their aims by inducing terror and slaughtering innocents, we say to you now that our spirit is stronger and cannot be broken -- you cannot outlast us, and we will defeat you. (Applause.)

For we know that our patchwork heritage is a strength, not a weakness. We are a nation of Christians and Muslims, Jews and Hindus, and non-believers. We are shaped by every language and culture, drawn from every end of this Earth; and because we have tasted the bitter swill of civil war and segregation, and emerged from that dark chapter stronger and more united, we cannot help but believe that the old hatreds shall someday pass; that the lines of tribe shall soon dissolve; that as the world grows smaller, our common humanity shall reveal itself; and that America must play its role in ushering in a new era of peace.

To the Muslim world, we seek a new way forward, based on mutual interest and mutual respect. To those leaders around the globe who seek to sow conflict, or blame their society's ills on the West, know that your people will judge you on what you can build, not what you destroy. (Applause.)

To those who cling to power through corruption and deceit and the silencing of dissent, know that you are on the wrong side of history, but that we will extend a hand if you are willing to unclench your fist. (Applause.)

To the people of poor nations, we pledge to work alongside you to make your farms flourish and let clean waters flow; to nourish starved bodies and feed hungry minds. And to those nations like ours that enjoy relative plenty, we say we can no longer afford indifference to the suffering outside our borders, nor can we consume the world's resources without regard to effect. For the world has changed, and we must change with it.

As we consider the role that unfolds before us, we remember with humble gratitude those brave Americans who at this very hour patrol far-off deserts and distant mountains. They have something to tell us, just as the fallen heroes who lie in Arlington whisper through the ages.

We honor them not only because they are the guardians of our liberty, but because they embody the spirit of service -- a willingness to find meaning in something greater than themselves.

And yet at this moment, a moment that will define a generation, it is precisely this spirit that must inhabit us all. For as much as government can do, and must do, it is ultimately the faith and determination of the American people upon which this nation relies. It is the kindness to take in a stranger when the levees break, the selflessness of workers who would rather cut their hours than see a friend lose their job which sees us through our darkest hours. It is the firefighter's courage to storm a stairway filled with smoke, but also a parent's willingness to nurture a child that finally decides our fate.

Our challenges may be new. The instruments with which we meet them may be new. But those values upon which our success depends -- honesty and hard work, courage and fair play, tolerance and curiosity, loyalty and patriotism -- these things are old. These things are true. They have been the quiet force of progress throughout our history.

What is demanded, then, is a return to these truths. What is required of us now is a new era of responsibility -- a recognition on the part of every American that we have duties to ourselves, our nation and the world; duties that we do not grudgingly accept, but rather seize gladly, firm in the knowledge that there is nothing so satisfying to the spirit, so defining of our character than giving our all to a difficult task.

This is the price and the promise of citizenship. This is the source of our confidence -- the knowledge that God calls on us to shape an uncertain destiny. This is the meaning of our liberty and our creed, why men and women and children of every race and every faith can join in celebration across this magnificent mall; and why a man whose father less than 60 years ago might not have been served in a local restaurant can now stand before you to take a most sacred oath. (Applause.)

So let us mark this day with remembrance of who we are and how far we have traveled. In the year of America's birth, in the coldest of months, a small band of patriots huddled by dying campfires on the shores of an icy river. The capital was abandoned. The enemy was advancing. The snow was stained with blood. At the moment when the outcome of our revolution was most in doubt, the father of our nation ordered these words to be read to the people:

"Let it be told to the future world...that in the depth of winter, when nothing but hope and virtue could survive... that the city and the country, alarmed at one common danger, came forth to meet [it]."

America: In the face of our common dangers, in this winter of our hardship, let us remember these timeless words. With hope and virtue, let us brave once more the icy currents, and endure what storms may come. Let it be said by our children's children that when we were tested we refused to let this journey end, that we did not turn back nor did we falter; and with eyes fixed on the horizon and God's grace upon us, we carried forth that great gift of freedom and delivered it safely to future generations.

Thank you. God bless you. And God bless the United States of America. (Applause.)