Freedom to Move: Immigration and Migration in US History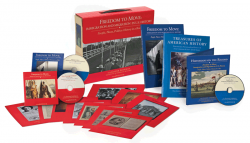 Freedom to Move places the history of immigration within a framework of movement and the restriction of movement, a theme that connects the histories of American Indians, enslaved and free Africans, immigrants, and emigrants. The resource book is organized into seven historical periods that features introductions and documents related to the stories of more than sixty immigrants and migrants, encouraging students and teachers to consider links among the stories of men and women spanning three centuries.
Each volume of the History in a Box series includes:
A resource book with annotated primary sources, artwork, maps, discussion questions, and a list of additional resources; accompanied by an electronic version of the book on CD-ROM
A sequential set of posters of documents and illustrations
8 to 10 portrait placards of key individuals
A timeline
Lectures by eminent historians (DVD)
Music and/or dramatic readings of letters from the period (CD).