#43 What You Can Do—World War II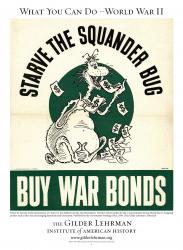 Poster caption: Before he became world-renowned as Dr. Seuss for his children's books and illustrations, Theodor Geisel worked for the US government during World War II designing posters such as this one, encouraging patriotism and investment. Published by the Government Printing Office, 1943.
These posters are 22" x 30", full color, and printed on a semi-gloss white stock. Each one features a caption that places the image in historical context.
List price: $9.99 End-of-School Sale price: $4.99