Alexander Hamilton's America, Led by Carol Berkin, City University of New York
Please log in or create a free account to purchase your course.
Alexander Hamilton is very much the man of the moment, but he was equally a man of his times. This self-paced course puts Hamilton in the context of the colonial and Revolutionary eras to help us fully understand both where he came from and the impact he had on American government and politics.

In the course, participants will come to appreciate the many ways in which Hamilton's story opens up multiple perspectives on US history. From the close economic connections between the Caribbean and mainland colonies of the British empire, to the importance of cities in the developing nation, to the workings of gossip and innuendo in society, to the context for the writing of the US Constitution and the challenges the republic faced in the first decade of the federal government, Hamilton's life has much to teach us. In each session, renowned historian Carol Berkin is joined by Founding Era scholars to deepen participants' understanding of Hamilton's transformative character, and the times in which he lived.

COURSE CONTENT

• Four sessions led by Professor Berkin, in conversation with eminent guest scholars, including Douglas Egerton, Denver Brunsman, Richard Sylla, and Amanda Vaill

• Two virtual tours of the Grange, Alexander Hamilton's final home, and of Hamilton's New York City

• A collection of primary sources and readings to deepen understanding of Hamilton and his world

• A certificate of completion for 8 hours of professional development credit

Readings: The optional readings for each seminar session are listed in the "Resources" tab on the course page. Please note that you are not required to read or purchase any print materials. Quizzes are based on the content of the seminar recordings rather than the readings.

Course Access: After your purchase, you may access your course by signing in and visiting your "My Courses" link.

Questions? Please view our FAQ page or email selfpacedcourses@gilderlehrman.org.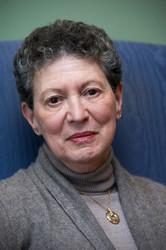 LEAD SCHOLAR:
Dr. Carol Berkin
Carol Berkin is Professor Emerita at Baruch College and the City University of New York and an Organization of American Historians Distinguished Lecturer. She is editor of
History Now
, the Gilder Lehrman Institute's online journal of American history, and author of many ground-breaking books in the history of the Revolutionary era, including
First Generations: Women and Revolution in America
,
A Brilliant Solution: Inventing the American Constitution
, and
The Bill of Rights: The Fight to Secure America's Liberties
.