John Adams on the abolition of slavery, 1801
A primary source by John Adams
View this item in the Collection.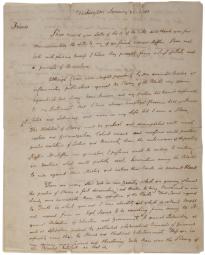 On January 24, 1801, President John Adams responded to two abolitionists who had sent him an anti-slavery pamphlet by Quaker reformer Warner Mifflin (1745–1798). In the letter, Adams expressed his views on slavery, the dangers posed by abolitionists (who at the time were mostly Quakers and unpopular religious radicals), and emancipation. Of slavery Adams writes, "my opinion against it has always been known," noting that he has "always employed freemen both as Domisticks and Labourers, and never in my Life did I own a Slave."
Adams, despite being opposed to slavery, did not support abolitionism except if it was done in a "gradual" way with "much caution and Circumspection." Adams dismisses radical abolitionist measures as "produc[ing] greater violations of Justice and Humanity, than the continuance of the practice" of slavery itself. Adams also wrongly asserts that "the practice of Slavery is fast diminishing." Rather than declining, slavery was growing in America. The 1790 census counted almost 700,000 slaves. According to the census of 1800, the year before Adams wrote this letter, that number had grown to almost 900,000.
In closing, Adams writes that he does "wish you Success in your benevolent Endeavors to relieve the distress of our fellow Creatures, and Shall always be ready to cooperate with you, as far as my means and Opportunities can reasonably be expected to extend."
A full transcript is available.
Questions for Discussion
Full content is available to our community and Affiliate School members only. To view it, please apply for your school to be an Affiliate School, sign up to be a community member, or log in.
Metadata
Make Gilder Lehrman your Home for History
---
Already have an account?
Please click here to login and access this page.
How to subscribe
Click here to get a free subscription if you are a K-12 educator or student, and here for more information on the Affiliate School Program, which provides even more benefits.
Otherwise, click here for information on a paid subscription for those who are not K-12 educators or students.
Make Gilder Lehrman your Home for History
---
Become an Affiliate School to have free access to the Gilder Lehrman site and all its features.
Click here to start your Affiliate School application today! You will have free access while your application is being processed.
Individual K-12 educators and students can also get a free subscription to the site by making a site account with a school-affiliated email address. Click here to do so now!
Make Gilder Lehrman your Home for History
---
Why Gilder Lehrman?
Your subscription grants you access to archives of rare historical documents, lectures by top historians, and a wealth of original historical material, while also helping to support history education in schools nationwide. Click here to see the kinds of historical resources to which you'll have access and here to read more about the Institute's educational programs.
Individual subscription: $25
Click here to sign up for an individual subscription to the Gilder Lehrman site.
Make Gilder Lehrman your Home for History
---
Upgrade your Account
We're sorry, but it looks as though you do not have access to the full Gilder Lehrman site.
All K-12 educators receive free subscriptions to the Gilder Lehrman site, and our Affiliate School members gain even more benefits!