Weeklong Seminars for K–12 Teachers, School Librarians, National Park Service Interpreters, and Museum Educators
Why Apply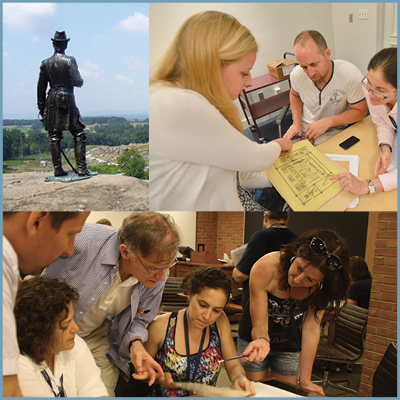 MAJOR TOPICS IN AMERICAN HISTORY: The Civil War, The American Revolution, The Civil Rights Movement, The Cold War, 9/11, Literature, Art, and more. Click here to view full schedule.
LOCATED AT PRESTIGIOUS UNIVERSITIES AND HISTORIC SITES: Yale University, Harvard University, Stanford University, University of Virginia, Columbia University, Oxford University, and others.
TOP-QUALITY PROFESSIONAL DEVELOPMENT: Lectures from eminent historians, archival visits, Common Core pedagogy, with graduate credit available.
ROOM, BOARD AND TUITION ASSISTANCE: Fully paid for K–12 public school teachers, matching funds for independent school teachers.
Eligibility: Teacher Seminars are part of the Gilder Lehrman Affiliate School Program. If your school is not currently a member, you will be directed to a combined Affiliate School registration and Teacher Seminar application form. Full-time K–12 history, social studies, and English language arts teachers, and school librarians are encouraged to apply. National Park Service interpreters, museum educators, and New Teacher Fellows are also welcome.