2020 Spring Newsletter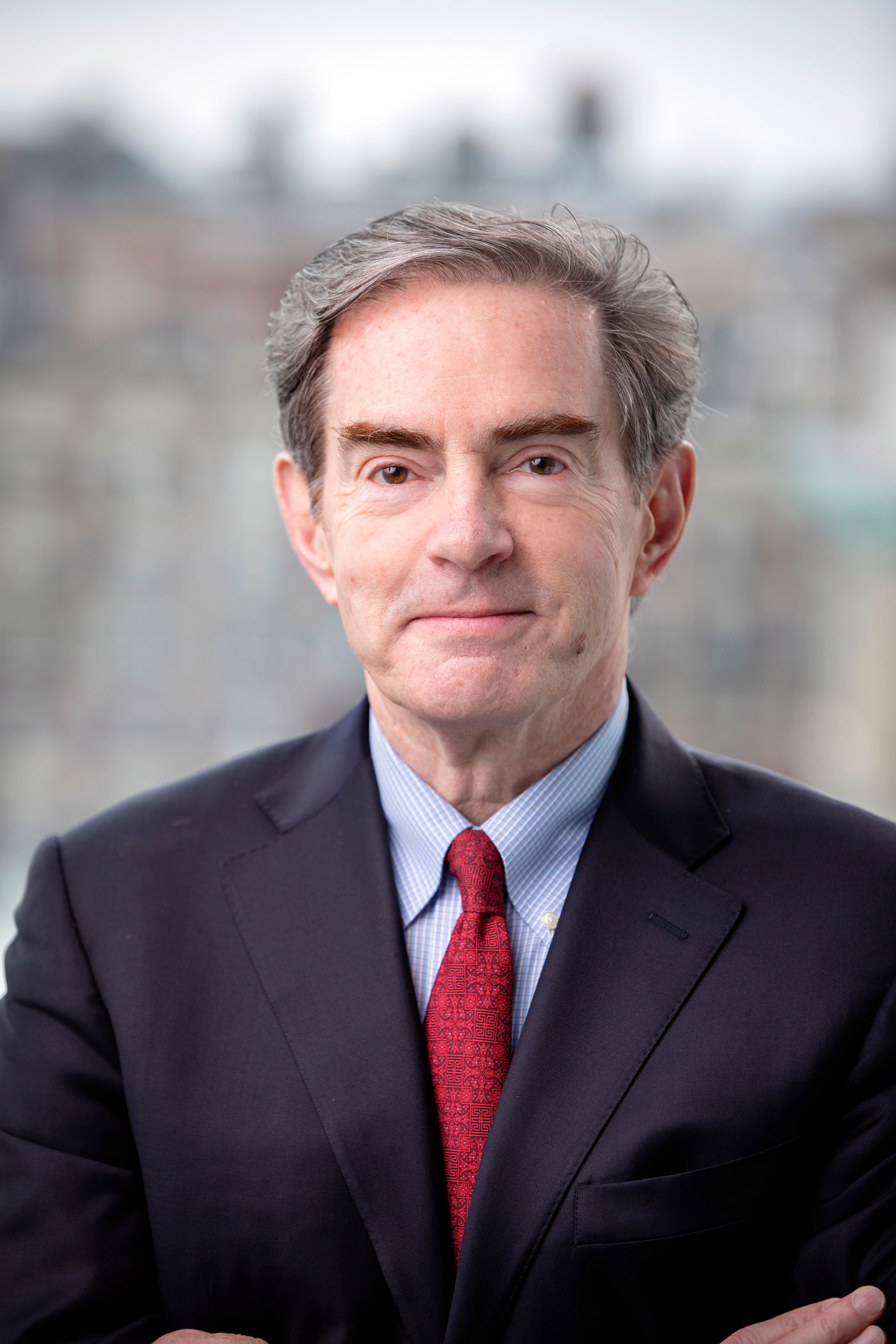 Dear Teachers, Supporters, and Friends,
I hope this finds you and your loved ones doing well, staying safe and healthy. This newsletter had been prepared and was ready to go out when the COVID-19 crisis struck and we had to close our office. We have been working from home since March 13 and, I am proud to say, our team has been accomplishing wonders in very challenging circumstances.
As you will read, our new chief operating officer, Kathrine Mott, started on March 9 and a week later was supervising operations from home. She has coped brilliantly. Together with our senior leadership team and all the departments, we have been rescheduling events such as our Gala and our Lincoln Prize, and converting other programs to digital formats.
The most important of these is our Teacher Seminar program, which will be replaced by a set of seminars offered online with live interactive sessions with professors and master teachers. The silver lining is that we will be able to serve as many as 2,000 to 3,000 teachers this summer, rather than the usual 1,000.
We have also been rushing to develop and offer new programs that will support teachers and families during this period of online learning and homeschooling. The first of these is a version of our Hamilton Education Program Online for families at home. Look for an exciting announcement about it in the next week.
We will be rolling out a series of new programs, all designed and adapted to the moment we are in, where teachers, students, and families are searching for educational resources and high-quality content. We are deliberately shifting our focus to serve students and their families, offering parents and family members the chance to register FREE with the Gilder Lehrman Institute to receive all the benefits that our Affiliate School teachers do—unrestricted access to our website and resources, free participation in any of our programs, and regular updates about new offerings and opportunities.
We aim to do what we can to keep students engaged and learning, to avoid summer learning loss and the setbacks of disrupted learning, and to provide some diversion and entertainment which families can enjoy together during this difficult time. Have a look at our family registration page and share it with any and all in your community.
Thank you always for your support.
Wishing you strength, health, and happiness,
Jim Basker
President
---
Introducing Kathrine Mott, Chief Operating Officer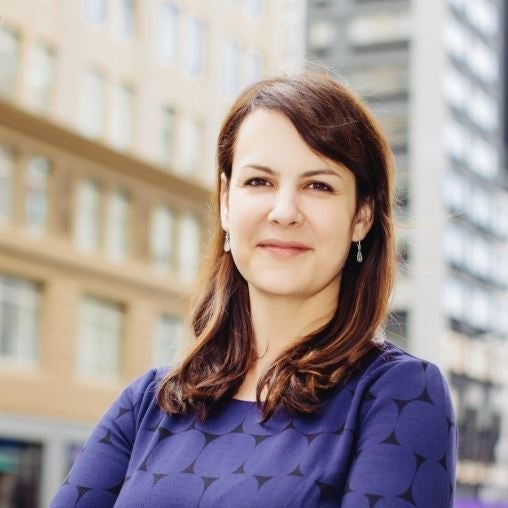 We are delighted to announce that Kathrine Mott has joined the Gilder Lehrman Institute as our new chief operating officer.
Kathrine Mott brings outstanding credentials and experience. She is a graduate of Northwestern University, where she also earned her MBA from the Kellogg School of Management. Mott has worked in a number of executive roles in education, including at Kaplan Test Prep and Admissions, and for nonprofits that focus on education and career access for communities historically denied access to those opportunities. Most recently she was CEO of Let's Get Ready, a college access and success nonprofit that serves students from low-income backgrounds and those who are the first in their families to attend college.
In Mott's words: "I am excited to help bring the Institute's unique resources and innovative programs to students, teachers, and the public. As a history enthusiast, I'm passionate about the Gilder Lehrman Institute's mission to advance US history and civics education, and I look forward to joining Professor Basker's team."
Says President Jim Basker: "Kathrine brings all the skills and experience we need to develop our programs and pursue our mission with even greater success."
---
Hamilton Education Program Online Pilot a Success on the Way to Full Fall Launch
The Hamilton Education Program Online went online in a pilot program launched in 73 schools across 40 states in the fall of 2019. In the fall of 2020, EduHam Online launches for all 6–12 schools in the United States. 
As we have prepared the launch of EduHam Online, we have looked to the results of the pilot program, which will help us make the program even stronger as it continues nationwide.
A survey given to all teachers and students participating in the 2019 pilot yielded the following:
When asked to rate the impact of the program, teachers said EduHam Online made a moderate to strong positive impact on . . .

In rating the quality of the program . . .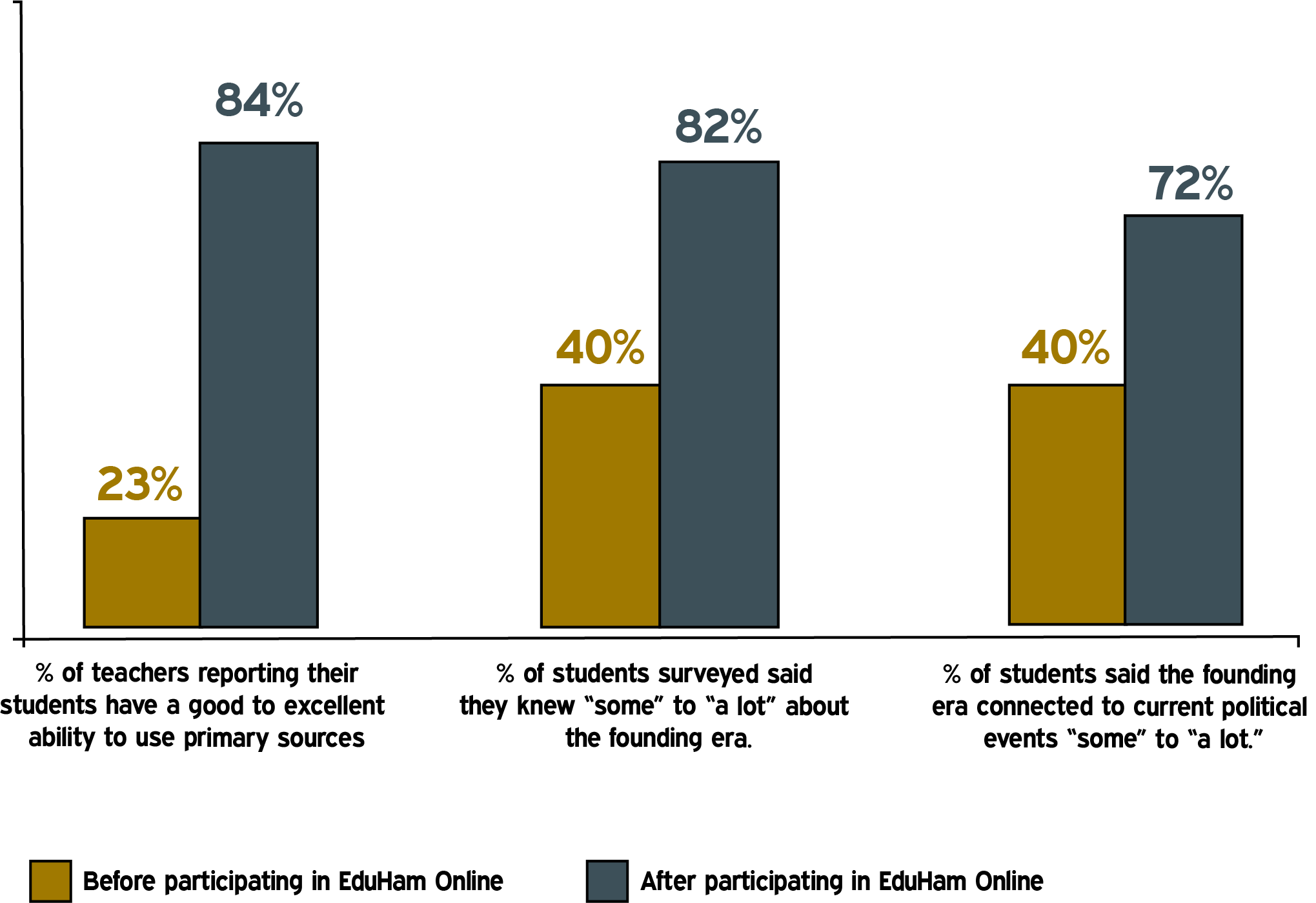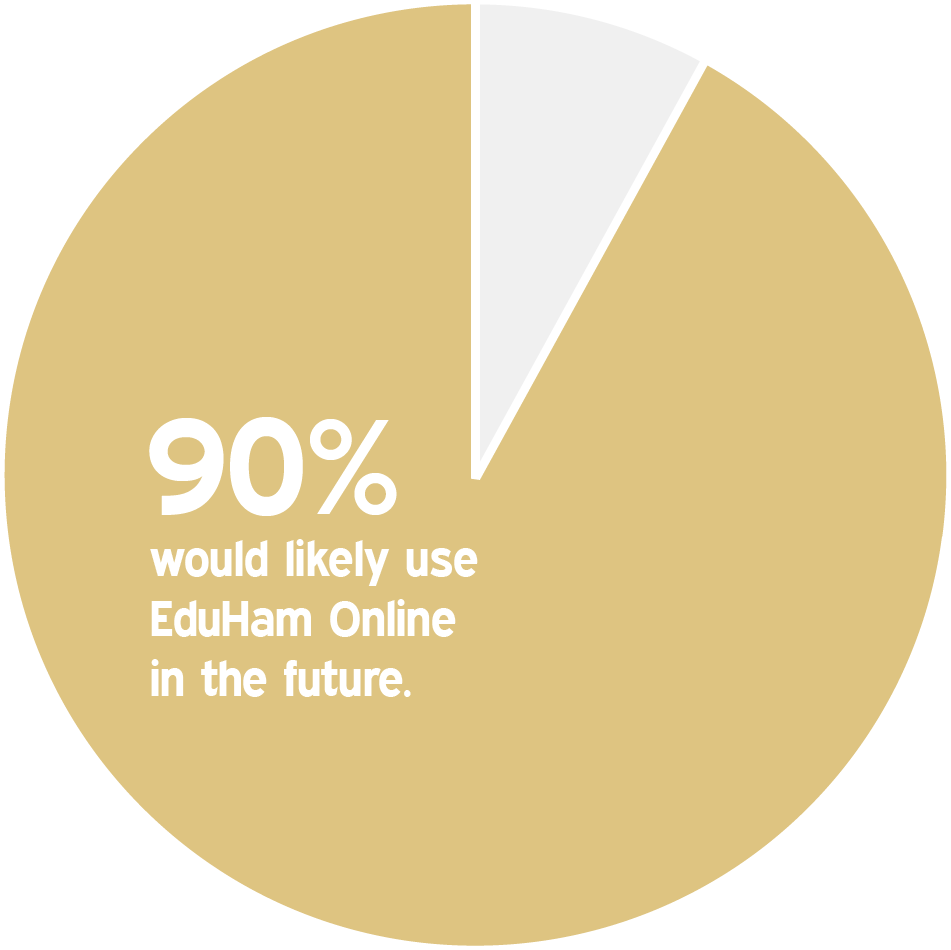 Teachers were given the opportunity to respond to the EduHam Online experience in their own words:
"As a history teacher I want my students to be able to analyze primary source documents and form opinions and arguments based off of that research. As a teacher in an arts integrated school I think your program is the best way for my students to get introduced to arts integration and for the staff at my school to see the importance of arts integration but also history, too."
"EduHam Online provides me with the opportunity to use solid primary sources that I was unaware of before using the program and use those documents in an innovative way in the classroom. I love the 'end product' of a performance piece."
"I love that students can unpack and process all the information on their own. They were so excited to see that their dashboard looked like mine, that they had access to the videos and research. It's empowering for them to have this program."
"It is so well constructed! The time it takes to find quality and purposeful primary sources often detracts from the lesson. The EduHam program eliminated that obstacle so we could quickly dive into content and higher inquiry based activities. I can start modeling other lessons/units after this program and continue to build on their historical thinking and analysis skills."
Students were given the opportunity to write about the EduHam Online experience and responded: 
"It was much more fun. I was personally never really interested in history but when it's something like this, it makes kids or younger people want to learn or be a part of it."
"This unit was a lot more 'hands on' than any other class I have had. Normally learning about this era of history we would have simply read textbooks. But with this unit I was able to see the effort put into the musical and I was able to learn so much more than I would have learned with any other class."
"We learned more about figures I haven''t heard before, and we didn't really use primary sources for studying history before."
"We used music and modern rap styles to learn about different people and events in history instead of notes or a textbook. Music sparks my interest more and helps me to learn."
The Institute looks forward to using all the information gathered from teachers and students who participated in this pilot to ensure success for the Hamilton Education Program Online in the years to come.
Register now for the 2020–2021 school year EduHam Online for grades 6–12.
---
The 21st Frederick Douglass Book Prize Ceremony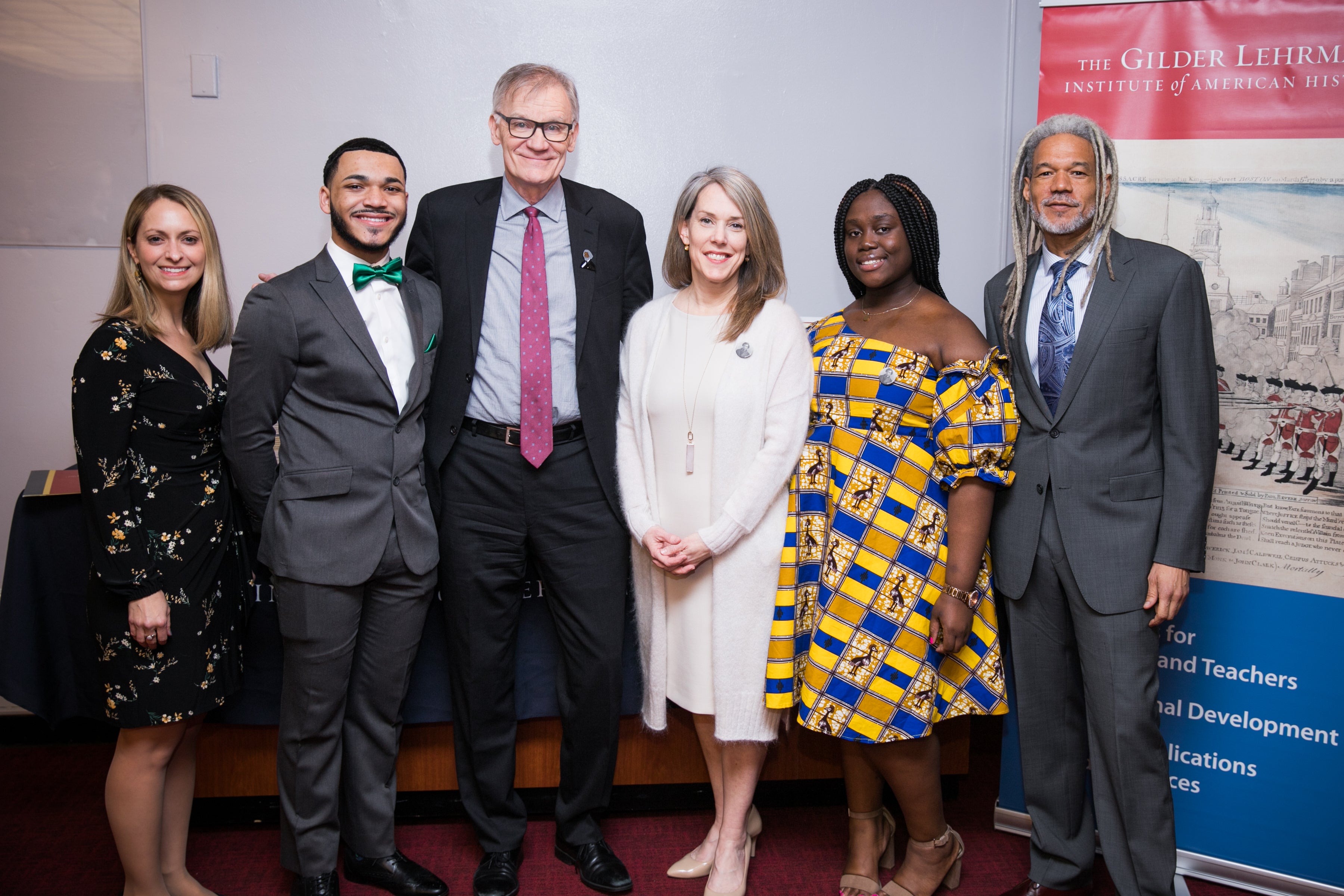 The 21st Frederick Douglass Book Prize was awarded to Amy Murrell Taylor, professor of history at the University of Kentucky, for her book Embattled Freedom: Journeys through the Civil War's Slave Refugee Camps on February 13, 2020, at the Schimmel Center of Pace University.
The ceremony was preceded by a question-and-answer session with Professor Taylor and students from fifteen Gilder Lehrman Affiliate Schools, all of whom received free copies of Professor Taylor's book. Students asked her a wide range of insightful questions, from "What would Lincoln think about the events of today?" to wondering how her perspective on slavery has changed since she was in high school. In answering a question about her process of working on her award-winning book, Professor Taylor compared historical research to detective work.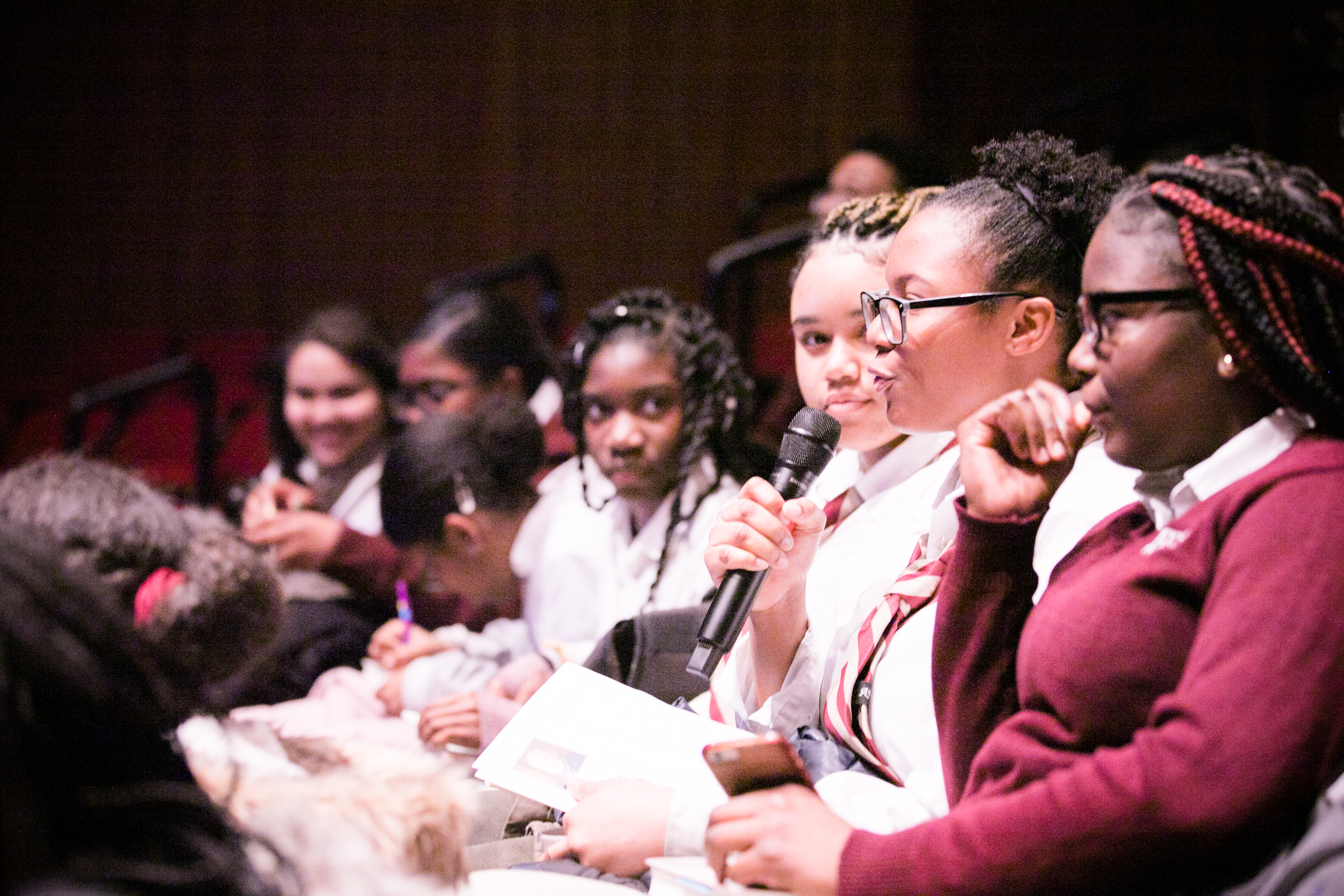 After the Q&A session, adult guests joined students for the main ceremony.
In his welcome, Pace's president, Marvin Krislov, noted this was the third major Gilder Lehrman Institute event held at the university. Not only have the university and the Institute collaborated on the ongoing Pace–Gilder Lehrman Institute MA in American History Program, but starting in the fall of 2020, one high school student will receive the Gilder Lehrman Scholarship, affording the student full tuition coverage at Pace University in any major. Mikayla Meachem of Infinity Institute in Jersey City, New Jersey, is the first recipient of the scholarship.
Student Advisory Council member Nashia Akuamoah-Boatemaa, whose school, Cristo Rey New York High School, was well represented at the event, introduced David Blight, the Sterling Professor of American History at Yale University and director of the Gilder Lehrman Center for the Study of Slavery, Resistance, and Abolition. Professor Blight highlighted the other two finalists and their stellar books: Jessica A. Krug for Fugitive Modernities: Kisama and the Politics of Freedom and Brooke N. Newman for A Dark Inheritance: Blood, Race, and Sex in Colonial Jamaica.
A Special Achievement Award was presented to Julius S. Scott for The Common Wind: Afro-American Currents in the Age of the Haitian Revolution, the groundbreaking doctoral dissertation he completed thirty-four years ago and finally had published in 2018. Professor Scott, who is a lecturer of Afroamerican and African Studies, emeritus, at the University of Michigan, was unable to attend the ceremony, but Vincent Brown, Charles Warren Professor of History and director of the History Design Studio at Harvard University, read Scott's statement. Brown explained that Scott's dissertation was passed around "like a mixtape" among his academic peers in their early careers. Scott's research into communication and self-awareness among enslaved people "told us," said Brown, "that enslaved people knew what was going on. They acted on information." It was, said Brown, the history not of black people's oppression, but the "history of their response."
Blight then presented Amy Murrell Taylor with the prize, a check for $25,000, and welcomed her to the podium. In her remarks, Professor Taylor spoke to the relevance of her book's topic, that of escaped enslaved people who became refugees in the Northern states, to today's concerns and debates. She identified novelist Tayari Jones as inspiration for her approach to the book's multi-narratives; Jones advocates "writing about people and their problems, not problems and their people."
---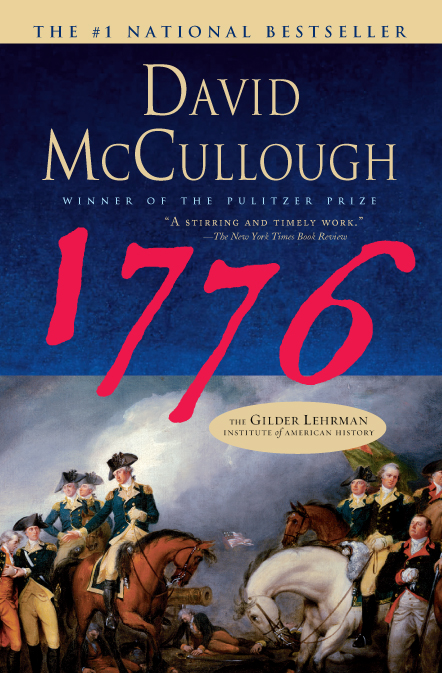 The Richard Gilder History Prize
In 2020, the Gilder Lehrman Institute is proud to offer the Richard Gilder History Prize. This prize serves as an opportunity for Affiliate School teachers to honor a promising and passionate history student in their school. For this inaugural Richard Gilder History Prize, we offered 5000 copies of two-time Pulitzer Prize–winner David McCullough's best-selling book 1776 for each school to award to a student of their choosing.
In addition, students honored with the Richard Gilder History Prize have the opportunity to take advantage of two programs. Honorees in grades K–9 can be nominated for the Institute's new National History Honor Roll, published on the Gilder Lehrman website. Students in grades 10–11 will be elected to the Institute's National Academy of American History and Civics, which affords distinction on the student's resume and college applications, exclusive eligibility for special scholarship programs at major universities, free online courses in American history, and advice from admissions officers on every aspect of the college application process.
---
Evaluating the Pilot Programs of Teaching Civics through History
In January and February of 2020, the Gilder Lehrman Institute of American History, partnering with the Stuart Foundation in California and the Snider Foundation in Massachusetts, piloted the Teaching Civics through History (TCTH) professional development program.
The pilot program was designed to prepare 70 high school teachers in California and 35 middle school teachers in Massachusetts to provide their students with a foundational knowledge of civic and social issues facing the nation while building their literacy, research, and critical thinking skills. In California, middle school and elementary school teachers also attended the pilot program.
Elements of the pilot included two-day professional development sessions for teachers led by eminent scholars and master teachers incorporating historical content knowledge on topics such as freedom of speech and voting rights, and pedagogical strategies to help students unlock primary source documents; new lesson plans on freedom of speech and voting rights based on primary source documents, with digital resources and a classroom guide; classroom implementation with teachers connecting the historical content to current events and issues of interest to students, leading to their engagement beyond the classroom in civic activities; and evaluation.
In surveys given after the pilot workshops . . .

Teachers said the pilot enhanced their ability to teach students to . . .

In addition to answering survey questions, teachers responded anonymously in their own words:
"The entirety of the workshop was very beneficial. It was engaging and I plan to incorporate many of the primary sources and graphic organizers into the curriculum this year. I teach other subjects and will use many of these strategies across the curriculum."
"I really appreciated the collaborative nature of this workshop and the willingness of all my fellow attendees and the speakers to share resources."
"The delivery of content knowledge from the guest lecturer was phenomenal. The discussion we had was productive and thought provoking. The lesson materials are well made and organized."
"I understand political participation better. I am excited to question my young students about what they know about voting."
"We all need to teach history this way. I've been looking for a program like this for years! My focus for the last five years has been to make history more useful and accessible and I feel this type of curriculum is how it will happen."
The information gained from this pilot program and observation of practical application once schools re-open across the country will allow us to refine the program and share it with a broader group of schools moving forward.