GLI Now - Summer 2018 Newsletter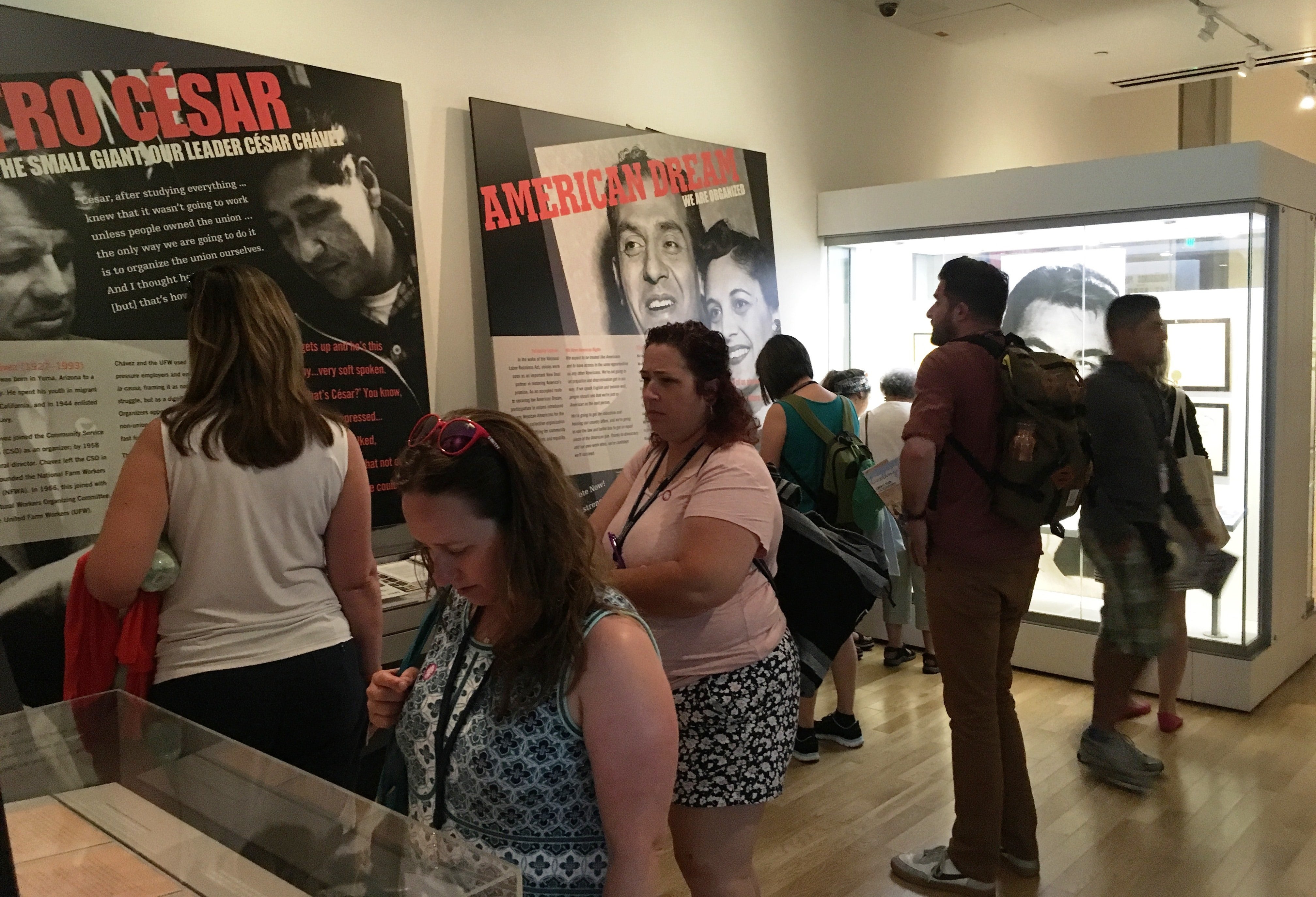 Since our founding, the Gilder Lehrman Institute has served thousands of educators through free, summer professional development programs that focus on a topic in American history. Due to a recent and generous grant from the Stuart Foundation, thirty-five California teachers will have a unique immersive opportunity to study US immigration history with an emphasis on how immigration shaped California. The intensive week-long program at Occidental College in Los Angeles features eminent scholars who will share their expertise with the teachers through lectures on specific immigrant groups and overarching historical themes. Participating teachers will also acquire strategies on how to incorporate primary source documents into their lessons and develop their students' core literacy skills.
Participants will look at California's deep immigration history, beginning with events leading up to statehood—encounters with First Nations peoples, Spanish conquest and colonization, Mexican independence, and the Mexican-American War that brought California and much of the Southwest into the United States. They will also examine the federal government's increasing efforts to control immigration through policy beginning in the late nineteenth century. Participants will consider how a twentieth-century surge in immigrants from Latin America and Asia intensified debates over what it means to be American—conversations that continue to resonate today.
In addition to the teacher workshops, the grant provides funding for a special traveling exhibition that brings the workshop's historical content directly into classrooms to be shared with students. Four copies of the exhibition will circulate to the participating teachers' schools, and then to the Institute's 17,000 Affiliate Schools across the country.
We thank the Stuart Foundation for their support, which builds upon their generous donation to the Hamilton Education Program in San Francisco and Los Angeles. Their funding has helped enable 14,000 Title I students in these cities to see Hamilton and integrate the Founding Era into their classroom studies.
***
We welcome you to join us at one of our summer Teacher Seminars or workshops around the country. Please click on this link for the schedule, and email Susan Zuckerman at zuckerman@gilderlehrman.org to discuss arrangements.
---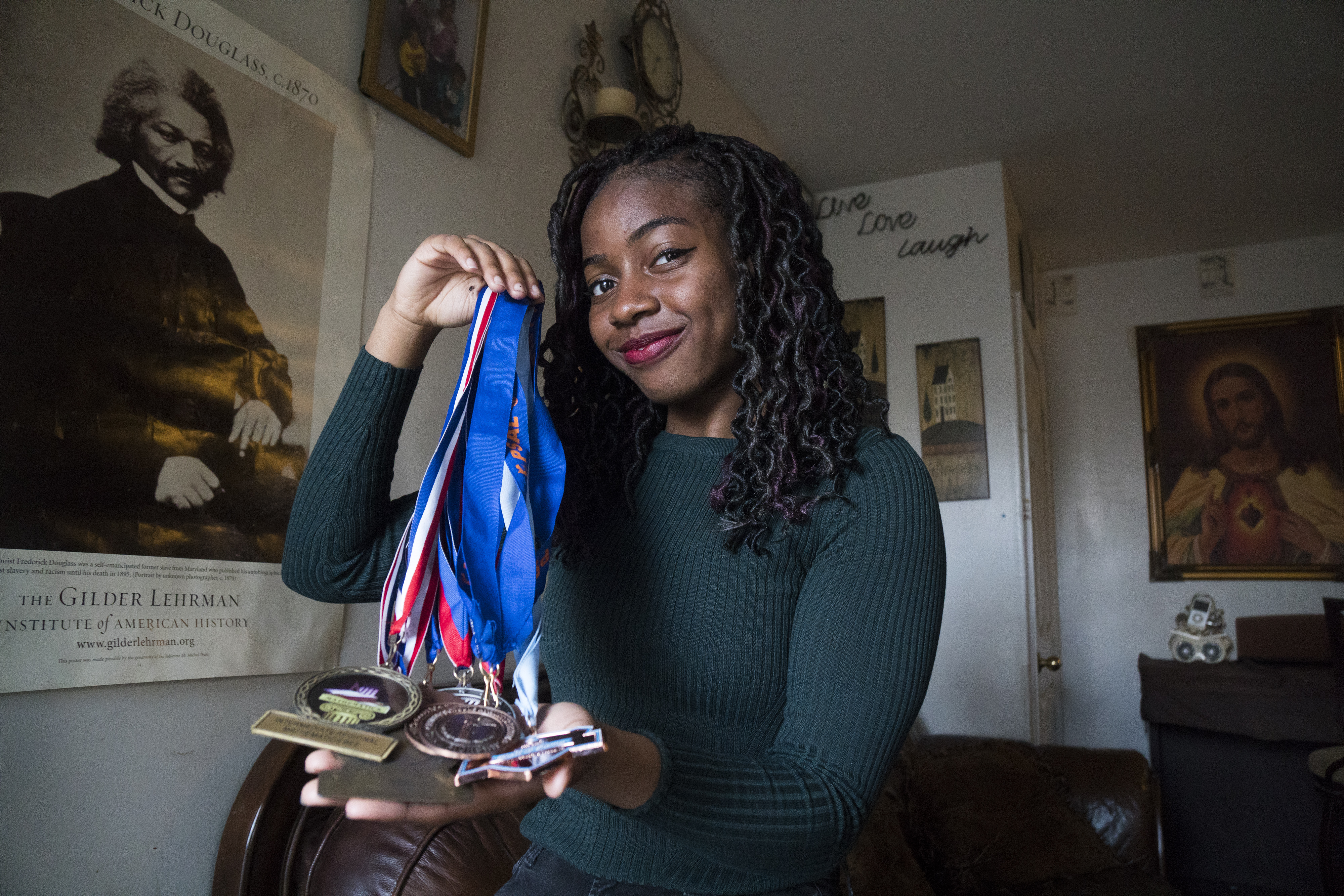 The Gilder Lehrman Institute's ultimate focus is on students. Here are brief profiles of two students whose lives have been enriched by our organization and its programs. 
***Venus Nnadi
In 2014, James G. Basker, president of the Institute, launched the Gilder Lehrman Student Advisory Council in hopes of bringing together a diverse group of talented middle and high school students who are passionate about the study of American history and eager to provide advice. This council, which now consists of more than forty members, serves as a unique sounding board for the Institute. The students are also ambassadors for our organization, particularly when they speak about their love of American history and the ways in which the Institute's programs and materials have furthered their learning and interest in the subject. 
Venus Nnadi is one of the many extraordinary members of the Student Advisory Council. She graduated in June from Stuyvesant High School, one of Manhattan's most selective specialized public high schools.
In 1998, two years before Venus was born, her parents won the Diversity Immigrant Visa lottery program, allowing them to emigrate from Nigeria to New York City. "They instilled in me a thirst for knowledge and a never-ending desire to excel not only in school, but in everything I do," Venus explains. 
Venus's passion for history, particularly the struggles of marginalized groups like African Americans, immigrants, and women, grew after taking AP US History with the 2014 New York State History Teacher of the Year, Robert Sandler. She looks to Martin Luther King Jr., Susan B. Anthony, Rosa Parks, and all those who fought alongside them for inspiration on how to rise as a leader and tackle the many issues that negatively impact society today.
Venus had planned to become a doctor, specifically a pediatric oncologist, but after falling in love with history her plans changed course. Having been admitted to all eight Ivy League colleges, she intends to study political science at Harvard University this fall with the intention of eventually pursuing politics and civil rights law. 
We greatly appreciate the valuable insight that students like Venus provide the Institute and we look forward to following her academic and personal journeys, wherever they take her.
***Michael Antosiewicz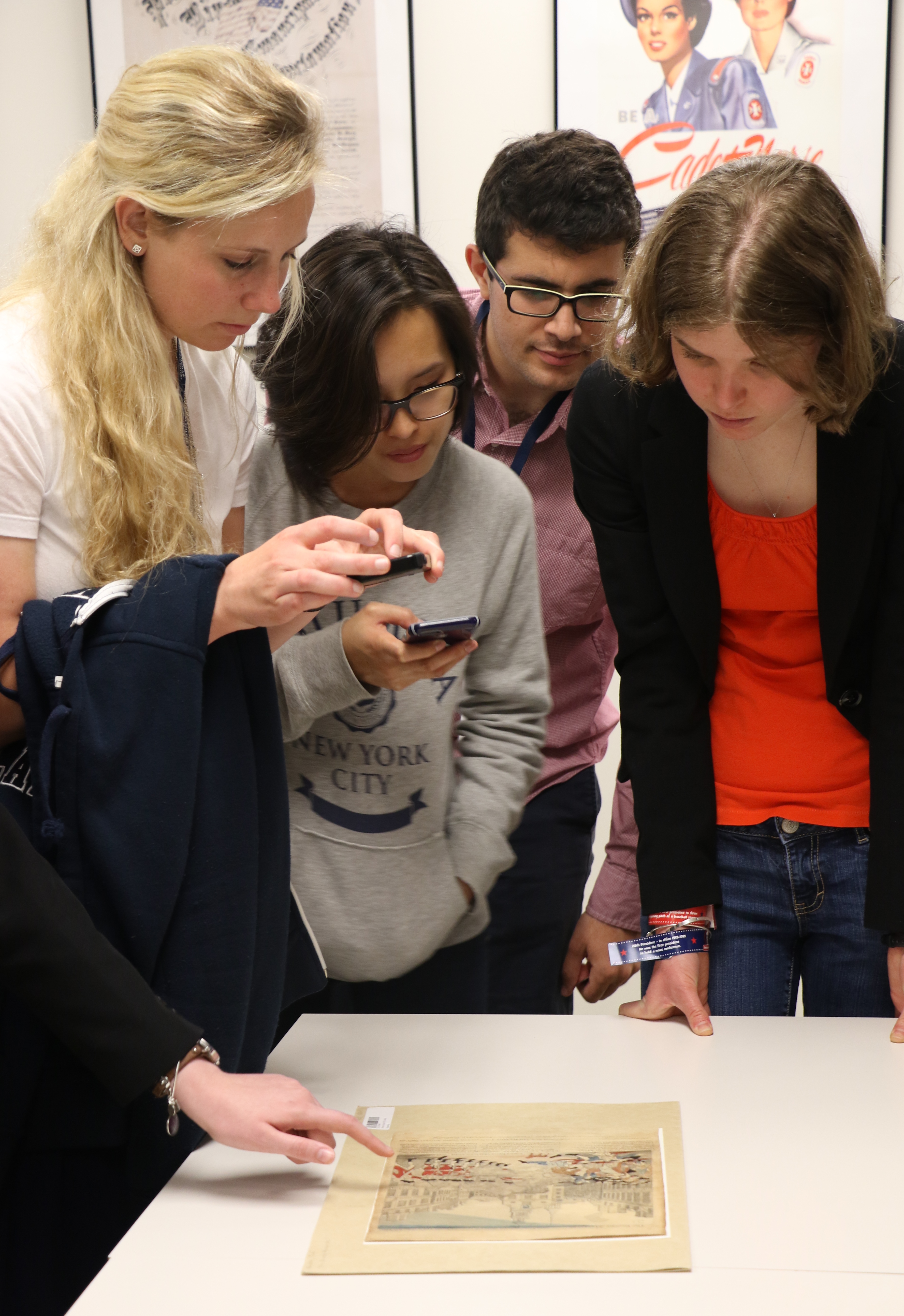 Since our founding, the Institute has opened its doors and welcomed high school and college students as interns. These talented students learn about the Institute, its resources, and its programs through hands-on experience. Interns also receive an in-depth introduction to working in a nonprofit organization dedicated to K–12 education. 
We are thrilled when our interns remain connected with Institute, become involved in other programs, and pursue advanced degrees in American history. Michael Antosiewicz is a wonderful example.
Michael was a Gilder Lehrman intern in 2016, the summer before his junior year at Rutgers University, where he was a double major in classics and American history. The following summer Michael was selected to take part in the Institute's prestigious History Scholar Award program, in which he and fifteen other college juniors and seniors were recognized for excellence in American history and American studies, as well as for their commitment to public service, leadership, and community involvement. With the History Scholars, Michael participated in a weeklong program of seminars led by prominent historians and experienced an exclusive behind-the-scenes tour of the Gilder Lehrman Collection. 
This fall Michael will begin his MPhil in Classics at Sidney Sussex College, Cambridge University (UK). He was selected as a Gates Cambridge Scholar, which is a highly prestigious program that only chooses about forty outstanding students from the United States. We congratulate him on this tremendous honor and are excited to see him continue to flourish. 
*** 
The Institute is committed to providing paid internships to ensure that students of all backgrounds can be part of the program. To do this, we need to raise $30,000 per year to support ten interns. If you are interested in helping to fund this valuable experience, please contact Susan Zuckerman at zuckerman@gilderlehrman.org.
---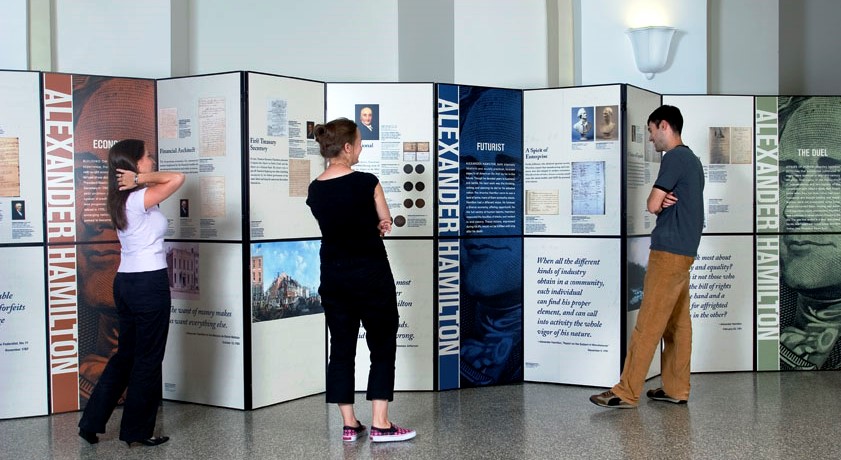 Lois MacMillan, who has been a middle school teacher for eighteen years, was a Gilder Lehrman Institute Oregon History Teacher of the Year in 2006 and has participated in eight Gilder Lehrman Teacher Seminars. Most recently, Lois received the Grammy Museum's 2018 Jane Ortner Education Award for her innovative integration of music into her social studies classes. 
Lois's award-winning lesson plan, "Rappin' History," uses songs from the musical Hamilton, as well as historical sources, to ignite her students' curiosity and learning. As part of this exercise, she asks her students to create original rap songs based on historical documents. The Grammy Museum's judges praised the lesson plan for "being an innovative, engaging, and comprehensive exploration of key events and figures."
"I was bringing rap into the classroom before Hamilton became such a big hit. I had seen Lin-Manuel Miranda's performance at the White House for President Obama. It seemed like such a powerful, modern form of storytelling and it was a way for me to connect with the kids through their music," stated MacMillan. "I give them a structure and demand excellence and then step out of the way. It's really rewarding to see that when the kids are debating lyrics, they're not arguing over what would be a cooler rhyme—they're arguing about historical accuracy and which details from the primary sources to include."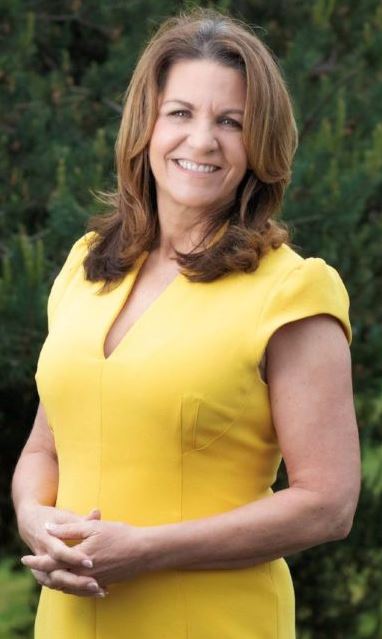 Lois also led "Rappin' History" using one of the Gilder Lehrman Institute's traveling exhibitions, Alexander Hamilton: The Man Who Made Modern America, at her local public library, where K–12 students from her rural Oregon county attended four Saturday sessions. The students composed and recorded "Three Best Friends," a rap about the Marquis de Lafayette, Hercules Mulligan, and John Laurens. 
"Rappin' History" is just one of Lois's many creative lessons that have inspired hundreds of students. It is no surprise that her principal nominated her for the Oregon History Teacher of the Year award, nor that she won it in 2006. Since then, Lois has been a passionate supporter of the Institute and has served as a master teacher at seventeen Gilder Lehrman professional development programs. In addition, she uses a full range of the Institute's traveling exhibitions, posters, lesson plans, essays, and primary source documents in her own classroom.
The Institute applauds Lois and all the educators like her who are changing the way American history is taught. If you know any teachers who have won awards for their use of Gilder Lehrman materials in their classrooms, please let us know as we would love to feature them in our next newsletter or on our website!
---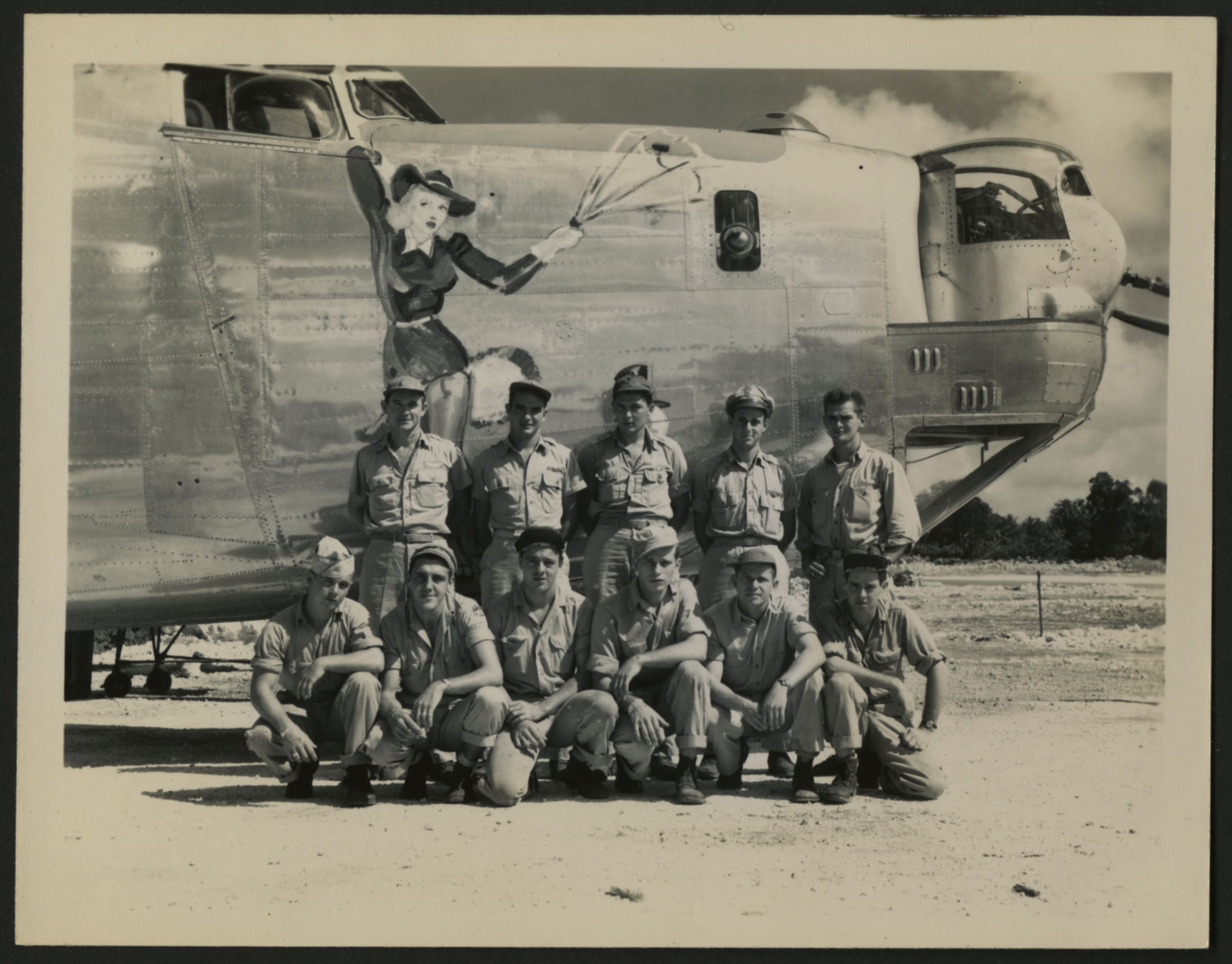 The Gilder Lehrman Collection continues to grow! One recent acquisition is a collection of 167 handwritten letters from World War II and a St. Francis medal, donated by Sheila M. Stone, the widow of Robert L. Stone and a member of the Gilder Lehrman Institute President's Council. Lieutenant Stone served as a bombardier in the Pacific and his collection of photographs and correspondence gives deep and moving insight into his war service.
Thirty-three of Bob Stone's forty bombing missions were flown during the Battle of Iwo Jima, and his letters reveal details of this dangerous and emotional experience. Bob and four of his five brothers were involved in this invasion, including his stepbrother Barry Marks. Barry was a Marine stationed on Guam at a base near Bob's, allowing them to visit each other frequently. In a letter of March 17, 1945, to his parents, Beatrice and Jacob Stone, Bob reports that Barry was involved in the Battle of Iwo Jima and acknowledges the war's strain on loved ones at home.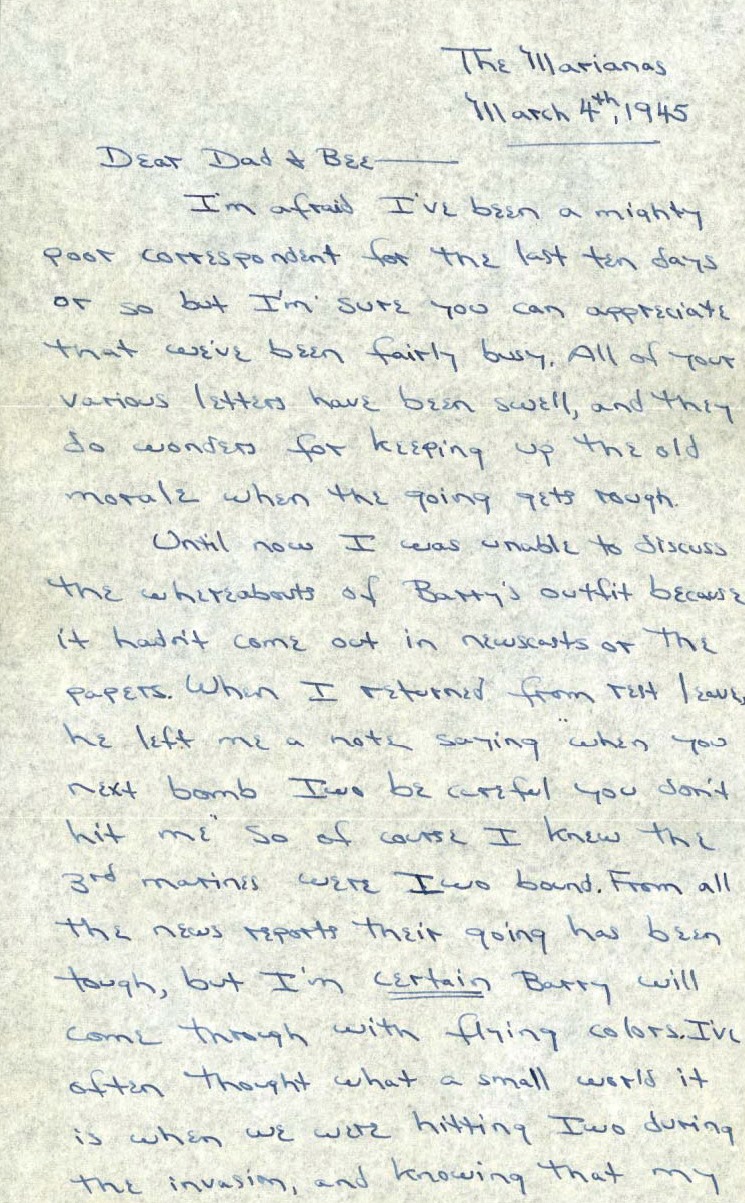 Donations like the Stone family gift allow the Institute to augment its 70,000-item Collection with powerful, humanizing stories that inspire students of all ages and backgrounds to learn and understand more about history.
Students and teachers who visit the Gilder Lehrman Collection during field trips read excerpts from Bob's letters and hold his St. Francis Medal. Sheila wanted students to touch the medal so they could see how one side had been rubbed smooth by Bob, who carried it in his hand during each of his harrowing flights. They compare his written letters to the oral history he gave decades later, and discuss the reasons for the differences between the two. Each material item helps bring Bob's story to life, and provides students with a more personal and meaningful connection to the events of World War II.
This fall the Institute will publish a book of Lieutenant Stone's letters and other items from the Stone collection. The publication will include approximately fifteen of his letters with accompanying photographs. In honor of Veteran's Day, complimentary copies of the book will be distributed to 3,500 teachers at Gilder Lehrman Affiliate Schools.
Meanwhile, the Gilder Lehrman Institute website features selections from the Stone Collection, illuminating powerful moments during the war. To view excerpts from the Stone letters, please visit our website here: The World War II experience of Robert L. Stone, 1942–1945.
If you are interested in donating family papers or significant historical materials to the Gilder Lehrman Collection to preserve them for posterity, please email Sandy Trenholm at trenholm@gilderlehrman.org.
---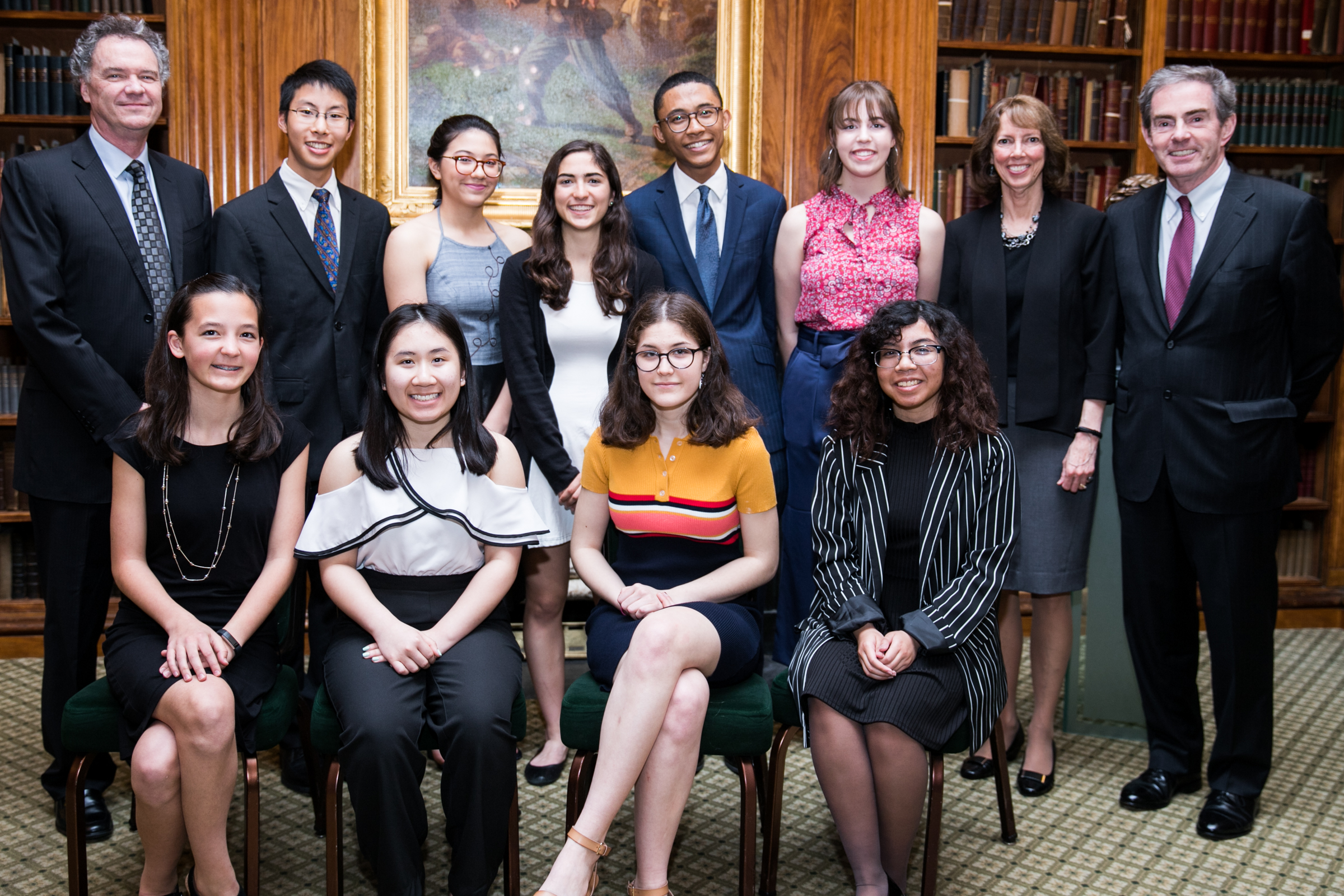 On Thursday, April 26, the Gilder Lehrman Institute of American History hosted the 2018 Gilder Lehrman Lincoln Prize in collaboration with Gettysburg College at the Union League Club in New York City.
Dr. Edward L. Ayers, the Tucker-Boatwright Professor of the Humanities and president emeritus at the University of Richmond, was selected as the 2018 award recipient for his book The Thin Light of Freedom: The Civil War and Emancipation in the Heart of America (Norton). In addition to a $50,000 prize, Dr. Ayers received a bronze replica of Augustus Saint-Gaudens's life-size bust of Abraham Lincoln.
Dr. Ayers's book, which was selected from a pool of 113 submissions, traces how black freedom, Confederate defeat, and Reconstruction unfolded in the Great Valley counties of Augusta, Virginia, and Franklin, Pennsylvania. "Edward Ayers's Thin Light of Freedom makes the Civil War vividly, unforgettably real by focusing on ordinary people, in ordinary communities, during the bloodiest crisis in American history," said James G. Basker, president of the Gilder Lehrman Institute. "Both students of history and general readers will find this book exciting and enlightening."
Dr. Ayers was named National Professor of the Year (2003), received the National Humanities Medal from President Obama at the White House (2013), was a finalist for the National Book Award (1992) and the Pulitzer Prize (1992), and won the Bancroft Prize for distinguished writing in American history (2004). As the New York Times eloquently states, "Ayers is not only a seasoned historian, with a lifetime of writing about the American South and the Civil War behind him, he is also a compelling writer."
The Gilder Lehrman Lincoln Prize was established in 1990 by Richard Gilder and Lewis E. Lehrman, in partnership with Dr. Gabor Boritt, Director Emeritus of the Civil War Institute at Gettysburg College. It is awarded annually to recognize the finest scholarly work that enhances the general public's understanding of the American Civil War era. This award has previously recognized the work of such renowned historians as Eric Foner, Allen C. Guelzo, Martha Hodes, and Harold Holzer. Read more about past prize winners here.
For more information about submissions, please email development@gilderlehrman.org.
***Our Gala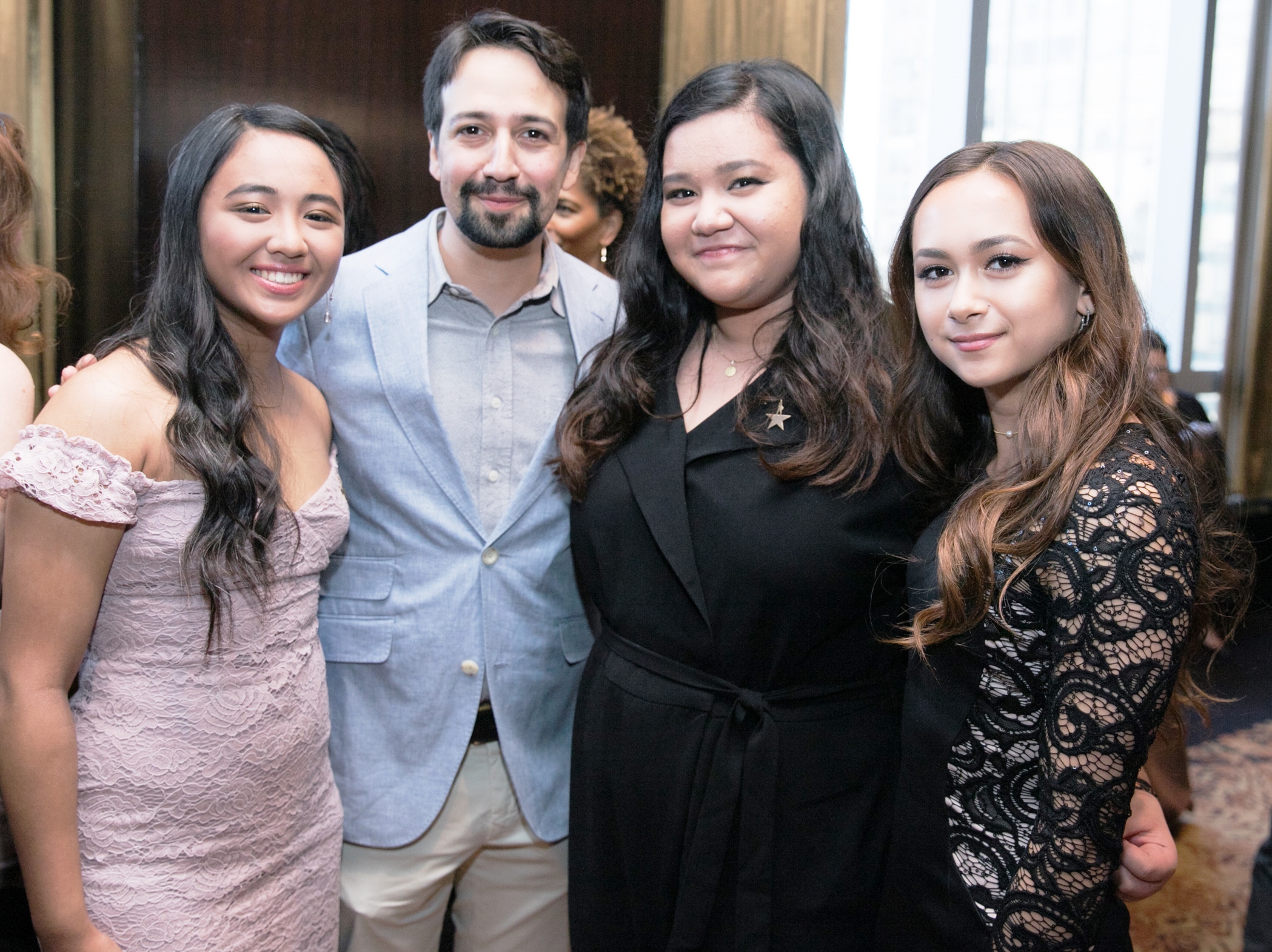 On Monday, May 14, the Gilder Lehrman Institute held its 2018 Gala, bringing together more than 330 history lovers and supporters at the Mandarin Oriental in New York City. This year we honored two couples, S. Andrew Banks & Dame Pamela Gordon-Banks and Luis A. Miranda Jr. & Dr. Luz Towns-Miranda, raising almost $1.3 million in recognition of these individuals who have made an enormous impact on American history education. Andy and Luis are both distinguished members of the Institute's Board of Trustees.
The celebratory evening included performances by students who participated in the Institute's five-year, $25.6 million Hamilton Education Program and by members of the Girl Be Heard theater company. Both of these performances showcased students who create songs and spoken-word pieces that reflect their understanding of American history and its connection with current events. Lin-Manuel Miranda—a Tony Award-winning composer, lyricist, playwright, and actor—was also in attendance to honor his parents by personally presenting them with the 2018 Champion of History Award.
Read more about each of our distinguished honorees here: Gilder Lehrman Institute 2018 Gala.
For those who were unable to join us at the event, the two honoree tribute videos will give you a taste of the evening:
Please save the date for next year's Gala on Tuesday, May 14, 2019, at the Mandarin Oriental. We will honor Robert H. Niehaus, Chairman and Founder of Greenhill Capital Partners and Gilder Lehrman Institute Board Member, and Drew Gilpin Faust, president of Harvard University and the Lincoln Professor of History in Harvard's Faculty of Arts and Sciences.
***George Washington Prize
On Wednesday, May 23, the Gilder Lehrman Institute of American History, George Washington's Mount Vernon, and Washington College co-sponsored the 2018 George Washington Prize at the Mount Vernon Estate in Virginia.
Established in 2005, the $50,000 George Washington Prize recognizes the year's best works on the nation's founding era, especially those that have the potential to advance broad public understanding of American history. The first prize in 2005 went to Ron Chernow for Alexander Hamilton, and in 2015 a special George Washington Prize was awarded to Lin-Manuel Miranda  for the musical Hamilton. The prize, awarded annually, is one of the nation's most prestigious book awards. Read more about past prize winners here.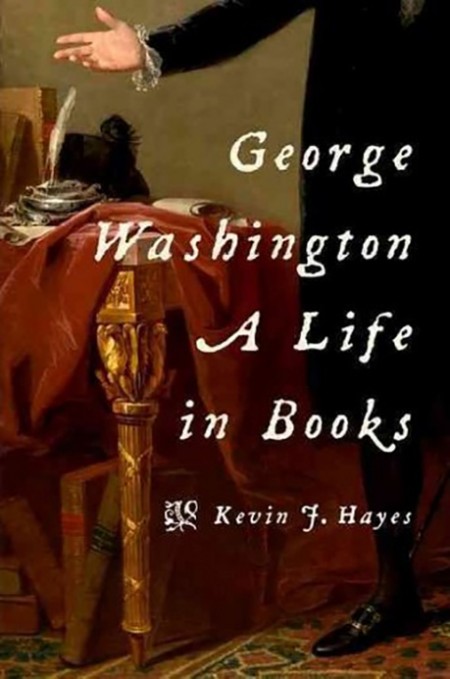 A distinguished jury composed of notable historians Denver Brunsman, Flora Fraser, and Peter S. Onuf selected seven finalists from a field of more than fifty books. "These are all great books by worthy authors and scholars," said Doug Bradburn, the president and CEO of Mount Vernon. "This prize has made a major impact on encouraging great new work on this essential era in our history—and we're proud to be able to support it."
The finalists' books combine depth of scholarship and breadth of inquiry with vivid prose that exposes the complexities of our founding narrative. Written to engage a wide public audience, the books provide a "go-to" reading list for anyone interested in learning more about George Washington, his contemporaries, and the founding of the United States of America. Read more about each of the finalists here.
Author and historian Kevin J. Hayes, Professor Emeritus of English at the University of Central Oklahoma, was selected as the winner of the 2018 George Washington Prize for George Washington: A Life in Books (Oxford), a deeply researched biography that offers a fresh perspective on Washington. Although many have downplayed Washington's intellectual life, Hayes discovered an unplumbed aspect of the first president's development. As Hayes puts it, the biography focuses on "how the books [Washington] owned and read shaped the man he became. . . . George Washington: A Life in Books examines many different subject areas Washington studied—devotional literature, histories, travel writing, political pamphlets, agricultural manuals—and situates them within the context of his public and private life."
For more information on submissions, please email smcleod@mountvernon.org.