Porter, Fitz-John (1822-1901) to Colonel Julius Walker Adams
High-resolution images are available to schools and libraries via subscription to American History, 1493-1943. Check to see if your school or library already has a subscription. Or click here for more information. You may also request a pdf of the image from us here.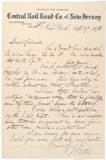 Summary of Content: Discusses convening of the military commission to reevaluate Porter's actions during Second Manassas. Notes that Asa Gardner, the lawyer opposing Porter in the trial "has notified 'McDowell & Pope that he will take care of their honor.' before the Board." Generals Irvin McDowell and John Pope, participants in the Battle of Second Manassas, upheld accusations of Porter's insubordination the battle. Written on Central Railroad Co. of New Jersey stationery. Adams was a noted engineer and cousin of President John Quincy Adams.
Background Information: Generals Irvin McDowell and John Pope both participated in the Battle of Second Manassas. Following the battle, both men upheld accusations of Porter's insubordination. The 1878-1879 board exonerated Porter of ...previous charges made against him.See More
People: Porter, Fitz-John, 1822-1901
McDowell, Irvin, 1818-1885
Pope, John, 1822-1892
Adams, Julius Walker, fl. 1861-1862

Historical Era: Rise of Industrial America, 1877-1900
Subjects: BattleSecond Battle of Bull Run (Manassas)Civil WarUnion ForcesUnion GeneralConfederate States of AmericaMilitary HistoryMilitary LawCorruption and Scandal
Sub Era: