Stonehouse, John B. (1813-1885) to John B. Stonehouse Jr.
High-resolution images are available to schools and libraries via subscription to American History, 1493-1943. Check to see if your school or library already has a subscription. Or click here for more information. You may also request a pdf of the image from us here.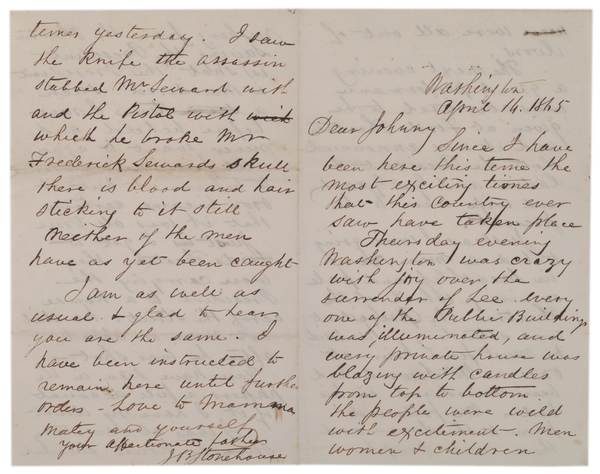 A high-resolution version of this object is available for registered users. LOG IN or SUBSCRIBE
Summary of Content: Writing to his son, Stonehouse describes the interruption of the Washington, D.C. celebration of Lee's surrender by the assassination of President Lincoln and stabbing of Secretary of State William Seward. He then continues to give a detailed description of the events surrounding the attack on Seward and the assassination of Lincoln. He is first informed of Secretary Seward's stabbing by an unidentified man. Stonehouse then goes to Ford's Theatre where he describes people rushing from the building. Also includes his account of the knife Secretary Seward was stabbed with and the pistol which Frederick Seward was attacked with. The letter was written on blind stamped stationary from Ebbitt House, Washington, D.C.
Background Information: At noon on Good Friday, April 14, 1865, Major General Robert Anderson raised the U.S. flag over Fort Sumter. It was the same flag that he had surrendered four years before.
...That evening, a few minutes after 10 o'clock, John Wilkes Booth (1838-1865), a young actor and Confederate sympathizer (who had spied for Richmond and been part of a plot to kidnap Lincoln), entered the presidential box at Ford's Theater in Washington and shot the President in the back of the head. Booth then leaped to the stage, but fell and broke his leg. As he fled the theater he is said to have cried out: "Sic semper tyrannis"--thus always to tyrants, the motto of the State of Virginia.
Simultaneously, a Booth accomplice, Lewis Paine, brutally attacked Secretary of State William Seward (1801-1872) at his home with a knife. Seward survived because Paine's knife was deflected by a metal collar he wore from a severe accident. Seward slowly recovered from his wounds and continued to serve as Secretary of State under Lincoln's successor, Andrew Johnson.
Lincoln was carried unconscious to a neighboring house. He was pronounced dead at 7:22 a.m., April 15. A few minutes later, Secretary of War Edwin M. Stanton (1814-1869) stepped outside and announced to the assembled crowd, "he belongs to the ages."
John Stonehouse was a Major and Inspector of the Ninth Bridage during the Civil War. Afterwards served as Assistant Adjutant General and military agent for the prosecution of war claims agaisnt the United States.See More
People: Stonehouse, John B., 1813-1885
Stonehouse, John B. Jr., fl. 1865-1874
Lincon, Abraham, 1809-1865
Seward, William Henry, 1801-1872
Lee, Robert E. (Robert Edward), 1807-1870

Historical Era: Civil War and Reconstruction, 1861-1877
Subjects: AssassinationsLincoln AssassinationLincoln's CabinetInjury or WoundUnion Soldier's LetterSoldier's LetterCivil WarAppomattoxHolidays and CelebrationsWashington, D.C.Confederate General or LeaderConfederate States of AmericaUnion Forces
Sub Era: The American Civil War