Adams, John (1735-1826) to unknown, with congressional resolve re: compiling British hostilities
High-resolution images are available to schools and libraries via subscription to American History, 1493-1943. Check to see if your school or library already has a subscription. Or click here for more information. You may also order a pdf of the image from us here.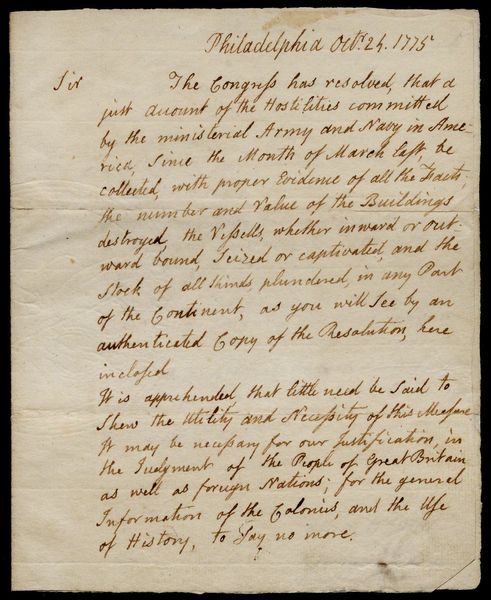 A high-resolution version of this object is available for registered users. LOG IN
Gilder Lehrman Collection #: GLC00505.01 Author/Creator: Adams, John (1735-1826) Place Written: Philadelphia Type: Autograph letter signed Date: 24 October 1775 Pagination: 2 p. : docket ; 21 x 17 cm
Summary of Content: May have been source for Declaration of Independence's list. Cosigned by George Wythe and Silas Deane, with an AMS copy of the resolution signed by Charles Thomson.
Background Information: Notes: The responses received to this document's request for a list of British hostilities may have been the source for that list in the Declaration of Independence.
Full Transcript: Philadelphia Octr. 24. 1775

Sir The Congress has resolved, that a just account of the Hostilities committed by the ministerial Army and Navy in America, Since the Month of March last, be ...collected, with proper Evidence of all the Facts; the number and Value of the Buildings destroyed, the Vessells, whether inward or outward bound, Seized or captivated, and the Stock of all kinds, plundered, in any Part of the Continent, as you will See by an authenticated Copy of the Resolution, here inclosed
It is apprehended, that little need be Said to Shew the Utility and Necessity of this Measure. It may be necessary for our Justification, in the Judgment of the People of Great Britain as well as foreign Nations; for the general Information of the Colonies, and the use of History, to say no more
[2] The Distance of this Place, from the Scenes of Violence, makes it necessary for us to apply to Several Assemblies, as well as to private Gentlemen, for Assistance; and from your Character it is presumed you will not be unwilling to yield us all the Aid in your Power.
It will be requisite that every Fact be supported by Affidavit, authenticated by the highest Authority of the Place, where they shall be taken.
our Apology for giving you this Trouble, is the manifest Utility of it, to the common Cause of the Colonies, in these Times of public Distress and Danger. We subscribe ourselves with great Respect, Sir, your most obedient
and very humble Servants
Silas Deane
John Adams
George Wythe



[docket]
Philadelphia Octor. 24. 1775
Letter from Members
of Congress -
See More
People: Adams, John, 1735-1826
Wythe, George, 1726-1806
Deane, Silas, 1737-1789

Historical Era: American Revolution, 1763-1783
Subjects: PresidentGlobal History and US Foreign PolicyGlobal History and US Foreign PolicyMilitary HistoryRevolutionary WarContinental CongressCongressDeclaration of IndependenceGovernment and Civics
Sub Era: The War for Independence