Hoover, Herbert (1874-1964) to Bruce Barton
High-resolution images are available to schools and libraries via subscription to American History, 1493-1943. Check to see if your school or library already has a subscription. Or click here for more information. You may also order a pdf of the image from us here.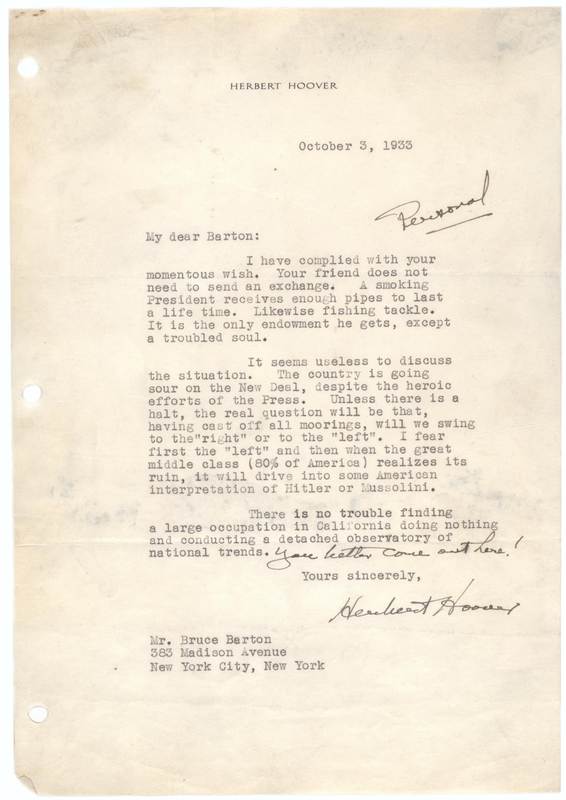 A high-resolution version of this object is available for registered users. LOG IN
Gilder Lehrman Collection #: GLC00691 Author/Creator: Hoover, Herbert (1874-1964) Place Written: Palo Alto, California Type: Typed letter signed Date: 3 October 1933 Pagination: 1 p. ; 26 x 19 cm.
Summary of Content: Comments on retirement: "A smoking President receives enough pipes to last a life time. Likewise fishing tackle. It is the only endowment he gets, except a troubled soul." Also mentions that "The country is going sour on the New Deal." Expresses his fear that the country will veer further left politically, and after the "middle class (80% of America) realizes it ruin" will veer back to the far right, "into some American interpretation of Hitler or Mussolini." Marked "personal" with one manuscript addition at the end.
Full Transcript: October 3, 1933
Personal

My dear Barton:
I have compiled with your momentous wish. Your friend does not need to send an exchange. A smoking President receives enough pipes to last a ...life time. Likewise fishing tackle. It is the only endowment he gets, except a troubled soul.
It seems useless to discuss the situation. The country is going sour on the New Deal, despite the heroic efforts of the Press. Unless there is a halt, the real question will be that, having cast off all moorings, will we swing to the "right" or to the "left". I fear first the "left" and then when the great middle class (80% of America) realizes its ruin, it will drive into some American interpretation of Hitler or Mussolini.
There is no trouble finding a large occupation in California doing nothing and conducting a detached observatory of national trends.
You better come out here!
Yours sincerely,
Herbert Hoover
Mr. Bruce Barton
383 Madison Avenue
New York City, New York
See More
People: Hoover, Herbert, 1874-1964
Barton, Bruce, 1886-1967

Historical Era: Great Depression and World War II, 1929-1945
Subjects: PresidentTobacco and SmokingSports and GamesGovernment and CivicsPoliticsEconomicsGlobal History and US Foreign PolicyGlobal History and US Foreign Policy
Sub Era: The Great Depression