Hamilton, Alexander (1755-1804) Report of the Secretary of Treasury on the subject of manufactures
High-resolution images are available to schools and libraries via subscription to American History, 1493-1943. Check to see if your school or library already has a subscription. Or click here for more information. You may also order a pdf of the image from us here.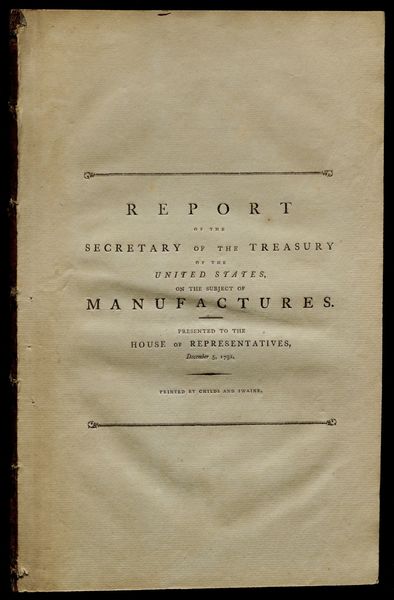 A high-resolution version of this object is available for registered users. LOG IN
Gilder Lehrman Collection #: GLC00891 Author/Creator: Hamilton, Alexander (1755-1804) Place Written: New York Type: Pamphlet Date: 05 December 1791 Pagination: [4], 58 p. 30 x 19 cm
Summary of Content: Howes H123. Disbound and boxed. One of Hamilton's most important reports as Secretary of Treasury, to justify his system of tariffs.
Background Information: After his debt program was approved, Hamilton's next objective was to create a Bank of the United States, modeled after the Bank of England, to issue currency, collect taxes, hold ...government securities, regulate the nation's financial system, provide funds in the event of a national emergency, handle government debt payments to foreign and domestic creditors, and make loans to the government and private borrowers. This proposal, like the debt scheme, unleashed a storm of protest.
Critics charged that the bank threatened the nation's republican values by encouraging speculation and corruption. They also contended that the bank was unconstitutional, since the Constitution did not give Congress the power to create a bank. Other grounds for criticism were that the bank would subject America to foreign influences (because foreigners would have to purchase a high proportion of the bank's stock) and give a propertied elite disproportionate influence over the nation's fiscal policies (since private investors would control the bank's board of directors). Despite the bitter opposition of such figures as Jefferson and Madison, Congress succeeded in chartering a Bank of the United States.
The final plank in Hamilton's economic program was a proposal to aid the nation's infant industries. Through high tariffs designed to protect American industry from foreign competition, government bounties and subsidies, and internal improvements and transportation, Hamilton hoped to break Britain's manufacturing hold on America.
The most eloquent opposition to Hamilton's proposals came from Thomas Jefferson, who believed that the growth of manufacturing threatened the values of an agrarian way of life. Hamilton's vision of America's future directly challenged Jefferson's ideal of a nation of farmers communing with nature and maintaining personal freedom by virtue of landownership. Like slaves, Jefferson feared, factory workers would be manipulated by their masters, who would make it impossible for them to think and act as independent citizens.
Although Jefferson and his followers successfully painted Hamilton as an elitist defender of a deferential social order and an admirer of monarchical Britain, in fact Hamilton offered a remarkably modern economic vision based on investment, industry, and expanded commerce. Most strikingly, it was an economic vision with no place for slavery. Before the 1790s, the American economy, North and South, was tied to a trans-Atlantic system of slavery. A member of New York's first anti-slavery society, Hamilton wanted to reorient the American economy away from slavery and trade with the slave colonies of the Caribbean.See More
Full Transcript: The expediency of encouraging manufactures in the United States, which was not long since deemed very questionable, appears at this time to be pretty generally admitted....
There still are, nevertheless, ...respectable patrons of opinions, unfriendly to the encouragement of manufactures. The following are, substantially, the arguments, by which these opinions are defended.
"In every country (say those who entertain them) Agriculture is the most beneficial and productive object of human industry. This position, generally, if not universally true, applies with peculiar emphasis to the United States, on account of their immense tracts of fertile territory, uninhabited and unimproved.....
"To endeavor by the extraordinary patronage of Government, to accelerate the growth of manufactures, is in fact, to endeavor, by force and art, to transfer the natural current of industry, from a more to a less beneficial channel. Whatever has such a tendency must necessarily be unwise. Indeed it can hardly ever be wise in a government, to attempt to give a direction to the industry of its citizens. This under the quicksighted guidance of private interest, will, if left to itself, infallibly find its own way to the most profitable employment....
If contrary to the natural course of things, an unseasonable and premature spring can be given to certain fabrics, by heavy duties, prohibitions, bounties, or by other forced expedients; this will only be to sacrifice the interests of the community to those of particular classes...."
It ought readily to be conceded, that the cultivation of the earth--as the primary and most certain source of national supply--...has intrinsically a strong claim to pre-eminence over every other kind of industry.
But, that it has a title to any thing like an exclusive predilection, in any country, ought to be admitted with great caution....
It might...be observed...that the labour employed in Agriculture is in a great measure periodical and occasional, depending on seasons, liable to various and long intermissions; while that occupied in manufactures is constant and regular, extending through the year....
Manufacturing establishments not only occasion a positive augmentation of the Produce and Revenue of the Society, but...they contribute to rendering them greater than they could possibly be, without such establishments. These circumstances are...additional employment to classes of the community not ordinarily engaged in the business.... The promoting of emigration from foreign Countries.... The furnishing greater scope for the diversity of talents and dispositions which discriminate men from each other.... The creating in some instances a new, and securing in all, a more certain and steady demand for the surplus produce of the soil....
The objections to the pursuit of manufactures in the United States, which next present themselves to discussion, represent an impracticality of success, arising from three causes--scarcity of hands--dearness of labor--want of capital....
With regard to scarcity of hands, the fact itself must be applied with no small qualification to certain parts of the United States. There are large districts, which may be considered as pretty fully peopled....
But there are circumstances...that materially diminish every where the effect of a scarcity of hands. These circumstances are--the great use which can be made of women and children...--the vast extension given by late improvements to the employment of machines, which substituting the Agency of fire and water, has prodigiously lessened the necessity for manual labor.... As soon as foreign artists shall be made sensible that the state of things here affords a moral certainty of employment and encouragement--competent numbers of European workmen will transplant themselves, effectually to ensure the success of the design....
The supposed want of Capital for the prosecution of manufactures in the United States is the most indefinite of the objections which are usually opposed to it....
The introduction of Banks....has a powerful tendency to extend the active Capital of a Country. experience of the Utility of these Institutions is multiplying them in the United States. It is probable that they will be established wherever they can exist with advantage; and wherever, they can be supported, if administered with prudence, they will add new energies to all pecuniary operations.
The aid of foreign Capital may safely, and, with considerable latitude be taken into calculation. Its instrumentality has been long experienced in our external commerce; and it has begun to be felt in various other modes....
There remains to be noticed an objection to the encouragement of manufactures, of a nature different from those which question the probability of success. This is derived from its supposed tendency to give a monopoly of advantages to particular classes at the expense of the rest of the community....
It is not an unreasonable supposition, that measures, which serve to abridge the free competition of foreign Articles, have a tendency to occasion the enhancement of prices...; but the fact does not uniformly correspond with the theory. A reduction of prices has in several instances immediately succeeded the establishment of a domestic manufacture....
But though it were true, that the immediate and certain effect of regulations controlling the competition of foreign with domestic fabrics was an increase of prices, it is universally true, that the contrary is the ultimate effect with every successful manufacture. When a domestic manufacture has attained to perfection, and has engaged in the prosecution of it a competent number of Persons, it invariably becomes cheaper....
There seems to be a moral certainty, that the trade of a country which is both manufacturing and Agricultural will be more lucrative and prosperous, that of a Country, which is, merely Agricultural....
The importation of manufactured supplies seem invariably to drain the merely Agricultural people of their wealth....
Previous to the revolution, the quantity of coin, possessed by the colonies, which now compose the United States, appeared, to be inadequate to their circulation; and their debt to Great Britain was progressive. Since the revolution, the States, in which manufactures have most increased, have recovered fastest from the injuries of the late War, and abound most in pecuniary resources....
It is not uncommon to meet with an opinion that thought the promoting of manufactures may be the interest of a part of the Union, it is contrary to that of another part. The northern & southern regions are sometimes represented as having adverse interests in this respect. Those are called Manufacturing, these Agricultural states; and a species of opposition is imagined to subsist between the Manufacturing and Agricultural interests.
The idea of an opposition between these two interests is the common error of the early periods of every country, but experience gradually dissipates it....
Ideas of a contrariety of interests between the northern and southern regions of the Union, are in the Main as unfounded as they are mischievous. The diversity of Circumstances on which such contrariety is usually predicated, authorizes a directly contrary conclusion. Mutual wants constitute one of the strongest links of political connection....
If the northern and middle states should be the principal scenes of such establishments, they would immediately benefit the more southern, by creating a demand for productions....See More
People: Jefferson, Thomas, 1743-1826
Hamilton, Alexander, 1757-1804

Historical Era: The New Nation, 1783-1815
Subjects: Government and CivicsCommerceMerchants and TradeIndustryFinanceEconomics
Sub Era: The Early Republic