Mitchell, William E. (1879-1936) to Lester D. Gardner
High-resolution images are available to schools and libraries via subscription to American History, 1493-1943. Check to see if your school or library already has a subscription. Or click here for more information. You may also order a pdf of the image from us here.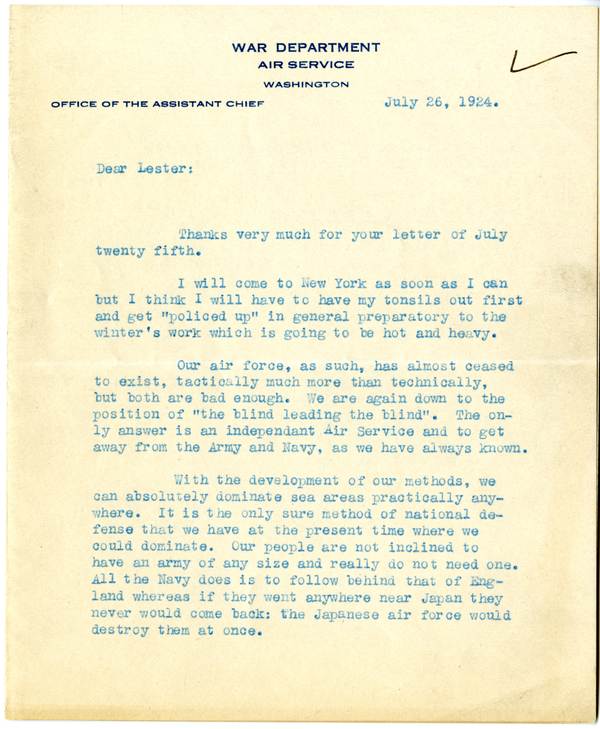 A high-resolution version of this object is available for registered users. LOG IN
Gilder Lehrman Collection #: GLC00950 Author/Creator: Mitchell, William E. (1879-1936) Place Written: Washington, D.C. Type: Typed letter signed Date: 26 July 1924 Pagination: 2 p. ; 19 x 16 cm.
Signed as Brigadier General, Air Service, Assistant Chief of Air Service. Advises that he will come to New York as soon as possible but that he has to have his tonsils out. Remarks that the Air Force "has almost ceased to exist ... " Believes that the Air Force needs to separate from the Army and Navy. He thinks that American navy power could easily be destroyed by Japan's air power. In his opinion, protecting the sea is the "only sure method of national defense that we have at the present time ... " Typed on note stationery of the War Department, Air Service, Washington.
After World War I, Mitchell argued against the huge reductions being made in military aviation. In 1925 he issued a statement accusing the War and Navy Departments of incompetence and criminal negligence in aviation affairs. He was tried by court-martial and was convicted on charges of "insubordination and conduct unbecoming an officer." He resigned from the Army, and his views were largely disregarded. Gardner was a pioneer in laboratory research and theory of aeronautics.