Tyler, John (1790-1862) to Elisha R. Potter
High-resolution images are available to schools and libraries via subscription to American History, 1493-1943. Check to see if your school or library already has a subscription. Or click here for more information. You may also order a pdf of the image from us here.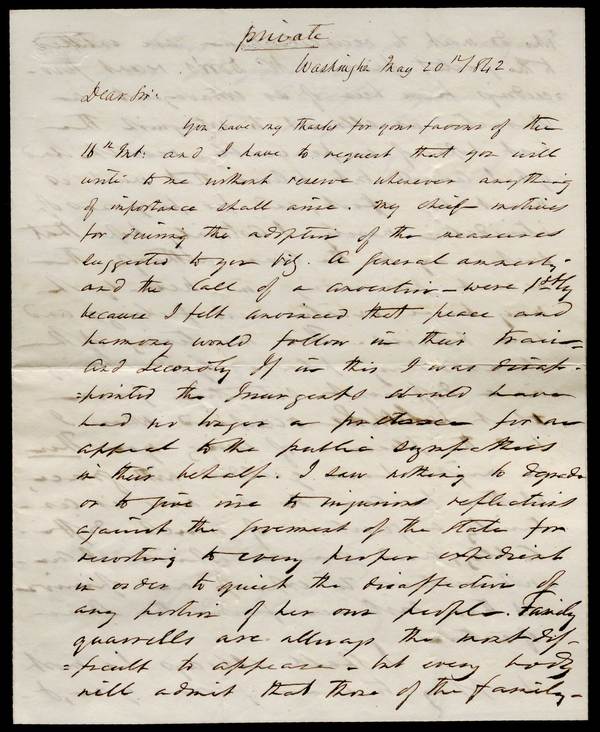 A high-resolution version of this object is available for registered users. LOG IN
Gilder Lehrman Collection #: GLC01131 Author/Creator: Tyler, John (1790-1862) Place Written: Washington, D.C. Type: Letter signed Date: 20 May 1842 Pagination: 3 p. ; 26 x 20 cm.
Summary of Content: Written at the height of the Dorr controversy, when Thomas W. Dorr's followers who wanted to put a new Rhode Island state constitution in place to expand suffrage, illegally elected Dorr the governor. Tyler explains his response to the affair, his desire for amnesty, peace, and to undercut public sympathy for the Dorrites who invoked the right of rebellion. Concedes that "Dorr's recent proceedings have been so extravagant a character as allmost to extinguish the las hope of a peaceable result." Notes that the developments make it difficult for Rhode Island Governor Samuel Ward King to yield gracefully. The Dorr rebellion followed. Probably in the hand of one of Tyler's sons, John Jr. or Robert, who served as secretaries. Marked "private." Potter was a Rhode Island jurist and political leader.
People: Tyler, John, 1790-1862
Potter, Elisha R. (Elisha Reynolds)., 1811-1882

Historical Era: National Expansion and Reform, 1815-1860
Subjects: State ConstitutionDorr RebellionPresidentRebellionSuffrageGovernment and CivicsElectionAmnestyVice President
Sub Era: Age of Jackson