Pierrepont, Edwards (1817-1892) Argument of Hon. Edwards Pierrepont to the jury, on the trial of John H. Surratt for the murder of president Lincoln
High-resolution images are available to schools and libraries via subscription to American History, 1493-1943. Check to see if your school or library already has a subscription. Or click here for more information. You may also request a pdf of the image from us here.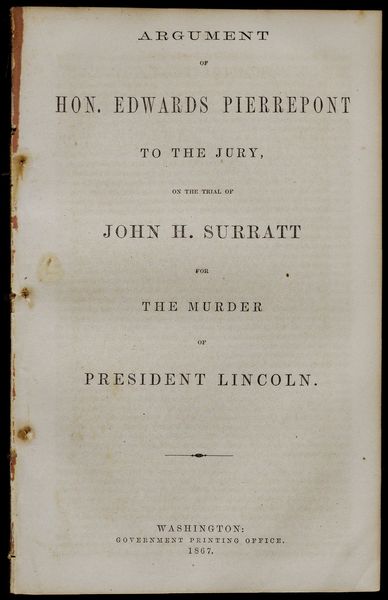 Summary of Content: Printed at the Government Printing Office. Pierrepont was chosen to prosecute John Surratt. Presents detailed evidence against Surratt, including excerpts of testimony from various witnesses such as Mary Branson. Also includes various letters inlvolving other conspirators to further support his case. Surratt, unlike the other conspirators, was tried in a civilian court, not a military court. The trial ended with a hung jury on August 10, 1867. The federal government eventually dropped all charges against Surratt and released him from custody in the summer of 1868.
Background Information: Edwards Pierrepont was a prominent lawyer and politician. During the Civil War, he was a War Democrat who was against secession and supportive of the use of force to protect ...the Union. President Lincoln appointed him to try the cases of those who had been imprisoned in the North for suspected disloyalty to the Union cause. In 1867, he was chosen to prosecute John Surratt, one of the Lincoln assassination conspirators. President Grant appointed Pierrepont U.S. attorney general (1875). As attorney general, he adopted a disastrous "hands off" Reconstruction policy and a passive approach to violations of black civil rights in the southern states. Grant later appointed him to be the U.S. minister to Great Britain.

See More
People: Pierrepont, Edwards, 1817-1892
Surratt, John H. (John Harrison)., 1844-1916
Lincoln, Abraham, 1809-1865

Historical Era: Civil War and Reconstruction, 1861-1877
Subjects: AssassinationLincoln AssassinationPresidentCriminals and OutlawsLawWomen's HistoryCivil War
Sub Era: Reconstruction