Halpine, Charles G. (Charles Graham) (1829-1868) to William Watts Hart Davis
High-resolution images are available to schools and libraries via subscription to American History, 1493-1943. Check to see if your school or library already has a subscription. Or click here for more information. You may also request a pdf of the image from us here.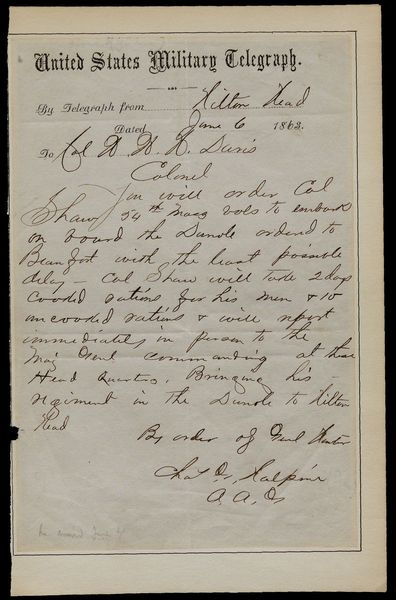 Summary of Content: Halpine, Assistant Adjutant General to General [David] Hunter, relates orders to Colonel Davis. Instructs Davis to order Colonel Robert Gould Shaw, commander of the 54th Massachusetts Infantry, "to embark on board the [Demole] ordered to Beaufort with the least possible delay." States that Shaw should bring two days cooked and ten days uncooked rations for his men. Instructs Shaw to bring his regiment directly to Hilton Head. Written on United States Military Telegraph stationery.
Background Information: Charles Halpine was an Irish journalist and author. He served as Hunter's AAG and was subsequently assistant adjutant-general on General Henry W. Halleck's staff. The 54th Massachusetts Infantry stormed Fort ...Wagner on 18 July 1863. Their commander, Robert Gould Shaw, was killed during the famous engagement. The "Demole" referred to in the orders is more commonly known as the "De Molay." See More
People: Halpine, Charles Graham, 1829-1868
Davis, N. N., fl. 1863
Hunter, David, 1802-1886
Shaw, Robert Gould, 1837-1863

Historical Era: Civil War and Reconstruction, 1861-1877
Subjects: Civil WarMilitary HistoryUnion ForcesUnion GeneralAfrican American HistoryAfrican American TroopsMilitary ProvisionsDiet and nutrition
Sub Era: The American Civil War