Steele, Frederick (1819-1868) General Orders no. 3
High-resolution images are available to schools and libraries via subscription to American History, 1493-1943. Check to see if your school or library already has a subscription. Or click here for more information. You may also order a pdf of the image from us here.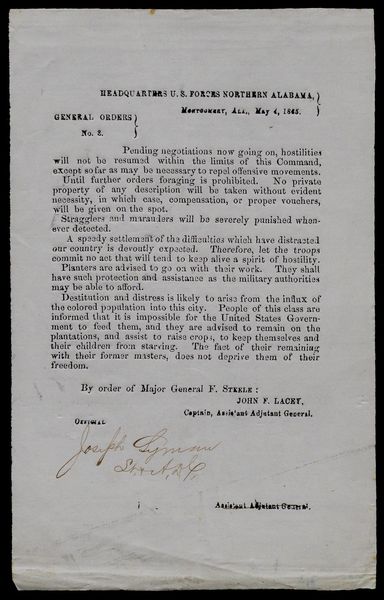 A high-resolution version of this object is available for registered users. LOG IN
Gilder Lehrman Collection #: GLC01908 Author/Creator: Steele, Frederick (1819-1868) Place Written: Montgomery, Alabama Type: Broadside Date: 4 May 1865 Pagination: 1 p. ; 21 x 13 cm.
Summary of Content: Signed official at bottom by Lieutenant Joseph Lyman, A.D.C. Orders that Federal troops are not to pillage homes and plantations since the hostilities of the Civil War have ended. Advises newly freed blacks to stay on their plantations with their former masters as the United States Government cannot feed them. "...they are advised to remain on the plantations, and to assist to raise crops, to keep themselves and their children from starving. The fact of their remaining with their former masters, does not deprive them of their freedom." Signed in print by order of Major General F. Steele, and John F. Lacey, Captain, Assistant Adjutant General. From Headquarters U.S. Forces Northern Alabama.
People: Steele, Frederick, 1819-1868

Historical Era: Civil War and Reconstruction, 1861-1877
Subjects: Union ForcesUnion GeneralCivil WarMilitary HistoryWartime Pillaging and DestructionFreemenAfrican American HistorySlaveryDiet and nutritionAgriculture and Animal HusbandryChildren and FamilyFreedom and IndependenceEmancipationReconstruction
Sub Era: The American Civil War