Blackman, Francis G. (fl. 1861-1865) to his friend Bennett
High-resolution images are available to schools and libraries via subscription to American History, 1493-1943. Check to see if your school or library already has a subscription. Or click here for more information. You may also order a pdf of the image from us here.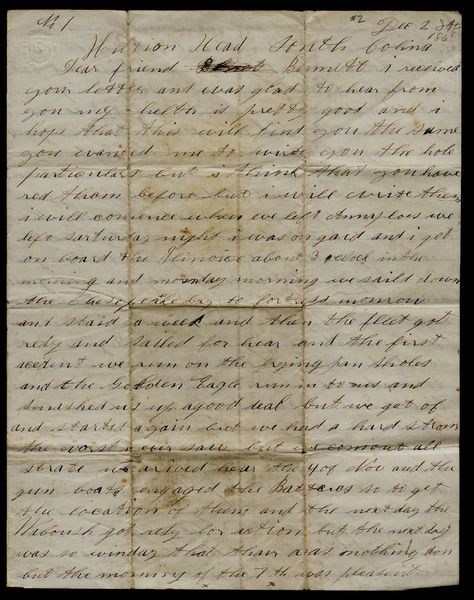 A high-resolution version of this object is available for registered users. LOG IN
Gilder Lehrman Collection #: GLC02159.02 Author/Creator: Blackman, Francis G. (fl. 1861-1865) Place Written: Hilton Head, South Carolina Type: Autograph letter signed Date: 2 December 1861 Pagination: 4 p. ; 23 x 18 cm.
Summary of Content: "...plenty of cotton here and sweet potatoes, peanuts, oringes, rice, Niggers, rattlesnakes coper heads glass snake mocins and another cind about 18 feet long...alligators..." "...the Rebel's boats fired 2 or 3 round and run up the creek...Rebels fought well but their guns was ranged too high..." "... the stars and stripes was floating over the R Battery and we was the first regiment that went ashore. We went in the fort...came to a plantation and found plenty of knapsacks ...100 or more knapsacks in the woods..." "...we asked the Niggers whair thar masters was and they said lord Jesus Crist he run Master gon and left us he hav on no coat on no hat on."
Background Information:
People: Blackman, Francis G., fl. 1861-1865

Historical Era: Civil War and Reconstruction, 1861-1877
Subjects: Soldier's LetterCivil WarMilitary HistoryUnion Soldier's LetterUnion ForcesAfrican AmericanReligionAgriculture and Animal HusbandryDiet and nutritionCottonWildlifeGeography and Natural HistoryNavyArtilleryWeaponryAmerican FlagConfederate States of AmericaFortificationMilitary SuppliesRefugees
Sub Era: The American Civil War