Hemans, Daniel W. (fl. 1872-1881) to Frances B. Shiras
High-resolution images are available to schools and libraries via subscription to American History, 1493-1943. Check to see if your school or library already has a subscription. Or click here for more information. You may also request a pdf of the image from us here.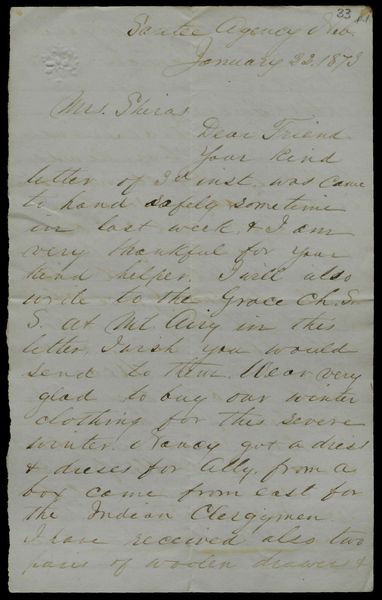 Summary of Content: Thanks Shiras for the clothes his family and other Indian clergy have received. Discusses eating with Reverend Hinman and his missionary duties at Santee. Notes his son has started speaking. States that Paul is very sick but still walking around his house.
Full Transcript: Quotes

"Nancy got a dress & dress for Ally, from a box came from east for the Indian clergymen"
"Though Mr Hinman has a large family, but we eat the same ...table. He is very kind to us, he always willing to help us what we need."
"I & Mrs West we teaching the School in the morning, then I cut my wool in the afternoon. I have not much to do on Sundays not as in Yankton Mission, I some times preach in the morning then Mr H. preach in the afternoon. I always talk to the S.S. evry Sunday, then I have sometimes visit the sick on Saturdays."
"Our darling Ally can say now ma ma ma & (Ate-te, fathere).See More
People: Shiras, Frances B., b. 1814
Hemans, Daniel W., fl. 1871-1881
Hinman, Samuel Dutton, 1839-1890
Mazakute, Paul, 1842-1873

Historical Era: Civil War and Reconstruction, 1861-1877
Subjects: American WestAmerican Indian HistoryReligionClothing and AccessoriesDiet and nutritionChildren and FamilyHealth and MedicalTuberculosisDiseaseCharity and Philanthropy
Sub Era: Reconstruction