Hemans, Daniel W. (fl. 1872-1881) to Frances B. Shiras
High-resolution images are available to schools and libraries via subscription to American History, 1493-1943. Check to see if your school or library already has a subscription. Or click here for more information. You may also request a pdf of the image from us here.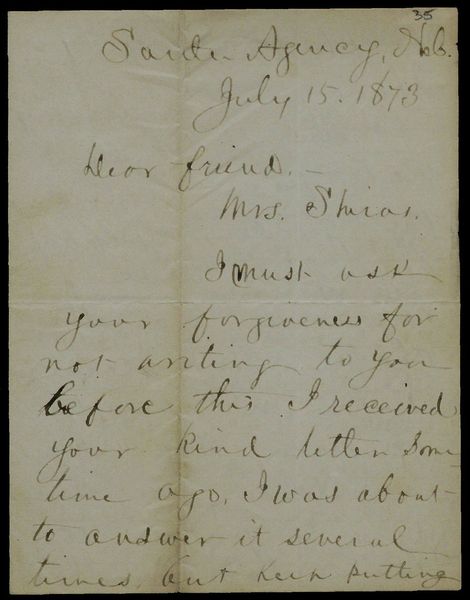 Summary of Content: Discusses building a house and garden on his land in Bazille, his health, and his work. Mentions a possible transfer to the Chapel at Bazille Creek, on the recommendation of Bishop William Hare. Comments on the growth of his son, who he speaks to in both English and Dakota.
Full Transcript: Quotes

"I have working in my garden at Bazille, I made fence around the garden myself, and trying to make a log house near the chapel. And I came down ...on Fridays, then I preparing my Sermons on Saturdays for Sundays, so you see that I have too busy this time & have not much time to write.
I have now all the logs at the place, but I have no flooring and doors…there is no lumbers on the Agency, and I can't buy Some myself, because I have no money…I bought a wagon…we can't come down on horseback after issue meat every week"
"Mr H. gone up to Red Cloud in June…but has not back yet."
"My health is little better this summer, though I have pain in my lungs sometimes after preaching, but I am able to do every thing. Bp. Hare & Mr Hinman they wanted me to take charge the Chapel at Bazille Creek. One of the Santee catechists would help me on Sunday Services. So I would do very well there."
"Our darling Ally is very well and getting grow, he can run fast & walks around the house with his mother. He can say few words in English and Dakota. He understoods better, but can't speak yet."
See More
People: Shiras, Frances B., b. 1814
Hemans, Daniel W., fl. 1871-1881
Hare, William Hobart, 1838-1909
Hinman, Samuel Dutton, 1839-1890

Historical Era: Civil War and Reconstruction, 1861-1877
Subjects: American WestReligionBuilding ConstructionAgriculture and Animal HusbandryHealth and MedicalTuberculosisDiseaseArchitectureAmerican Indian HistoryChildren and FamilyLiterature and Language Arts
Sub Era: Reconstruction