Hemans, Nancy A. (b. 1843) to Frances B. Shiras
High-resolution images are available to schools and libraries via subscription to American History, 1493-1943. Check to see if your school or library already has a subscription. Or click here for more information. You may also request a pdf of the image from us here.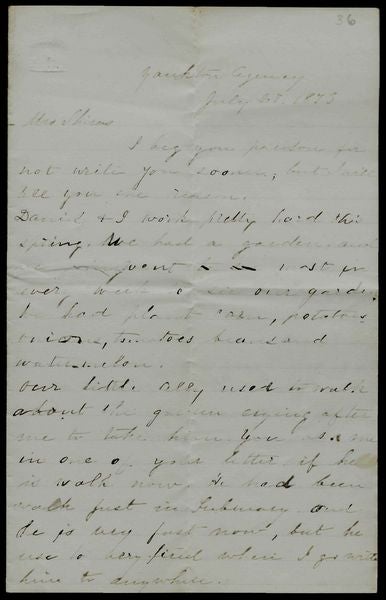 Summary of Content: Discusses her garden and her growing son, comparing his dark skin to "a little niger." Indicates they will move to Bazille Creek, but will soon come back for the Convocation Meeting. Discusses money problems and a shawl she has yet to receive from Shiras. Reports conflicting stories about whether or not Reverend Hinman was killed by "wild Indians."
Full Transcript: Quotes

"Daniel & I work pretty hard this spring. We had a garden and we went most every week to see out garden. We had plan corn, potatoes, onions, tomatoes beans ...and water melon.
Our little Ally used to walk about the garden crying after me to take him…I could not have him to put on bonnet or hat…so he is awful dark, just like a little niger…and he dont eat much…and he is getting thin."
"We are going to move tomorrow if we can, to at the Basille Creek. we will coming down again in some week for the Convocation Meeting."
"…the money is very scarce here.
Daniel is got into big debt now, and ought to be very careful."
"Mr Hinman is not at home yet…In Sioux City paper said that Mr Hinman kill by wild Indians, but in same day Mrs H. got two letters from him so we dont know which is right."
See More
People: Shiras, Frances B., b. 1814
Hemans, Nancy A., b. 1843
Hinman, Samuel Dutton, 1839-1890

Historical Era: Civil War and Reconstruction, 1861-1877
Subjects: American WestAmerican Indian HistoryReligionWomen's HistoryAfrican American TroopsChildren and FamilyAgriculture and Animal HusbandryFinanceClothing and AccessoriesDeath
Sub Era: Reconstruction