Hemans, Nancy A. (b. 1843) to Frances B. Shiras
High-resolution images are available to schools and libraries via subscription to American History, 1493-1943. Check to see if your school or library already has a subscription. Or click here for more information. You may also request a pdf of the image from us here.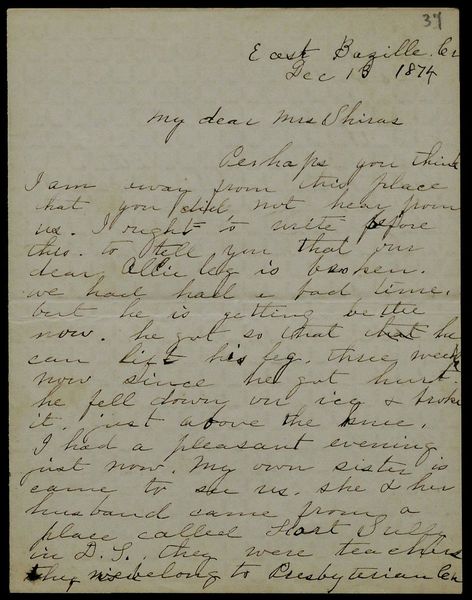 Summary of Content: Discusses her son's broken leg and a visit from her sister and brother-in-law, Indian teacher at Fort Sully in the Dakota Territory. Comments on her husband's good health and expresses Christmas thanks to God for living another year.
Full Transcript: Quotes

"Our dear Allie leg is broken…he can lift his leg, three weeks now since he got hurt. he fell down on ice & broke it, just above the knee."
"...My own sister is came to see us, she & her husband came from a place called Fort Sully in D.T., they were teachers they belong to Presbyterian Ch[.] Daniel is in pretty good health this summer. hes got more flesh in his body he never was so before. he use to be very thin. he always in very good appetite."
"Our chapel is finished now. we are very glad of it. but still we will more glad when the organ & stove are com before Christmas. I am very glad that I came near to Christmas again. for I did not think live till Christmas oh, how I thank God for it"See More
People: Shiras, Frances B., b. 1814
Hemans, Nancy A., b. 1843

Historical Era: Civil War and Reconstruction, 1861-1877
Subjects: American WestAmerican Indian HistoryReligionWomen's HistoryChildren and FamilyInjury or WoundEducationHealth and MedicalTuberculosisDiseaseHolidays and Celebrations
Sub Era: Reconstruction