Hemans, Daniel W. (fl. 1872-1881) to Alexander Shiras
High-resolution images are available to schools and libraries via subscription to American History, 1493-1943. Check to see if your school or library already has a subscription. Or click here for more information. You may also request a pdf of the image from us here.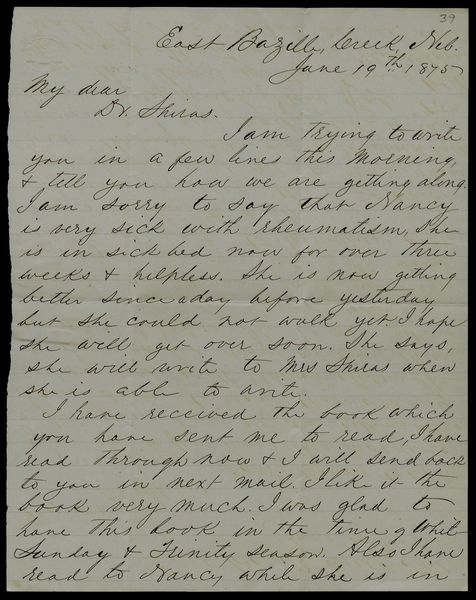 Summary of Content: Discusses his wife Nancy's illness with rheumatism, a book he received, and the threat to his garden posed by grasshoppers.
Full Transcript: Quotes

"Nancy is very sick with rheumatism, she is in sick bed now for over three weeks & helpless."
"I have received he book which you have sent me to read, ...I have read through now…I like it the book very much. I was glad to have this book in the time of White Sunday & Trinity season. Also I have read to Nancy while she is in sick bed."
"Mrs Hinman…was very sick with rheumatism & some other diseases…"
"I have a nice garden & planted tow acres with corn & potatoes, but we have grasshoppers like very heavy clouds in the air in the two days passing towards south & we are afraid they would eat up every thing again."
"Ally is well & is growing up fast."See More
People: Shiras, Alexander, 1813-1894
Hemans, Daniel W., fl. 1871-1881
Hemans, Nancy A., b. 1843

Historical Era: Civil War and Reconstruction, 1861-1877
Subjects: American WestReligionAmerican Indian HistoryWomen's HistoryAgriculture and Animal HusbandryHealth and MedicalDiseaseLiterature and Language Arts
Sub Era: Reconstruction