Hemans, Daniel W. (fl. 1872-1881) to Alexander Shiras
High-resolution images are available to schools and libraries via subscription to American History, 1493-1943. Check to see if your school or library already has a subscription. Or click here for more information. You may also request a pdf of the image from us here.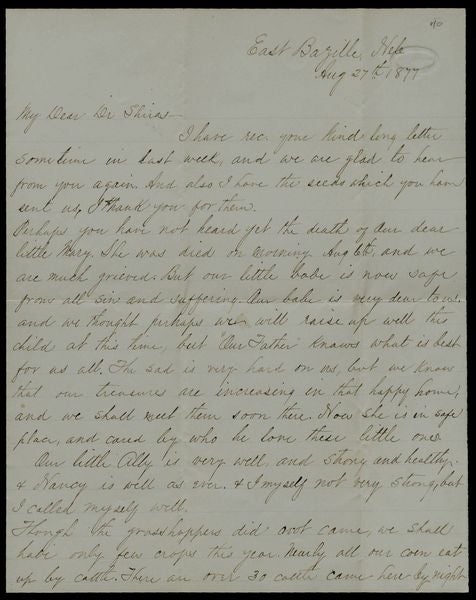 Summary of Content: Discusses the death of his daughter Mary and affirms his belief that it is God's will. Also discusses the destruction of his garden in the night by a herd of cattle. Notes he has a hemorrhage.
Full Transcript: Quotes

"I have the seeds which you have sent us, I thank you for them."
"Perhaps you have not heard yet the death of Our dear little Mary. She was ...died on morning Aug 6th, and we are much grieved. But our little babe is now safe from all sin and suffering. Our babe is very dear to us…but 'Our Father' knows what is best for us all. The sad is very hard on us, but we know that our treasures are increasing in that happy home, and we shall meet them soon there."
"Our little Ally is very well, and strong and healthy…I myself not very strong, but I called myself well."
"Though the grass hoppers did not come we shall have only few crops this year. Nearly all our corn eat up by cattle. There are over 30 cattle came here by night while we are sleeping, and broke the fence and destroyed many other things, and we shall have only potatoes, few corn, and few other vegetables."See More
People: Shiras, Alexander, 1813-1894
Hemans, Daniel W., fl. 1871-1881

Historical Era: Civil War and Reconstruction, 1861-1877
Subjects: ReligionAmerican WestAmerican Indian HistoryChildren and FamilyDeathAgriculture and Animal HusbandryHealth and MedicalTuberculosisDisease
Sub Era: Reconstruction