McClure, David (1748-1820) to Henry Knox
High-resolution images are available to schools and libraries via subscription to American History, 1493-1943. Check to see if your school or library already has a subscription. Or click here for more information. You may also order a pdf of the image from us here.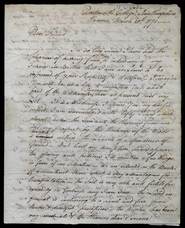 A high-resolution version of this object is available for registered users. LOG IN
Gilder Lehrman Collection #: GLC02437.00006 Author/Creator: McClure, David (1748-1820) Place Written: Hanover, New Hampshire Type: Autograph letter signed Date: 20 March 1771 Pagination: 3 p. + addr + docket 25 cm. x 20cm.
Summary of Content: Describes the wilderness of New Hampshire around Dartmouth College, commenting on its advantages and disadvantages. Discusses the college and his position with the Grammar School. Ruminates on the potential benefits of the college to society, commenting that it will train young men "who shall do special Service in their Day to the Interest of our dear Immanuel's Kingdom." A post script instructs Knox to send mail to McClure at Dartmouth College and requests Knox send him a copy of Wood's "New England's Prospect," a history of the Indians of New England. Writes to Knox about missionary work among Native Americans near Dartmouth College. Native Americans are the 'tawny inhabitants'. McClure spells his name Maccluer.
Full Transcript: [draft]
... I imagine you will be at a loss to conjecture into what part of the Wilderness Providence has at present cast my Lot. It is a Wilderness, I assure ...You my dear sire, indeed. I am surrounded with lofty Pines which almost hides the Sun and the Heavens from me and my prospect by the thickness of the Woods is bounded within the Limits of a few acres of Ground - But least my description should appear too gloomy and hedious I'll mention a few things in favor of our Situation-We are situated on the Bank of Connecticut River which is very advantageous for transportation-the Soil is very rich and fertile far exceeding in Goodness any I ever saw-the Land in general is inclining to a Level and free from Rocks and dreadful precipices - the Winter has been very moderate and the Heavens clear and serene [2] the Country is not so tedious in the Winter with driving Storms and Snows as it would be was it more open and exposed to the pursuing Colds of the North- My situation is much more agreeable than I imagined it would be last fall before I set out from Connecticut a Small College is built and the Number of the Students in the College and School is about 30 - I have at present the Care of the Grammar School and I find no small pleasure in "teaching the Young Idea how to shoot"- Heaven has remarkably smiled upon the generous & pious design of the Revd. Doctor- and supported it amidst numberless difficulties & Embarrasments [sic] & it affords a prospect of being in time a great and extensive Blessing to this part of the World & to the tawny inhabitants of our Continent- & may the happy effects of the Institution spread far and near and many Youths be trained up in it who shall do special Service in the Day to the Interest of our dear Immanuel's Kingdom and to surpressing the Tyranny and Usurpation of Satan in the World...
See More
People: McClure, David, 1748-1820
Knox, Henry, 1750-1806

Historical Era: American Revolution, 1763-1783
Subjects: Geography and Natural HistoryAmerican Indian HistoryFrontiers and ExplorationEducationReligionLiterature and Language Arts
Sub Era: Road to Revolution