Rivington, James (1724-1802) to Henry Knox
High-resolution images are available to schools and libraries via subscription to American History, 1493-1943. Check to see if your school or library already has a subscription. Or click here for more information. You may also order a pdf of the image from us here.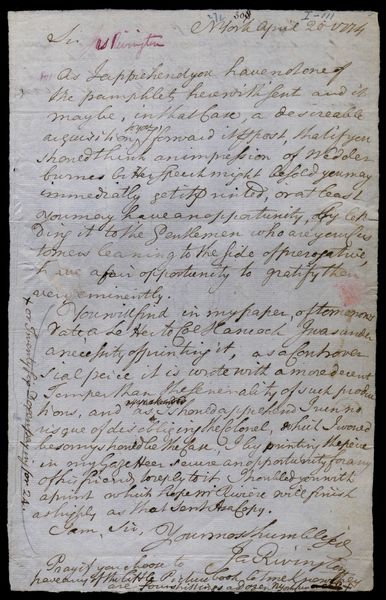 A high-resolution version of this object is available for registered users. LOG IN
Gilder Lehrman Collection #: GLC02437.00138 Author/Creator: Rivington, James (1724-1802) Place Written: New York, New York Type: Autograph letter signed Date: 20 April 1774 Pagination: 2p. +addr.+docket. 30.5 cm. x 19.2 cm.
Sends Knox pamphlets which he believes Knox does not have and will be of interest to his customers. Mentions that he has printed a letter to John Hancock in Rivington's New-York Gazetteer and would provide the opportunity for any of Hancock's friends to reply to it. Sent a print for Paul Revere to make an engraving. Hancock was then a Boston selectman and member of the General Court. The letter was possibly a response to Hancock's general anti-British stance or his recent Massacre Day Oration, given in March 1774. Rivington was a bookseller, printer, and journalist who came to America in 1760.
[excerpt]
"… You will find in my paper, of tomorrows date, a Letter to Col Hancock I was under a necessity of printing it, as a Controversial peice [sic] it is wrote with a more decent Temper than the [generality] of such productions, and as [strikeout] I should apprehend I run no risque by disobliging the Colonel, which I would be sorry should be the Case. I by printing the peice [sic] in my Gazetteer secure an opportunity for any of his friends to reply to it. I troubled you with a print which hope Mr Reviere will finish as highly as that sent As a Copy …"