Rivington, James (1724-1802) to Henry Knox
High-resolution images are available to schools and libraries via subscription to American History, 1493-1943. Check to see if your school or library already has a subscription. Or click here for more information. You may also order a pdf of the image from us here.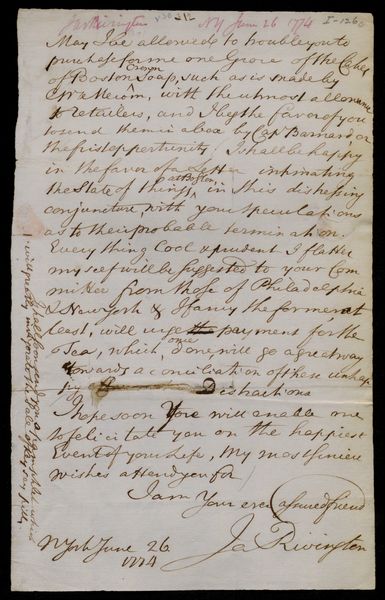 A high-resolution version of this object is available for registered users. LOG IN
Gilder Lehrman Collection #: GLC02437.00157 Author/Creator: Rivington, James (1724-1802) Place Written: New York, New York Type: Autograph letter signed Date: 26 June 1774 Pagination: 1p. addr. +docket. 31.5 cm. x 19.5 cm.
Summary of Content: Requests that Knox buy and send him soap. Also asks Knox to write him a letter describing the state of things in Boston; at the time, the British had just passed the Intolerable Acts, including the Boston Port Bill, which closed Boston Harbor on 1 June 1774. Suggests that committees in New York and Philadelphia will urge payment for the tea, possibly referring to either the tea tax or the tea destroyed at the Boston Tea Party. He believes such an action "will go a great way towards a conciliation of these unhappy Distractions." Congratulates Knox on his marriage. Indicates that he will send a pamphlet that will increase sales of Keysey Pills, which he earlier arranged to have Knox sell (see GLC02437.00062, GLC02437.00120 and GLC02437.00122 for discussion of the pills). Rivington was a bookseller, printer, and journalist who came to America in 1760. He published Rivington's New-York Gazetteer.
Full Transcript: [draft]
May I be allowed to trouble you to purchase for me one [grove] of the Cake of Boston [inserted: Crown] Soap, such as is made by CW Merom, with ...the utmost allowance to retailers, and I beg the favor of you to send them in a box by Capt Barnard or the first opportunity. I shall be happy in the favor of a [Setter] [intimating] the State of things [inserted: at Boston], in this distressing conjuncture, with your speculations as to their probable termination. Everything cool and prudent I flatter myself will be suggested to your Committee from those of Philadelphia and New York and I fancy the former at least, will urge [struck: the] payment for the Tea, which once I am will go a great way towards a conciliation of these unhappy [strikeout] Distractions.
I hope soon You will enable me to felicitate you on the happiest Event of your Life, My most sincere wishes attend you for
I am Your ever assured friend
Ja Rivington
NYork June 26
1774

I shall soon send you a pamphlet which will greatly invigorate the Sale of Keysey pills.See More
People: Rivington, James, 1724-1802
Knox, Henry, 1750-1806

Historical Era: American Revolution, 1763-1783
Subjects: Boston Tea PartyBoston Port BillMerchants and TradeCommercePersonal HygieneTaxes or TaxationFinanceGovernment and CivicsMarriageDrugsHealth and MedicalBook SellingMaritime
Sub Era: Road to Revolution