Peirce, Joseph (1745-1828) to Henry Knox
High-resolution images are available to schools and libraries via subscription to American History, 1493-1943. Check to see if your school or library already has a subscription. Or click here for more information. You may also order a pdf of the image from us here.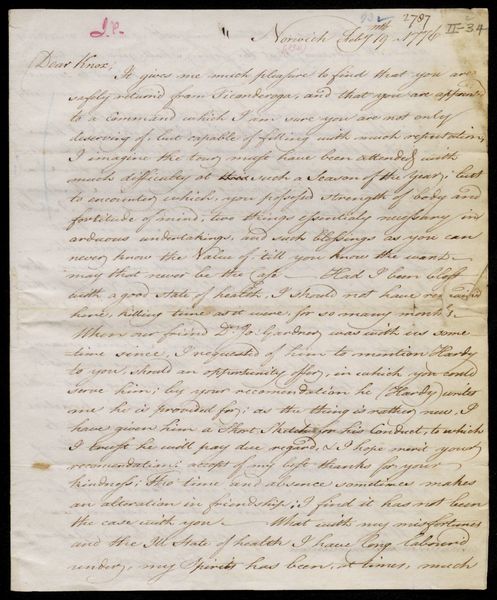 A high-resolution version of this object is available for registered users. LOG IN
Gilder Lehrman Collection #: GLC02437.00252 Author/Creator: Peirce, Joseph (1745-1828) Place Written: Norwich, Connecticut Type: Autograph letter signed Date: 19 February 1776 Pagination: 3p.+addr.+docket. 22.9 cm. x 18.7 cm.
Praises Knox and congratulates him on his recent commission to colonel and his successful operation retrieving artillery from Fort Ticonderoga. Discusses his own ill health as well as his desire to get well and return to military service. Comments on his friends' attempt to conceal the plundering of his house and shop from him, in order to avoid agitating his health. Comments on a man named Hardy, who Peirce recommended and Knox found work for. Recollects and affirms their friendship. In a post script, favorably mentions a proposal by the Continental Congress to fortify a dock for the American Navy in New London Harbor.
[draft]
Norwich Feby 19 1776
Dear Knox,
It gives me much pleasure to find that you are safely return'd from Ticonderoga, and that you are appointed to a Command which I am sure you are not only deserving of, but capable of filling with much reputation, I imagine the tour must have been attended with much difficulty at such a Season of the Year; [but?] to encounter which, you possess strength of body and fortitude of mind, two things essentially necessary in arduous undertakings, and such blessings as you can never know the Value of, till you know the want - may that never be the Case … [2] I have many agreeable reflections upon the time we used to spend together; not then suspecting that either of us, would ever be calld upon to put in practice what little we know … [3] I have just heard that it has been propos'd in Continental Congrss to fortify New London Harbour - and make a Dock Yard for the American Navy - it's a Noble place for the purpose and I'll venture to say that there is few places superior - tho' I am not skill'd in Engineering, I am determined to know more of that branch, than I do at present …"