Knox, Henry (1750-1806) to John Adams
High-resolution images are available to schools and libraries via subscription to American History, 1493-1943. Check to see if your school or library already has a subscription. Or click here for more information. You may also order a pdf of the image from us here.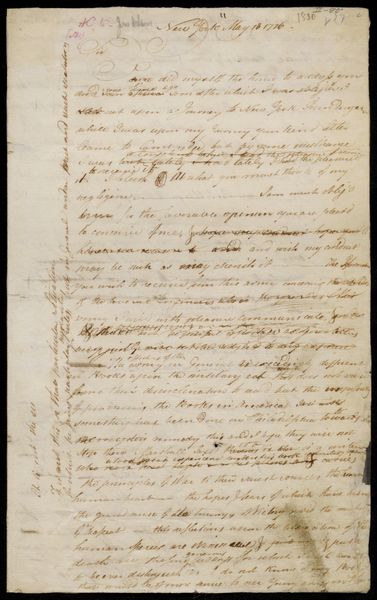 A high-resolution version of this object is available for registered users. LOG IN
Gilder Lehrman Collection #: GLC02437.00293 Author/Creator: Knox, Henry (1750-1806) Place Written: New York, New York Type: Autograph letter Date: 18 May 1776 Pagination: 2p. 31.8 cm. x 19.5 cm.
Summary of Content: Apologizes for responding so late to Adams' letter of 11 November 1775 (see GLC002437.00208). Discusses military books and the difficulty of obtaining them in America, and recommends books useful to different departments in the army. Comments on the importance of the war and the cause of American freedom with vehement support: "Such Opportunities as the present do no[t] turn up often in the course of human events--the happiness or misery of a great proportion of the human race is at stake." Knox's retained working draft. The sent copy (now in the Adams Papers at the Massachusetts Historical Society) is dated May 16th.
Full Transcript: [draft]
New York May 18 1776 -
Sir
I once did myself the honor to address you some time ago soon after which I set out upon a Journey to New York, ...Ticconderoga &c while I was upon my Journey your kind letter Came to Cambridge but by some mischance I was [illegible] lately I had the pleasure to receive it.
I blush at what you must think of my negligence - I am much oblig'd for the favorable opinion you are pleas'd to conceive of me and wish my conduct may be such as may merit it - The information you wish to receive from this army concerning this army [sic] I will with pleasure communicate.
The officers of the army in General are exceedingly defficient in Books upon the military this does not arise from their disinclination to read but the impossibility of procuring the Books in America. Something has been done in Philadelphia to remedy this and I hope they will not stop there. Marshall Saxes is a writer whose great experience renders his book [illegible phrase] the principles of War to their surest source, the human heart - the hopes & fears of which have been the grand cause of [illegible] of Victory [seald?] the [misery?] of a [deafeat?] his reflections upon the propagation of the human species are [wimsical] & put to death all the fine generous feelings for which [illegible] to be ever distinguis[ed] I do not know of any Book that would be of more service to our Young army in this [2] there are others that are more scientific which those who intend to be a War like people had not ought to be without Monsr Clariac, [Mullers], & Pleydell [illegible] Engineering the most useful kind of fortification Vauban, Cochorn, Blondel, Count Pagan, Belidor & Muller all foreigners but Muller are upon regular fortified [places] Muller appears to have collected the Essence of the others and would be of great service to have it printed as likewise his Treatise on Artillery, Holliday on Gunnery is an excellent Treatise.
The consequences of the Cause in which we are engagd are of such infinite moment to our selves & posterity no cost no trouble can be too great to bring to make them [sic] a happy Conclusion -
Such a favorable time as the present to a make a Great proporition of mankind
Such opportunities as the present do not turn up often in the course of human events - the happiness or misery of a great proportion of the human race is at stake. And if we make the wrong choice, ourselves & our posterity must be wretched. Wrong choice! there can be but one choice consistent with the character of a people possessing the least spark of Reason - & that is to separate from that people who are the source of our present contest - An event which I devoutly pray God may soon take place -See More
People: Knox, Henry, 1750-1806
Adams, John, 1735-1826

Historical Era: American Revolution, 1763-1783
Subjects: Revolutionary WarMilitary HistoryPresidentBook SellingFreedom and Independence
Sub Era: The War for Independence