Knox, Henry (1750-1806) to Lucy Knox
High-resolution images are available to schools and libraries via subscription to American History, 1493-1943. Check to see if your school or library already has a subscription. Or click here for more information. You may also order a pdf of the image from us here.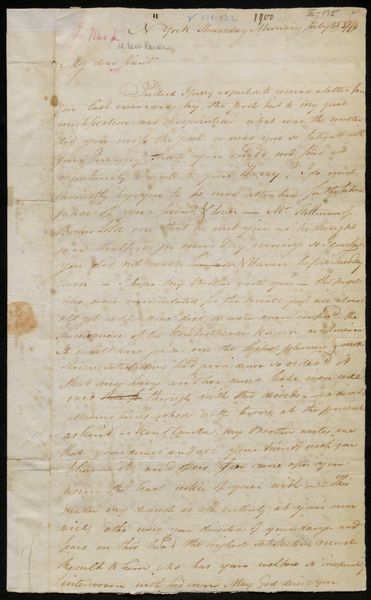 A high-resolution version of this object is available for registered users. LOG IN
Gilder Lehrman Collection #: GLC02437.00394 Author/Creator: Knox, Henry (1750-1806) Place Written: New York, New York Type: Autograph letter signed Date: 25 July 1776 Pagination: 3 p. : address : docket ; 31.8 x 19.7 cm.
Explains that he was disappointed to not receive a letter from Lucy by the most recent post and wonders if the difficulty of her journey to New Haven, Connecticut, prevented her writing. Reports via his brother, William Knox, that the people inoculated for smallpox in Boston are all recovering well. Discusses the possibility of Lucy being inoculated. Mentions that he sent Lucy an indentured servant, Thomas Eliot. Comments on meetings with acquaintances. Discusses the war and remarks that there has been little activity. He believes the British are awaiting reinforcements.
N York Thursday Morning July 25 1776
My dear friend
Indeed I fully expected to receive a letter from you last evening by the post, but to my great mortification was disappointed. what was the matter did you miss the post or was you so fatigu'd with your Journey that you could not find an opportunity to write to your Harry? I do most earnestly beg you to be more attentive for the future peace of your friend, & lover - Mr. Stillman of Boston told me that he met you as he thought near Stratford on monday evening. so I conclude you did not reach [struck: Fairfield] N Haven before Tuesday noon - I hope my Brother wrote you - the people who were innoculated for the small pox are almost all got well none died or were even confin'd. the [Speceis] were of the kindest ever known in America It would have given me the highest pleasure & more [Sincere] satisfaction had providence so order'd it that my Lucy and her sweet babe were well over [struck: this so] through with this disorder - a disorder at some times [robed] with terrors, at the present as kind as kind can be. my Brother writes me that your aunt and all your friends wish you [to have] it, and offers [to] [strikeout] come after you upon the least notice of your wish - This matter my dearest is left entirely at your own will, altho' were you divested of your danger and fears on this head the highest satisfaction must Result to him who has your welfare so inseperably interwoven with his own May God direct you [2] in this and every other affair in life & may the visible traces of his Protection be so evident as to lead me and my dear companion to the most perfect piety -
There has been nothing remarkable at this place since my last which was yesterday by Mr
Brown by whom I sent Thomas Eliot, whom I would wish might be of service to you - let him be taught to ride postilion by some safe hand - and send the horse back by Mrs Greens sam General Green is about purchasing the Chariot that I spoke to you about and I suppose will want sam to ride postilion She wish Mrs [Airy] and family I suppose are well for I've not seen them this Week - I saw Colo Lears who left New Haven last monday he gave me a flattering account of New Haven & that you would be able to meet with pretty good accomadation there write me my love by every opportunity - The enemy have sent no more flags since I wrote you they appear to be waiting for a Reinforcement - My Lord Dunmore has been twice beat - once at Gwyns Island and again at Powtomack, I suppose he with Clinton lord Cornwallis and the whole Southern Crew will [inserted: not] be able to make head [again] In that Climate therefore we shall leave them here which together with the Hessians and other hard nam'd people will to be sure make a most Motley band of nations Colors and Languges - Write me my dear every opportunity as I do you & beleive that you are dearer to me than All other [3] Sublunary things, kiss & bless your babe for me write me what words it can speak how it looks, how it acts,
Adieu My dearest Life
HKnox -
Your [Harrys] birth day, I hope you will remember him in your petitions
[address leaf]
Mrs. Knox
at
N Haven
[By] post
[docket]
Gen to Mrs Knox
July/76