Knox, Henry (1750-1806) to Lucy Knox
High-resolution images are available to schools and libraries via subscription to American History, 1493-1943. Check to see if your school or library already has a subscription. Or click here for more information. You may also order a pdf of the image from us here.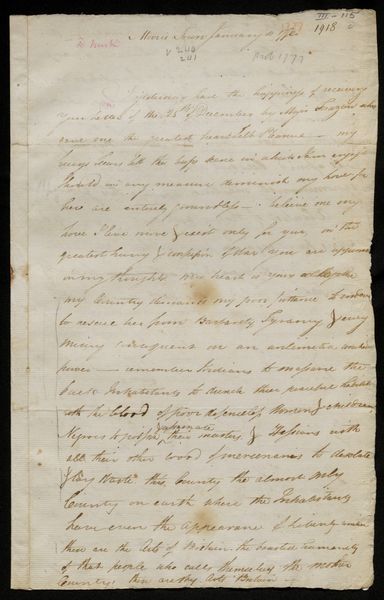 A high-resolution version of this object is available for registered users. LOG IN
Gilder Lehrman Collection #: GLC02437.00517 Author/Creator: Knox, Henry (1750-1806) Place Written: Morristown, New Jersey Type: Autograph letter signed Date: 10 January 1777 Pagination: 3 p. : address : docket ; 33 x 20.9 cm.
Summary of Content: Has just received her letter and assures her "my heart is yours although my Country demands my poor pittance to endevor to rescue her from barbarity." Feels this barbarity, exemplified by Indians slaughtering innocents, enslaved people killing their masters, and the general desolation caused by the Hessian mercenaries is all a result of British tyranny. Chastises the "boasted humanity of these people who calls themselves the mother Country!" Repeatedly expresses his love and longing for her. Warns her to "take care of your heart" with Colonel Stewart who will deliver this letter. States that he greatly enjoys writing to her. Discusses his papers and military affairs, but significant text is lost here. Expresses joy that "my friend Harry" is finally serving his country, and wishes Gods blessing to Lucy for "you and your babe." Dated 1776 but written in 1777.
Full Transcript: Morris Town January 10 1776.
I yesterday had the happiness of receiving your Letter of the 25th of December by Major Frazier which gave me the greatest heartfelt Pleasure - my Lucy's ...Fears lest the busy scene in which I am engag'd should in any measure diminish my Love for her are entirely groundless - beleive me my Love I live move & exist only for you, in the greatest hurry & confusion of War you are uppermost in my thoughts my heart is yours altogether my Country demands my poor pittance to endeavor to rescue her from Barbarity, Tyrany, & every misery consequent on an unlimited uncheck'd power - remember Indians to massacre the back Inhabitants to drench their peaceful habitations with the blood of poor defenceless Women & children, Negroes to poison [inserted: & assassinate] their masters, & Hessians with all their other brood of mercenaries to desolate & lay Waste this Country the almost only Country on earth where the Inhabitants have even the appearance of Liberty - [rember] these are the Acts of Britain - the boasted humanity of that people who calls themselves the mother Country! these are thy Acts Britain - [2] What person with the least spirit, can tamely bear this can tamely suffer these horrid calamities to range [strikeout] without controul - Love, friendship and all the other generous passions & virtues which reside the mind and heart call upon every person without exception to exert themselves for - My Lucy I'm well assur'd does not wish her Harry to be ignominously inactive during this great contest - A Contest of Virtue with vice - my heart suffers pain exquisite pain in being separated from you - [struck: it sympathizes with yours, feels] It sympathizes feels & weeps with yours, & often pours forth a pious petition to the great author of all things to support & comfort you. - yes my Lucy our Love is I hope & perfectly beleive mutual & will encrease & in one degree to another untill time shall be swallowd upon eternity - - a Colo [struck: Stewar] Stewart will deliver you this, please to dine him, this is the handsome Stewart you have heard so much of take care of your heart - Sure Im a good husband to write to you so often, but the pleasure I receive in doing it is as great as yours in reading it.
I'm very sorry that you took my papers with you to Boston, as it will necessitate [3] me to send a person there - [text loss] find some Gentlemen who [text loss] to deliver them to me with his [text loss] even this will be precarious. - [text loss] them be seal'd up and direc[text loss] Peekskill or in my absence to Mr [text loss] Knowles paymaster to the Artillery [text loss] his absence to Capt Lt Samuel [text loss] the Artillery at Peekskill - [text loss] he the strongest injuction on the pe[text loss] brings them to deliver them to me at [text loss] his own hands - as they are want[text loss] immediately for the settlement of [text loss] the Regt And are of the most [strikeout] [inserted: capital] Consequence to me - Im Glad my friend Harry is at last determin'd to leave his God & Country & Im happy in being able to provide for him agreable to his wishes That May God bless & preserve you & your babe, is the very sincere prayer of your truly affectionate
H Knox
[address leaf]
Mrs. Lucy Knox
Boston
favor'd by Colo Stewart

[docket ]
Jan'y / 76
Gen K. to wifeSee More
People: Knox, Henry, 1750-1806
Knox, Lucy Flucker, 1756-1824

Historical Era: American Revolution, 1763-1783
Subjects: African American HistoryAmerican Indian HistoryWomen's HistoryReligionRevolutionary WarRevolutionary War GeneralMilitary HistoryMarriagePatriotismGlobal History and US Foreign PolicyGlobal History and US Foreign PolicyAtrocitySlaverySlave RebellionHessiansWartime Pillaging and DestructionLove LettersChildren and FamilyFriendship
Sub Era: The War for Independence